The Great Jobs Reset
More likely, they will do YCC through the back door. They have several options. Right now they're buying $40 billion per month of "agencies," basically mortgage bonds. They can reduce the amount of agencies and increase their Treasury debt purchases, thus influencing the bond market.
They can increase the amount of actual QE, which given the deficits that the government is running, may actually be necessary to control interest rates. And, I would rate it better than 50–50 odds they move out the yield curve to the 10-year bond. All of this will influence yields without actually invoking YCC.
The effect on unemployment? If rising rates spark a stock bear market (as what happened in 2000), a recession could follow. That is by definition deflationary and would increase unemployment. Not what the Fed wants.
I did a webinar yesterday with Lacy Hunt, and we both basically took the deflation side of the future. But in summary, we acknowledged we could see inflation in the short term (i.e., starting soon and lasting until perhaps the end of the year).
Part of that "rise" in places is going to be easy year-over-year comparisons. Inflation dropped significantly with the onset of the pandemic, so year-over-year comparisons for March, April, and May will likely show annualized CPI inflation over 2% for the first time in almost 10 years. I think it will be transitory, as the overall trend of the decade is going to be disinflationary/deflationary.
If you look back over two years, the inflation will not be apparent. But the markets focus on annual changes, which is why rates are rising. And that matters for the 17 million people who are currently on some type of unemployment assistance.
Tough Job Market
As we know, the pandemic and its many ramifications drove US unemployment to Great-Depression levels in a hurry. We have seen some improvement, but it is still quite high—likely higher than the official data indicates.
Unfortunately, all our jobs data sources have limitations. Many look at weekly jobless benefit claims, which have the advantage of being high-frequency, but they also depend on state-level data collection, which varies (let's just say that Texas and some southern states had an excuse last week, which showed up as lower initial claims).
Meanwhile, the "headline" unemployment rate only measures people who say they are looking for work. In this situation, many are not, for various reasons. Another confounding factor is the "birth/death rate" (of businesses, not people) the Labor Department uses to adjust its survey data.
Millions have turned to freelancing, not because of entrepreneurial dreams, but for lack of better options. Other businesses closed, sometimes permanently and sometimes not. Sorting out all this in an economy as large as the US has always been difficult. It is impossible now. The methodology is simply broken as it is based on past trends which have no bearing on our current reality.
On top of all that are the usual problems with survey data. The unemployment rate comes from a Census Bureau collection program called the Current Population Survey. Its process is necessarily rigorous in order to be consistent over time. But these are not normal times. Researchers working with the Dallas Fed recently constructed an alternative Real-Time Population Survey (RPS) specifically to measure labor market trends. In the RPS methodology, January's headline unemployment rate would have been 11.4% instead of the official 6.9%. It also peaked considerably higher and a month later in 2020 (17.2% in May vs. 14.3% in April).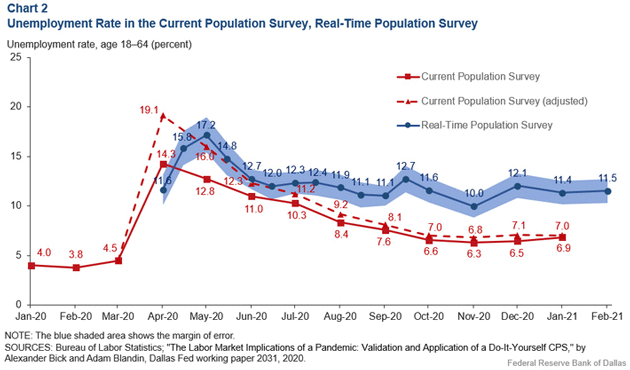 Source: Dallas Fed
Of course, we should be wary about picking the data that "feels" right. But really, this seems a lot closer to reality when you look at unemployment claims and other similar surveys. It's a tough, tough job market that doesn't seem to be improving. Nonetheless, it should improve once we get COVID-19 off our backs. But it won't improve for everyone.
Skill Mismatch
When we talk about returning to normalcy, many imply a simple return to pre-pandemic conditions. This seems unlikely to me. Many of the specific 10 million+ jobs that have been lost are not going to come back. But as an optimist, I believe other jobs will replace them and those 10 million people will find different employment. The problem is in the transition from here to there.
Disclaimer:The Mauldin Economics website, Yield Shark, Thoughts from the Frontline, Patrick Cox's Tech Digest, Outside the Box, Over My Shoulder, World Money Analyst, Street Freak, Just One ...
more