The Great Jobs Reset
We are almost through February and the US COVID-19 situation is improving daily. The B117 and other variants haven't yet made a big impact. Possibly they will, but as time passes more people are getting at least partial protection through vaccines. The "race" I've described seems to be going the way we hoped.
In the US, hospitalizations for those age 85 and older dropped 81% from January to February, according to Bloomberg. This chart below summarizes data from 10 states.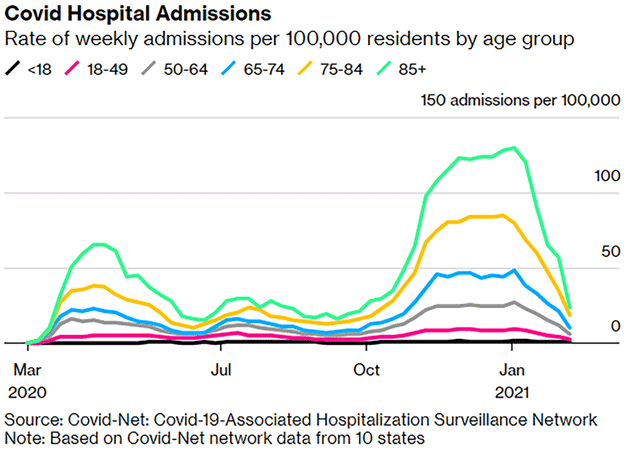 Source: Bloomberg
Another case surge, variant-driven or otherwise, shouldn't be as deadly since so many vulnerable and older people have been vaccinated. The vaccines appear extremely effective at minimizing severity even when they don't stop infection. And the fact that every age group—including those who haven't yet been offered vaccines—are seeing lower hospitalizations is very encouraging.
If this continues, and we all hope it does, it means we can start looking ahead to the other side of all this. By no means have we reached the other side. It is not yet time to relax. Nevertheless, it looks like we can, as President Biden has said, "approach normalcy" by year-end.
But that raises a question: What normalcy will it be? I don't expect to simply go back to the way things were. The economy as it was structured in December 2019 is gone forever. The world is different now. The economy will be different, too.
We'll see this in myriad ways, but in this text I'll focus on just one: jobs. That is the key way in which most people participate in the economy. How they do it matters. And, as you'll see, many will do it in new and different forms.
Interest Rates, Federal Reserve, and Unemployment
The Federal Reserve is primarily focused on unemployment and not inflation, according to numerous officials and Jerome Powell. They are willing to let the economy "run hot." That means tolerating higher inflation for some period while they try to reach what they consider "full employment."
However, as is so often the case in government, the left hand is not working with the right hand. The bond market has not been happy the past few weeks. Last week's Treasury auctions were ugly. The "yield to cover" was the worst in history.
Below is the seven-year yield (courtesy of Peter Boockvar).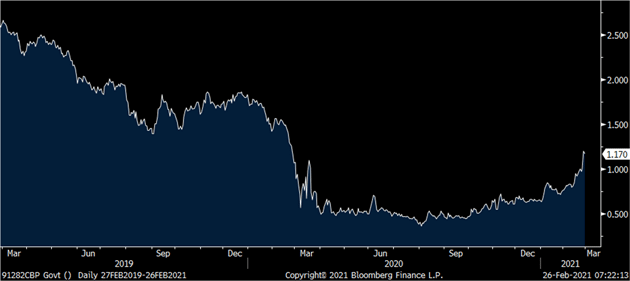 Source: Peter Boockvar
Yes, yields are up significantly since the summer lows, but they are roughly where they were a year ago. The recession and pandemic pushed yields down and the market is beginning to suggest recovery. Yet the Fed says yields should stay low.
This "battle" is important. From 1966 to 1997, inflation was the primary driver of the markets. In general, the bond market and the stock market moved in opposite directions. Starting in 1997–8 up until (maybe) this week, they mostly moved in tandem. If we see what The Bank Credit Analyst calls a regime change, where once again bond yields and stocks diverge, that means that as rates go up, the stock market will fall.
There is a marked difference between how the stock market performs in periods of disinflation versus inflation. This chart from Charles Gave at Gavekal shows how basically all stock market returns for the last 140 years came in disinflationary periods. Quoting Charles:
"All—and we mean all—of the excess returns from owning US equities in the last 142 years came in disinflationary periods, while no excess returns were achieved during the inflationary times."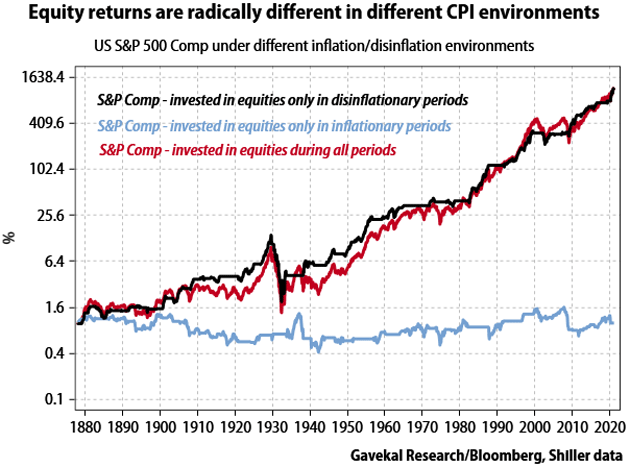 Source: Gavekal
I have written about this in the past. The "regime change" is exactly what the Federal Reserve does not want to happen. A few days doesn't make a trend. But if this goes on for weeks? Will we see the "bond vigilantes" rise from the dead?
The single biggest danger to the stock market is that the Federal Reserve in particular and central banks in general, "lose the narrative." When the market stops believing the Fed can control interest rates and influence markets, we enter a scary new world, and likely a bear market for stocks.
This is something the Fed can't allow. A few more weeks of rising interest rates in the face of $120 billion per month of Federal Reserve purchases will force Fed officials (at least in my opinion) to take action. The last thing they want is actual Yield Curve Control (YCC). That is akin to getting on the back of an angry tiger. While they may be able to ride it for a time, the dismount would make the taper tantrum look like a Sunday school picnic.
Disclaimer:The Mauldin Economics website, Yield Shark, Thoughts from the Frontline, Patrick Cox's Tech Digest, Outside the Box, Over My Shoulder, World Money Analyst, Street Freak, Just One ...
more