EC

The Gold Manipulation Silliness Continues
Not surprisingly, one of the silliest explanations for last week's sharp decline in the gold price appeared in an article posted at the Zero Hedge website. According to this article, the only plausible explanation for the decline is rampant manipulation while China's markets were closed for the "Golden Week" public holidays*.
In an effort to prove that manipulators in the West routinely take advantage of China's markets being closed to suppress the gold price, the article includes charts covering the 2015 and 2014 "Golden Week" holiday periods. These charts suggest that, as was the case this year, the gold price tanked during each of the preceding two years when China was closed for business. However, the charts are very misleading. Deliberately so, in my opinion.
For example, the following chart from the article suggests that the gold price plunged from the $1140s to around $1105 during the 2015 "Golden Week" holidays and then quickly recouped its losses after China's markets re-opened, but that's not the case. The "Golden Week" is from 1st to 7th October every year, so what actually happened was that the gold price fell from the $1140′s down to around $1115 during the days leading up to the 2015 "Golden Week" (while China was open for business) and then rebounded to the $1140s while China was on holiday.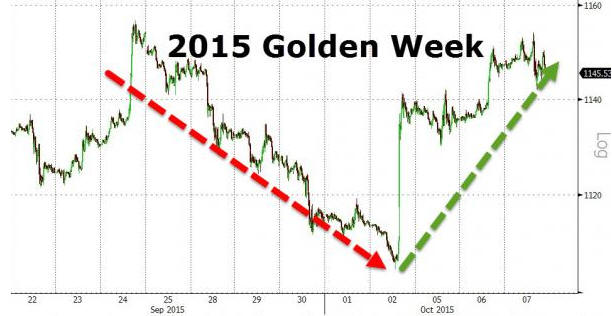 During the 2014 "Golden Week" holiday period there was no net change in the gold price.
The belief that manipulation is the be-all-and-end-all of the gold market is based on two false premises. The first is that the fundamentals are always gold-bullish. The second is that when financial markets are free from manipulation they always move in concert with the fundamentals. If you hold these two totally wrong beliefs then every time there is a significant decline in the gold price you will naturally conclude that manipulation was the cause.