The Frankie Valli, "Can't Take My Eyes Off You" Stock Market (And Sentiment Results)…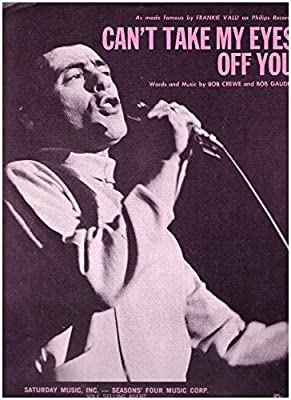 The song we chose to embody the sentiment of this week's stock market is Frankie Valli's legendary song, "Can't Take My Eyes Off You." I grew up in New Jersey, what did you expect?..
You're just too good to be true
Can't take my eyes off of you
You'd be like Heaven to touch
I wanna hold you so much
At long last, love has arrived
And I thank God I'm alive
You're just too good to be true
Can't take my eyes off of you…
Frankie Valli, "Can't Take My Eyes Off You" (youtube)
We're in an odd spot. Sentiment is generally euphoric for the indices, but under the surface, the rotation we have anticipated since late summer – continues to perform.
On Friday, I was on "Wall to Wall" with Greta Wall on OAN. We discussed the implications of the Jobs Report. Thanks to Greta for having me on.
We also discussed what has happened since my last appearance on August 31, when I said that the "Most Hated" stock in the S&P 500 (WFC) would outperform the "Most Loved" stock in the S&P 500 (AAPL) in the following months. Here's what has happened since:
Tom Hayes - OAN Appearance - VIDEO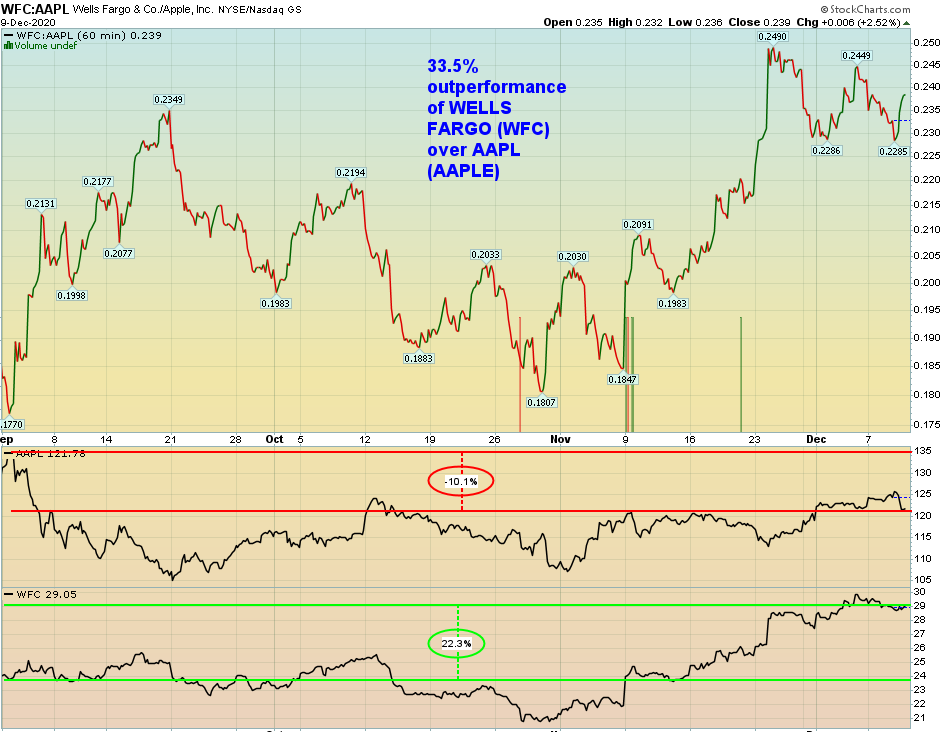 On Friday night I was on CGTN America (Global Business) with Sean Callebs. Thanks to Sean and Delal Pektas for having me on.
In this segment we covered the relationship between China's recovery/economic data and the U.S. We covered recently diverging monetary/fiscal policy and implications moving forward. Also, the impact of potential de-listing of Chinese companies on US Exchanges:
Tom Hayes - CGTN America Appearance - VIDEO
So everyone knows the market is overheated, and everyone's calling for a pullback. Let's take a look at some data that can help us discern what to expect on a probabilistic basis:
NYSE Plurality Index
Yesterday I put out the NYSE Plurality Index as our "Indicator of the Day:"
The black line is the NYSE Composite and the red line is the Plurality Index. The Plurality Index is the sum of the absolute values of the difference between the number of advancing and declining issues of the New York Stock Exchange. That sum is calculated for the previous 25 days.
A high number of this indicator is often a sign of an imminent market bottom while a lower number is often a sign of an imminent market top.
The NYSE Composite Index is a float-adjusted market-cap-weighted index which includes all common stocks listed on the NYSE, including ADRs, REITs, and tracking stocks and listings of foreign companies. It is a broader representation of all listed companies relative to other indices.
The odd thing about this read is that the current reading is closer to that found near a market bottom – versus a market top. One of the key reasons we "can't take our eyes off you (the market)" these days.
Put/Call Ratio
Below I've listed the 10-DMA (Day Moving Average) CBOE Put/Call ratio – which many have been pointing to as a reason that we are ready to crash.
While we may get a pullback, they suffer the effects of recency bias. When you look back further to the sweet-spot of the 90's bull market, these low readings were the "norm", not the exception. In other words, the market is not yet "bullish enough" from a secular bull market standpoint.
Disclaimer: Terms of Use
Not investment advice. For educational purposes only: Learn more ...
more