The Feedback Loop Between The Fed & The Elite
(Click on image to enlarge)
Such is more visible when you see that since 2007, the ONLY group has seen an increase in net worth in the top 10% of the population. Such is also the group that owns 90% of the stock market as discussed in "How The Fed Made The Top 10% Richer."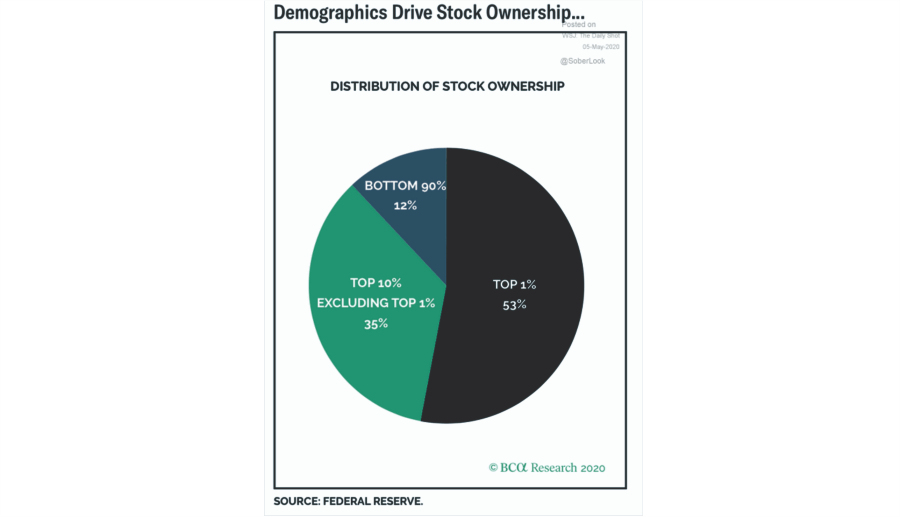 "That is not economic prosperity. It is a distortion of economics."
An Elite Club
Central Bank's globally sought to stoke economic growth by inflating asset prices. Unfortunately, the consumption of the benefit was only those with savings and discretionary income to invest.
In other words, the stock market became an "exclusive" club for the elite.
While monetary policy increases the wealth of those that have wealth, the Fed mistakenly believed the "trickle-down" effect would be enough to stimulate the entire economy.
It hasn't.
The sad reality is that these policies only acted as a transfer of wealth from the middle class to the wealthy. Such created one of the largest "wealth gaps" in human history. Via Forbes:
"'The top 10% of the wealth distribution hold a large and growing share of U.S. aggregate wealth, While the bottom half hold a barely visible share.' Fed economists wrote in a paper outlining the new data set on inequality. The charts show that 'while the total net worth of U.S. households has more than quadrupled in nominal terms since 1989, that increase accrued more to the top than the bottom.'"
A recent report from BCA Research confirms the same showing the increase in wealth of the top 10% as compared to everyone else.
Lack Of Capital
The current economic expansion is already the longest post-WWII expansion on record. Of course, that expansion came from artificial interventions rather than stable organic economic growth. As noted, while the financial markets have soared higher in recent years, it bypassed a large portion of Americans. Such was NOT because they were afraid to invest, but because they had NO CAPITAL with which to invest.
The ability to "maintain a certain standard of living" remains problematic for many forcing them further into debt.
"The debt surge is partly by design. A byproduct of low borrowing costs the Federal Reserve engineered after the financial crisis to get the economy moving. It has reshaped both borrowers and lenders. Consumers increasingly need it. Companies increasingly can't sell their goods without it. And the economy, which counts on consumer spending for more than two-thirds of GDP, would struggle without a plentiful supply of credit." – WSJ
Disclaimer: Click here to read the full disclaimer.