The Fed Mutes The Messenger
U.S. bond investors would do well to remind themselves that the Fed's objective of stable prices is linked to maximizing employment. They have a twin mandate. In theory these goals are aligned, but not all the time. From 1980-82 the U.S. endured two sharp recessions as interest rates were hiked to vanquish inflation. Today, maximizing employment is the more important of the Fed's linked goals. They're willing to take a little risk with inflation, as Fed chair Jay Powell noted last week (see Bond Investors Are Right To Worry).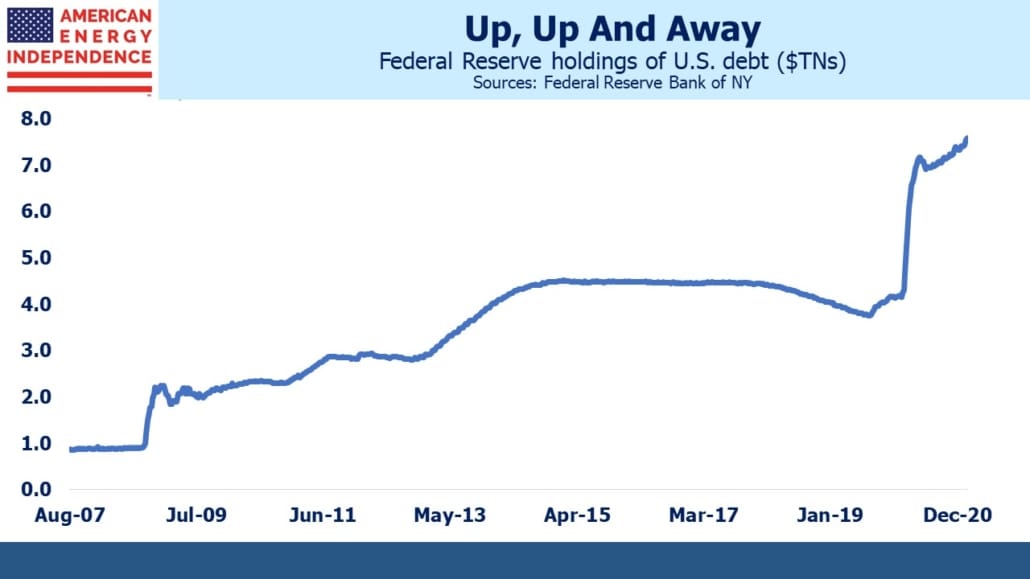 Boosting employment is why the Fed launched Quantitative Easing (QE) during the 2008 financial crisis, to good effect. It turned out that monetizing debt, via the Treasury selling directly to the Fed, wasn't inflationary. It's become a permanent fixture. Sluggish improvements in employment meant that the Fed's balance sheet continued growing until 2014 when it reached $4.5TN. It only began to shrink in 2018. Then COVID hit, and it quickly jumped to $7TN. It's been growing at $28BN a week for the past three months.
Inflation expectations have been rising at the fastest pace since 2009 as the economy emerged from the last recession. Forward estimates of the five-year inflation rate five years from now (i.e. 2026-31) are around 2%, not yet especially worrying since that's the Fed's target.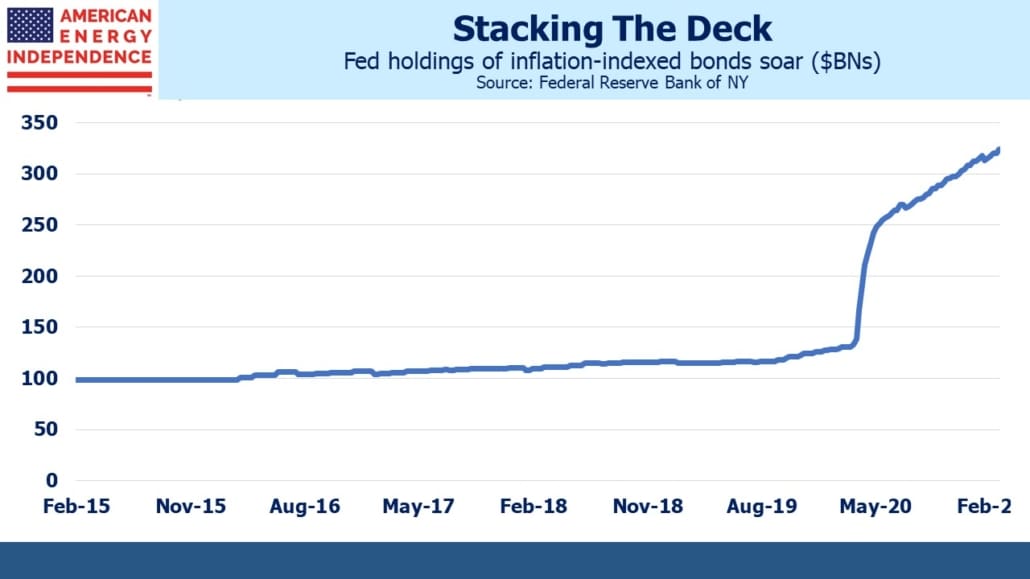 However, such estimates are derived from the yields on inflation-linked and nominal treasury securities. The Fed's holdings of inflation-linked bonds have risen sharply over the past year, such that they now hold 20% of the outstandings.
This undercuts the Fed's reliance on market-based measures of inflation – without their sharp increase in holdings, inflation expectations based on TIPs yields would be higher.
Increasing labor force participation by drawing discouraged workers back into the jobs market has gained more attention in recent years, both at the Fed and within Congress. This is no bad thing – it shows the twin mandate with Congressional oversight working.