The Fed Has Justification To Pause Rate Hikes
We pay attention to the Personal Consumption Expenditures' inflation reading because it's what the Fed follows the closest. October headline PCE inflation was up 0.2% month over month which met estimates for 0.2% growth and was above September's growth rate of 0.1%. As the chart below shows, year over year PCE inflation was 2% which matched September's reading, but missed estimates for 2.1% growth.
(Click on image to enlarge)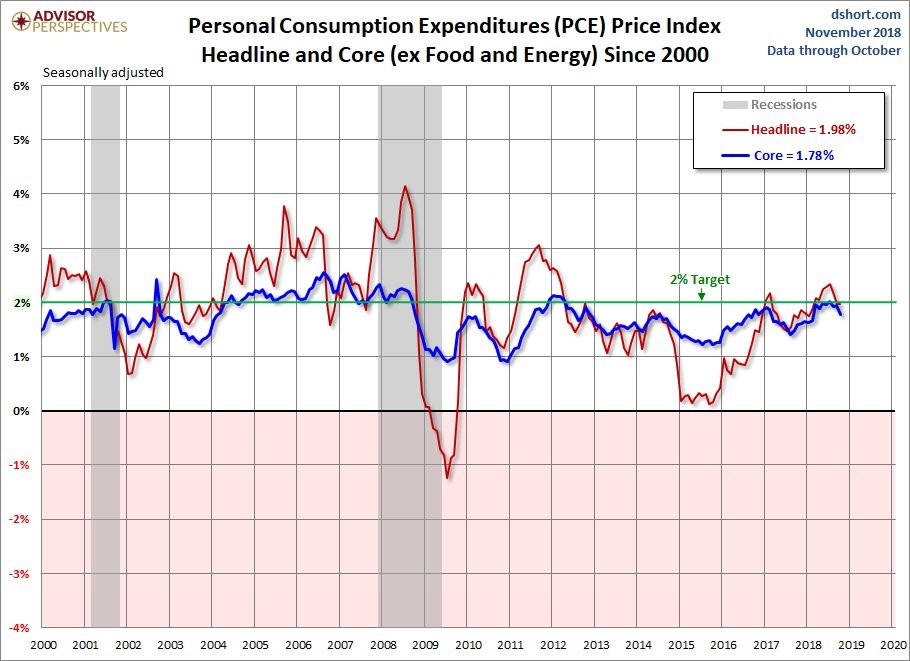 Source: Advisor Perspectives
The November reading should show weakness because oil prices were down 22%. That was oil's biggest monthly loss in a decade. There has also been a weakness in housing price growth which should negatively impact both core and headline PCE.
Inflation has never been able to stay above the Fed's 2% target this cycle. This is because of cyclicality and the inability to surpass tough comparisons without falling. Headline PCE peaked at 2.34% in July 2018 when it was being compared to inflation of only 1.48% in July 2017. Since inflation was higher later in 2017, the year over year growth rate has fallen. The weakness in economic growth is also important as Q2 GDP growth was 4.2% and the median of 10 estimates for Q4 GDP growth put it at 2.8%. High nominal wage growth hasn't translated to higher inflation which is great news for workers as they will see real wage growth gains due to this decline in inflation and tight labor market.
Core PCE Weakened: Fed Could Lower 2019 Hike Guidance
Month over month core PCE inflation was up 0.1% which missed estimates and September's growth rate which were both 0.2%. Year over year core inflation fell from 1.9% to 1.8%, missing estimates for 1.9%. Just like headline PCE, core PCE comparisons will get tough especially starting in March. In March 2018, core inflation increased from 1.66% to 1.96%.
The October core PCE reading is important because it's the last reading before the December 19th Fed meeting. With the Fed's favorite inflation reading falling below its target, the Fed can easily turn dovish. The Fed can justify its guidance change by repeating this data which will help it dodge criticisms of the decision being political or following the whim of the stock market.
Disclaimer: Please familiarize yourself with our full disclaimer here.