The Fate Of Real Estate
For years, realtors have been waiting for more housing inventory. It had become an article of faith, what was restraining a full-blown recovery was the lack of units available. The level of resales like construction was up, but still way, way less than it was now fourteen years past the prior peak despite sufficient population growth to have absorbed the previous bubble's overbuilding.
All the way back in March 2017, the National Association of Realtors (NAR) was lamenting the low number of new listings. Chief Economist Larry Yun would begin to use what became his standard (attempted) answer:
Realtors are reporting stronger foot traffic from a year ago, but low supply in the affordable price range continues to be the pest that's pushing up price growth and pressuring the budgets of prospective buyers.
It was more than a thorn in the side of the real estate business. It was an enigma; after all, the economy was booming, they said, so it was a mystery as to why the combination of that plus sharply rising home prices weren't convincing hordes of homeowners to cash in.
Beginning in the middle of 2018, realtors finally got their wish. Sort of. Inventory levels are rising, the count of homes available for sale up year-over-year for six months in a row through January 2019. Whereas there had been just 3.7 months of supply on offer back last March, last month, the latest estimates available, supply has jumped to 4.4 months' worth.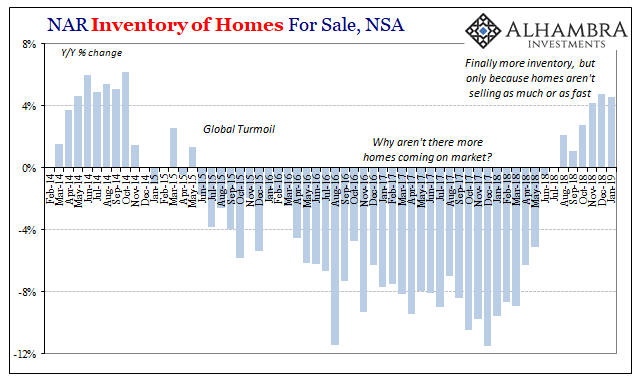 Instead of rejoicing, those in the housing business are now very concerned. They could convince themselves that those several years of falling inventory were due to some unrelated factor, an exogenous, transitory quirk a very healthy economy would clear up and overcome given enough time.
Today, however, the increase in inventory is not that; it instead coincides with the slump in sales.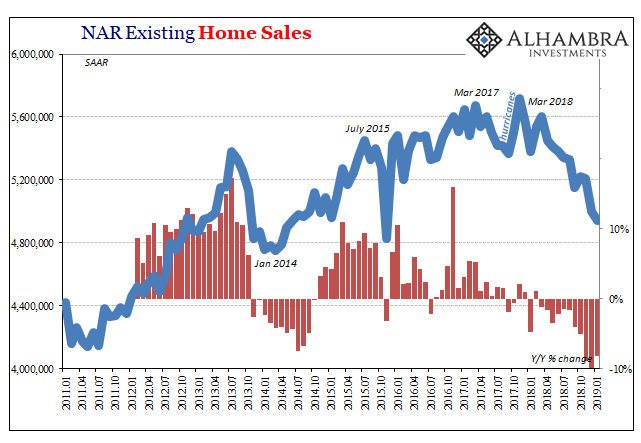 Reluctant homeowners haven't plunged in from off the sidelines. Quite the contrary, they remain just as wary as ever. As the housing market turns negative, what little was available for sale is now piling up, unable to be sold and pushed off the market fast enough.
Disclosure: This material has been distributed for informational purposes only. It is the opinion of the author and should not be considered as investment advice or a recommendation of any ...
more