The EUR/USD Effect: It Ain't An April Fool's Joke
I wrote:
The ECB decreased its bond purchases toward the end of December (2020), Then, once January hit (2021), it was back to business as usual. As a result, the ECB's attempt to scale back its asset purchases was (and will be) short-lived. And as the economic conditions worsen, the money printer will be working overtime for the foreseeable future.
And with projections of prosperity now morphing into resignations of reality, the ECB's money printer is working days, nights and weekends.
Please see below: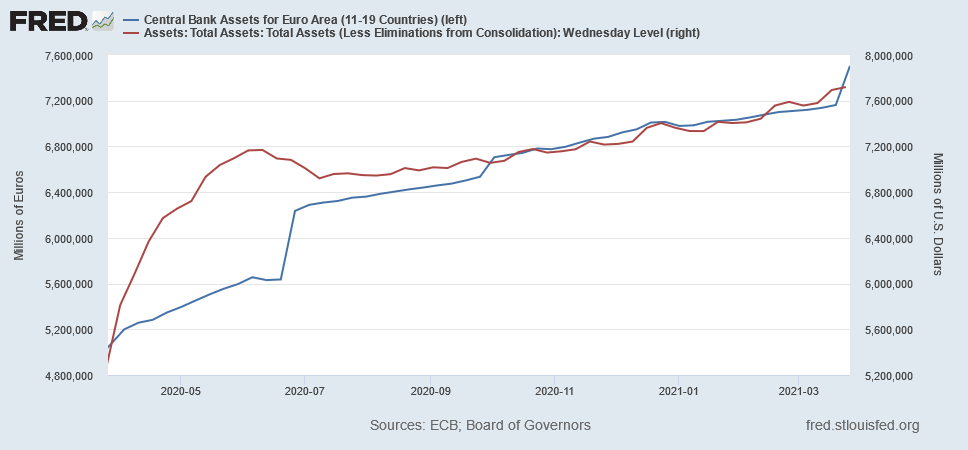 To explain, the blue line above tracks the ECB's balance sheet, while the red line above tracks the U.S. Federal Reserve's (Fed) balance sheet. Moving at relatively similar speeds over the last year, if you analyze the right side of the above chart, you can see that the ECB went on a manic shopping spree over the last two weeks. Case in point: last week's bond purchases (€343 billion) were the highest since June 2020 and the ECB's balance sheet now equals 75% of Eurozone GDP (which is more than double the FED's).
But what about mean reversion?
Well, it's possible that the ECB decreases its future PEPP purchases. However, on Mar. 31, when asked about unrest in the European bond market and the modest uptick in interest rates, ECB President Christine Lagarde had an interesting response:

Source: Bloomberg
Translation?
Because Europe can't handle rising interest rates if increasing the ECB's bond-buying program means printing the euro into oblivion … then so be it.
Also worth mentioning, an extreme decoupling has occurred between the EUR/USD and the German DAX (the benchmark equity index of Europe's largest economy).
Please see below: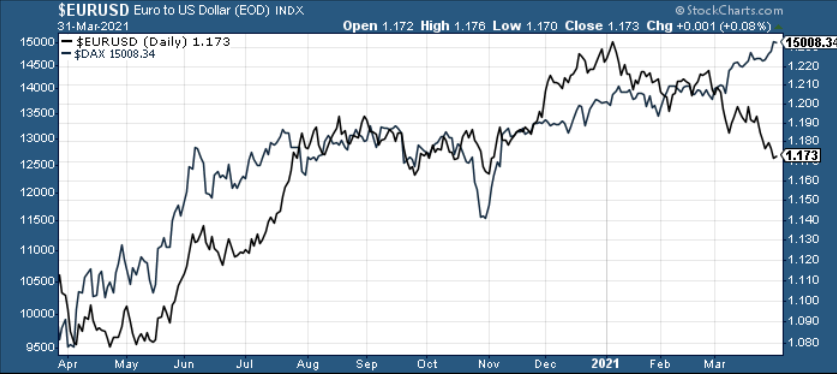 To explain, the performance of the EUR/USD often mirrors the performance of the DAX 30 (and vice versa). However, if you analyze the right side of the chart, you can see that equity optimism has completely run away from currency realism. As a result, if the DAX 30 rolls over, it could put even more downward pressure on the EUR/USD.
Disclaimer: All essays, research, and information found above represent analyses and opinions of Matthew Levy, CFA and Sunshine Profits' associates only. As such, it may prove wrong and be ...
more