The EU Delivers A Fiscal Stimulus Package, EUR/USD Back Above 1.1000 – 1.1200 Soon?
DAX30 CFD
In our last weekly market outlook we wrote:
"[…]If the bullish momentum continues over the next days and the DAX30 breaks above the April highs around 11,350 points, a re-test of the SMA(200) around 12,000/050 points is a realistic option.[…]"
and the German index really gained massive momentum for the start of the week, driven higher mainly by the EU commission proposal of a 750 Billion-Euro fiscal stimulus package with 500 billion Euro in grants and 250 billion in loans for European Union regions and sectors hit hardest by the coronavirus pandemic.
While this might not come as such a big surprise after Germany and France respectively Merkel and Macron proposed a 500 billion EU recovery fund on May 18, this step can still be considered a first step towards a transfer union.
Still, we remain very cautious in terms of overly aggressive long engagements in the German index, given the more and more unattractive risk-reward ratios after the DAX30 already gained significantly more than 30% from its March lows.
That said, the same seems true for US Equities which might also see a sharper corrective move with US stocks trading at over 143% market cap to US GDP and forward Price-Earnings ratio of higher than 24 which seems way too optimistic given the expected economic downturn in the months to come after the Corona lockdown.
Nevertheless, technically as long as we trade above 10,300 points, the mode stays bullish on D1: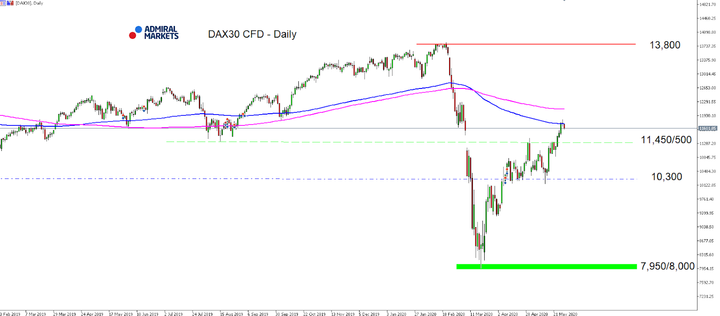 Source: Admiral Markets MT5 with MT5-SE Add-on DAX30 CFD Daily chart (between February 13, 2019, to May 29, 2020). Accessed: May 29, 2020, at 10:00pm GMT - Please note: Past performance is not a reliable indicator of future results, or future performance.
In 2015, the value of the DAX30 CFD increased by 9.56%, in 2016, it increased by 6.87%, in 2017, it increased by 12.51%, in 2018, it fell by 18.26%, in 2019, it increased by 26.44% meaning that after five years, it was up by 34.2%.
US Dollar
While the overall picture in the US dollar hasn't significantly changed over the last week of trading, our take from our last weekly market outlook with seeing the USD under pressure, especially against the Euro after Merkel's and Macron's 500 billion Euro EU recovery fund, played indeed out as expected.
Disclaimer: The given data provides additional information regarding all analysis, estimates, prognosis, forecasts or other similar assessments or information (hereinafter "Analysis") ...
more