The Establishment Strikes Back
Twitter got a first taste of that this week, with Uganda shutting it down ahead of that country's election.
The backstory is that Twitter and other tech giants tried to interfere in the Ugandan election by mass-banning certain accounts.

So Uganda took the entirely appropriate step of leveling the playing field by banning Twitter altogether. The U.S. should have done the same in 2020. https://t.co/RnFj9o3rQC

— Allum Bokhari (@LibertarianBlue) January 12, 2021
An Objective Assessment
As the popularity of the saying "go woke, go broke" suggests, people have the tendency to confuse what they want to happen with what will happen. We want companies that do egregious things to fail. That doesn't mean they will. At Portfolio Armor, we use an objective method of analyzing securities that take our emotions out of the equation: we gauge options market sentiment (If you're interested in the nuts and bolts of this, we broke down an example of this analysis with a small-cap stock here). It's worked fairly well recently. For example, here's the performance of our most recent top names cohort to finish its six month tracking period.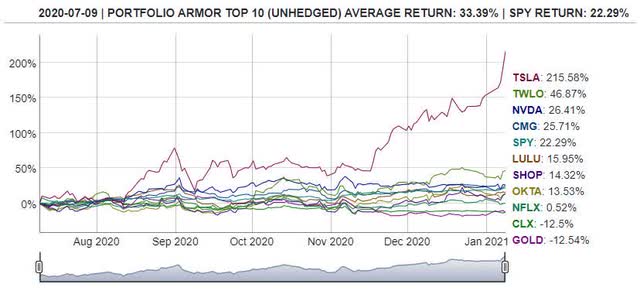 Note that Shopify (SHOP), one of the companies that took action against Trump this week, was one of our top names back in July. A couple of other companies mentioned above for taking action against Trump and other Republicans this week, Amazon and Twitter, were top names of ours in recent months. What is options market sentiment saying now about them, and other companies that took actions to "defend democracy" this week?
Hallmark is a family-owned company, and GoFundMe isn't publicly traded either. Of the other companies, our gauges of options market sentiment aren't particularly bullish on any of them now. Whether that's due to their recent actions, general market conditions, or other factors, I don't know, but it's striking nevertheless.