The Establishment Strikes Back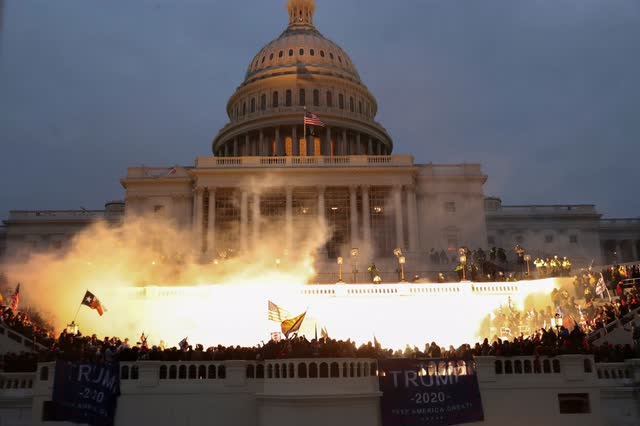 The US Capitol on January 6th
In the week since January 6th's Capitol Offense, President Trump has been deplatformed by Twitter (TWTR), Google's (GOOG), (GOOGL) YouTube, and Facebook (FB). Salesforce (CRM) has cut off his campaign's email service; Shopify (SHOP) and GoFundMe have cut his organization off as well. Trump-supporting Senator Josh Hawley has had his book contract canceled by ViacomCBS (VIAC) subsidiary Simon & Schuster, and Hallmark demanded Hawley return their previous political contributions to him. Meanwhile, Amazon's (AMZN) AWS division and Apple's (AAPL) app store put the alternative social media platform, Parler, out of action.
In addition, Walmart (WMT), Amazon, Morgan Stanley (MS), Dow (DOW), and AT&T (T) announced they were cutting off donations to Republicans who challenged the certification of the electoral vote. The ostensible reasons for these companies' actions were to defend democracy and protect against violence. Let's consider the more likely rationale and its investment implications.
Defending Democracy
Deplatforming an elected President and exerting corporate pressure on legislatures may seem like an odd way to "defend democracy", but this is the argument establishment types on both the nominal left and right of center have been making.
Important to note that after social media companies banned Trump and his insurrectionists and other corporations withdrew support from his collaborators, more elected Republicans are now opposing him. This is the power & duty that American businesses have to uphold our democracy.

— Evan McMullin 🇺🇸 (@EvanMcMullin) January 12, 2021
Former CIA agent and 2016 Presidential spoiler candidate Evan McMullin offers one example of that above. Also, none of these corporations took issue with legislators objecting to previous elections.