The COVID Recession Is Over
The Bureau of Economic Analysis announced today that seasonally adjusted U.S. real GDP grew at a 4.0% annual rate in the fourth quarter. That's well above the 3.1% average growth that the U.S. experienced over 1947-2019, and follows a 28.8% logarithmic annual growth rate seen in Q3.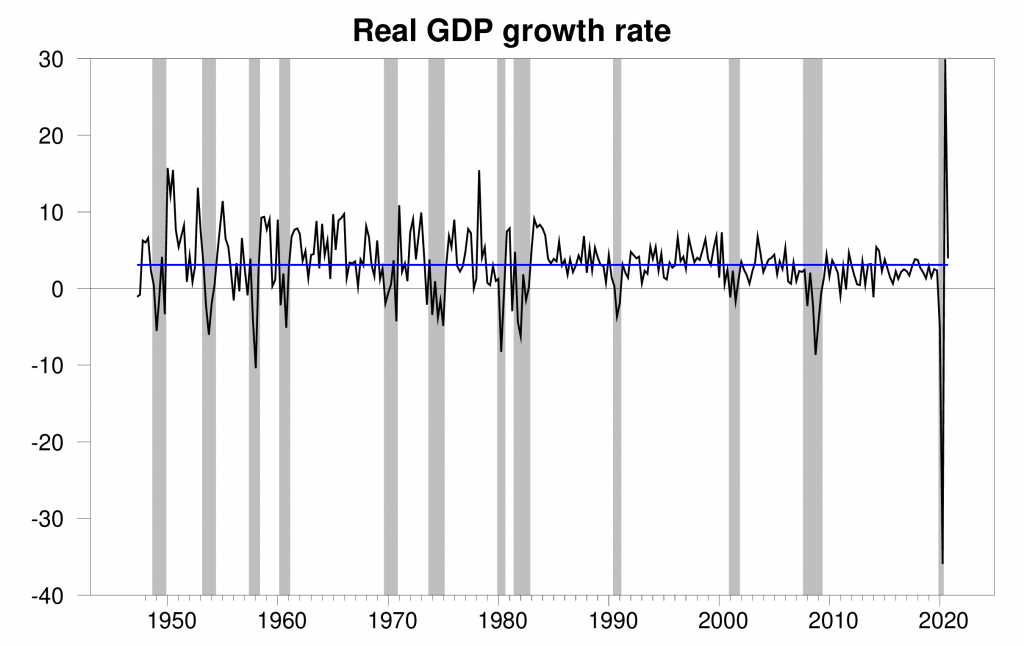 Real GDP growth at an annual rate, 1947:Q2-2020:Q4, with the 1947-2019 historical average (3.1%) in blue. Calculated as 400 times the difference in the natural log of GDP from the previous quarter.
These numbers bring the Econbrowser recession indicator index down to 0.0% for Q3. As we've done every quarter for the last 15 years, the number posted today (0.0%) is an assessment of the situation of the economy in the previous quarter (namely 2020:Q3). According to our algorithm, there is zero probability that the Q3 observation of +28.8% could be viewed as continuation of the recession that began at the start of 2020; the recession is unambiguously over. For this reason, in the figures I report from now on I will end the shaded region for this recession with the 2020:Q2 observation. The Business Cycle Dating Committee of the National Bureau of Economic Research has not yet made that call, though I believe they eventually will. If there is a downturn in 2021, the mechanical algorithm that we have been using for 15 years would label it as a separate recession.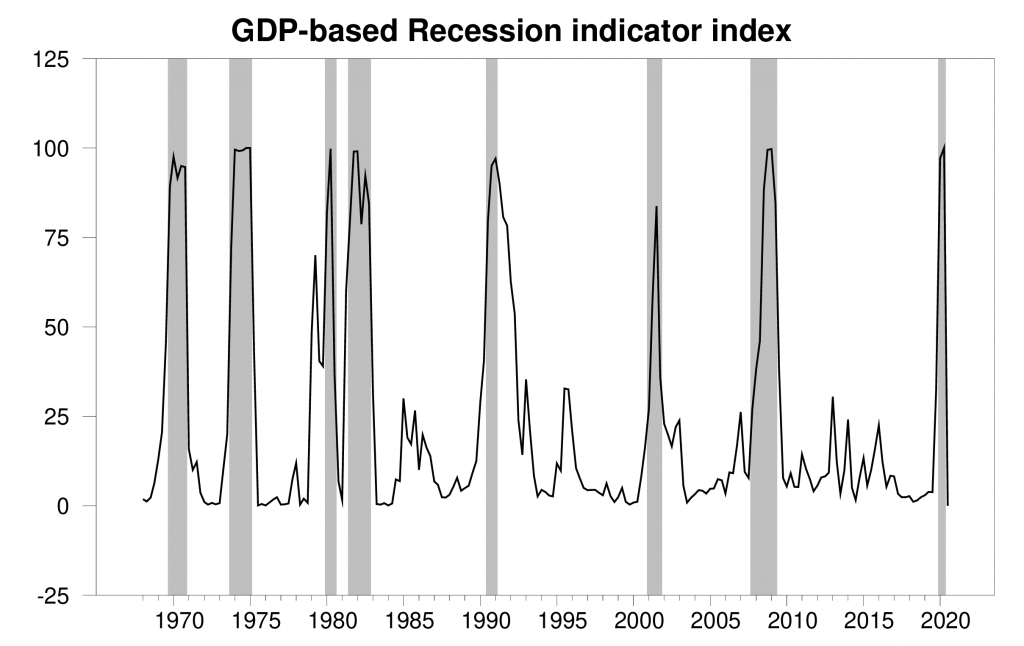 GDP-based recession indicator index. The plotted value for each date is based solely on the GDP numbers that were publicly available as of one quarter after the indicated date, with 2020:Q3 the last date shown on the graph. With the exception of the the end of the 2020 recession, shaded regions represent the NBER's dates for recessions, which dates were not used in any way in constructing the index. The indicated end to the 2020 recession comes from the algorithm described in Chauvet and Hamilton (2005).
None of this should be taken to suggest that the economy has fully recovered from events of 2020. Economists have always followed the convention that recessions end when recovery begins (as opposed to when recovery is complete). The figure below plots the level of real GDP (again in logarithmic units) rather than the growth rate. Despite the positive growth in Q3 and Q4, the level of real GDP in 2020:Q4 was still 2.5% lower than it had been in 2019:Q4. Even if we were to continue to experience the strong 4.0% annualized growth rate of 2020:Q4 for every quarter in 2021, that would only increase the level of GDP by 1% each quarter, and wouldn't bring us back to the 2019:Q4 level until the third quarter of 2021.