The Coming Breakdown Of U.S. & Global Markets Explained… What Most Analysts Miss
Furthermore, the United States was able to pull itself out of the Great Depression because it only had just begun to tap into its massive cheap oil reserves. Oil production in the United States continued to increase for the next four decades. This is no longer possible, as U.S. oil production is likely to collapse over the next decade.
That being said, are we to assume that Louis Arnoux and the Hill's Group are correct in their analysis and forecasts? Of course, it would be prudent to be skeptical and realize that there is a possibility that their analysis may be wrong, or off on the timing.
However, if we look around at the markets today, things are changing at a RAPID & VOLATILE PACE. As I mentioned, to see global bonds with negative rates double to $13 trillion in the past six months is a WARNING SIGN that situation is rapidly getting out of hand.
In addition, we see more and more evidence of how unsustainable the financial system has become.
Increasing number of underfunded Pension Plans
Massive Student Debt with no possibility of being repaid
Record amount of Large companies borrowing money a low-interest rates to buy back stock and pay dividends
Increasing number of Health Providers exiting the Obama Healthcare system leaving millions without basic catastrophic insurance
High paying manufacturing jobs lost only to be replaced by inferior waitress and retail service jobs.
The list can go on and on. People need to realize that even though the politicians in the U.S. Govt and Corporations are committing fraud by lining their pockets, the overwhelming reason for the collapse of the American Standard of Living is due to the falling EROI.
It's that simple.
The Rapidly Falling EROI and Oil Price Is Gutting The U.S. Oil Industry
This next chart says it all. The top three U.S. oil companies, ExxonMobil, Chevron and ConocoPhillips cleared a hefty $16.3 billion after CAPEX and dividends were paid during the first half of 2011: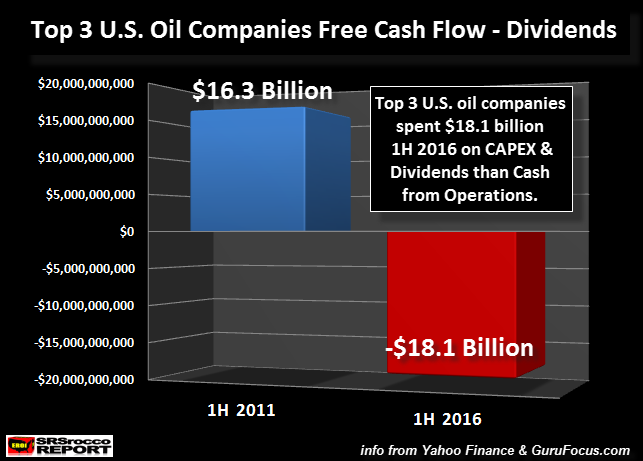 I arrived at that figure by taking these three companies Cash from Operations and then deducting Capital Expenditures (CAPEX) and Dividends.Now, if we look at the same figure five years later, these three U.S. oil companies are in the HOLE for $18.1 billion.What a change in five years… aye?
Watch for these oil companies to start cutting their dividends in a big way. Matter-a-fact, ConocoPhillips already cut their dividend by a third from $0.74 a share down to a lousy $0.25.
Furthermore, the total U.S. Energy Sector now has a whopping $370 billion worth of debt.I am being a broken record here, but let's take a look at this chart which shows their ballooning INTEREST ON DEBT: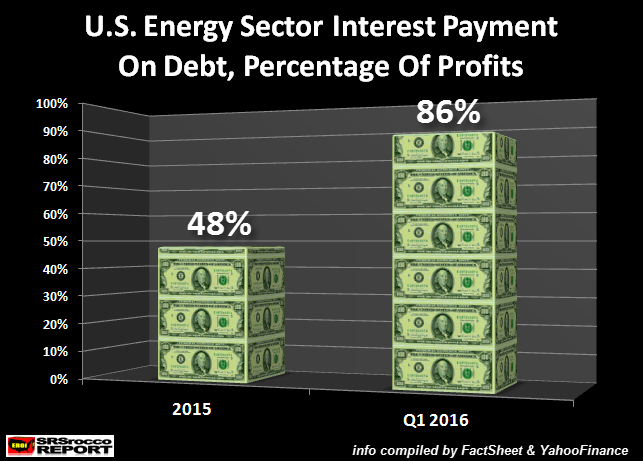 In the first quarter of 2016, the U.S. Energy Sector paid 86% of their operating profits just to pay the interest on their debt. If oil prices continue to remain lower (or even lower), this won't be sustainable for long.
Here is a chart from YahooFinance showing the U.S. Energy Sector interest on debt. As we can see in 2016, the chart line shoots up towards the heavens as the U.S. Energy Sector paid 86% of their operating income just to service the interest on the debt: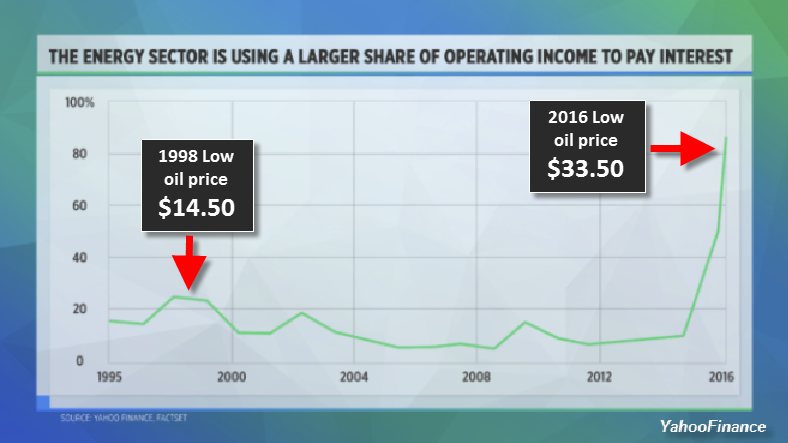 What it so important to understand about this chart is the difference between 1998 and Q1 2016.In 1998, the price of oil had fallen to a low of $14.50. However, the U.S. Energy Sector interest on debt only jumped to 25% of their operating income. In the first quarter of 2016, the price of oil was more than double at $33.5o a barrel, but the U.S. Energy Sector's interest on their debt surged to 86% of their operating income.
Why the big surge in interest payments on debt with a doubling of the oil price since 1998??? That's correct, it's due to THE RAPIDLY FALLING EROI.
Now, if the Hill's Group is correct in their forecast that they see a "Thermodynamic Collapse" of oil prices to $11.76 by 2020, what the hell will this do to the U.S. Energy Sector??
Correct… IT WILL TOTALLY GUT IT.
Which is why, they made this quote in their report:
Within 10 years the Oil Industry as we know it will have disintegrated
Unfortunately, this information will reach the masses after it's too late. Moreover, the majority of precious metals investors will likely remain in the dark because they continue to wear HORSE BLINDERS. Unless an article is about the U.S. Economy, debt, manipulation or gold and silver, precious metals investors have no desire to read about energy.
How Will The Rapidly Collapsing EROI Impact The U.S. & Global Markets??
The important thing to understand about this information is that the situation will likely unfold in a way that is extremely hard to predict.However, we can make some common sense assumptions:
The Standard Investing Practice of putting 95-99% of one's wealth in Stocks, Bonds & Real Estate will be DEAD FOREVER.
Entire sections of cities and suburbs will experience a 75%+ decline in economic activity. This will destroy the value of most forms of Real Estate.
No longer will investors be concerned about earning a YIELD or GROWING their wealth. Instead, investors will protecting wealth as best they can.
Big Investors such as Warren Buffet will watch as their wealth evaporate, never to return.
Whole Service Industries & Employment Careers will disintegrate. Watch as Restaurants and Retail stores close doors by the thousands forever.
The Highly Complex Supply Chain System that delivers goods will breakdown considerably. Trade will move to more regional or local systems.