Ten Clean Energy Stocks For 2018: Quick November Update
At the start of November, I abandoned my short-term bearish stance on the market, writing "I'm not confident that the correction is over, but we seem to be heading into a temporary lull, and so I'm going to abandon cash as my top pick for November." This turned out to be a good call, with my Ten Clean Energy Stocks model portfolio up 4.3% for the month, slightly behind its broad dividend income benchmark, SDY, which was up 4.9%. Its clean energy income benchmark YLCO gained 1.6%, as did the private portfolio I manage, the Green Global Equity Income Portfolio (GGEIP).
For the year through November, the model portfolio is up 6.8% beating both its benchmarks at 4.9% (SDY) and -4.3% (YLCO). GGEIP is up 2.4%, well ahead of the clean energy income benchmark, but lagging the broader universe of income stocks.
Details of the stocks' performance are shown in the chart below.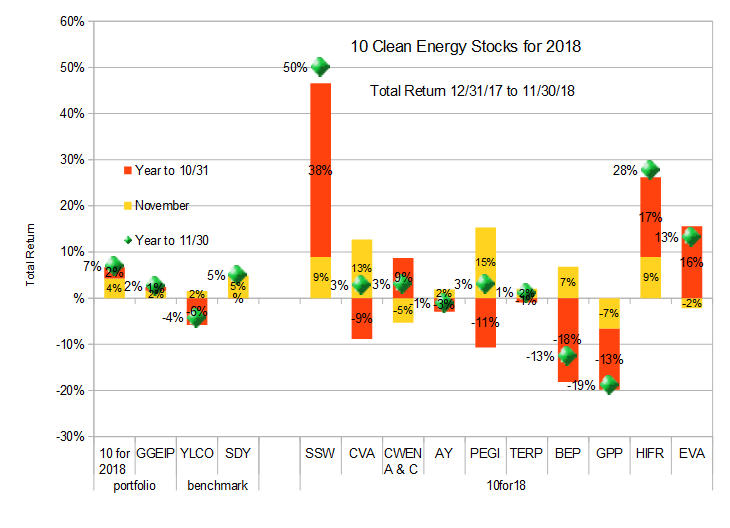 Top Picks
Last month, I chose Green Plains Partners (GPP), Covanta Holding (CVA) and Brookfield Renewable (BEP) as my top short-term picks. GPP fell 6.6%, while CVA and BEP gained 12.7% and 6.8% respectively, for an average gain of 4.3%, slightly behind the average stock in the model portfolio. I think Green Plains Partners is in a good position for a strong rebound in December, so that will be my sole short-term pick for the month.
Stock discussion
This will be an abbreviated update, focusing only on the handful of stocks that have had significant news since the last two updates at the start of November (here and here).
Seaspan Corporation (NYSE:SSW)
12/31/17 Price: $6.75. Annual Dividend: $0.50 (7.4%). Expected 2018 dividend: $0.50 (7.4%). Low Target: $5. High Target: $20.
11/30/18 Price: $9.51 YTD dividend: $0.50 (5.26%) YTD Total Return: 49.9%

As mentioned in November, I will be taking gains in Seaspan and dropping the stock from the list in 2019, because I no longer consider the stock to be "green" due to an investment in liquefied natural gas facilities.
Disclosure: Long PEGI, CWEN/A, CVA, AY, SSW, TERP, BEP, EVA, HIFR, GPP.
Disclaimer: Past performance is not a guarantee or a reliable indicator of future results. ...
more