Ten Clean Energy Stocks For 2018: First Half Update
The first half of 2018 has been difficult for most investors, including clean energy investors and dividend income investors. Through June, my broad dividend income benchmark SDY lost 0.6%, while my clean energy income benchmark YLCO lost 4.7%, including dividend income.
My picks were also down for most of the year, finally struggling back into positive territoryat the end of May. They finished the first half up a solid 5.9%. The real money strategy I manage, the Green Global Equity Income Portfolio (GGEIP), also squeaked in to positive territory by 1.2% at the end of June.
Details of then stocks' performance are shown in the chart below.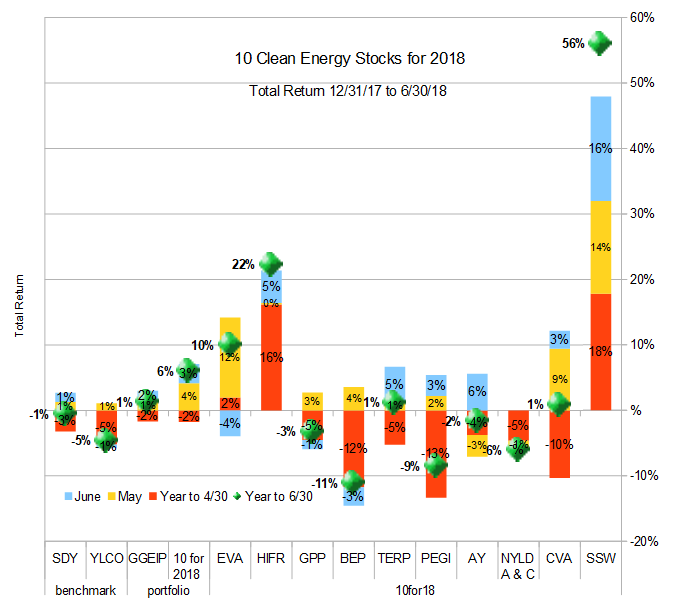 Top Picks
Last month, I highlighted Atlantica AY (at $18.91) and Terraform Power TERP (at $10.83) are my top short term picks. These two stocks were up 7% and 8% since that writing, significantly more than the portfolio as a whole (2.8%). I currently think Brookfield (BEP), Covanta (CVA) and Atlantica (AY) have the best prospects for short term gains.
Stock discussion
Below I describe each of the stocks and groups of stocks in more detail. I include with each stock "Low" and "High" Targets, which give the range of stock prices within which I expect each stock to end 2018.
Seaspan Corporation (NYSE:SSW)
12/31/17 Price: $6.75. Annual Dividend: $0.50 (7.4%). Expected 2018 dividend: $0.50 (7.4%). Low Target: $5. High Target: $20.
6/30/18 Price: $10.18 YTD dividend: $0.25 (3.70%) YTD Total Return: 56.0%

Leading independent charter owner of container ships Seaspan's stock steamed upwards, riding the tide of the recovering container shipping industry. While President Trump has brought us to the brink of a global trade war, so far the potential damage to the global shipping industry has been a smaller factor in investors minds than the general recovery of the industry after two very lean years caused by a supply glut. Over the last two years, many container ships have been scrapped and few new build ships have been delivered, with the net effect of reducing oversupply and increasing charter prices.
Even if Trump's trade war rages out of control, it will hurt, but not be a total disaster for the container ship industry. This is because this particular trade war is shaping up to be one of the US vs. everybody else variety. Other countries will continue to trade with each other, and global shipping may even pick up some trade from Mexico and Canada that used to go between those countries and the United States by land.
Nevertheless, a trade war that is looking increasingly likely and its net effect on shipping (not to mention the US economy) will be negative. With SSW's stock up over 50% year to date, and the trade waters looking increasingly choppy, now seems like a good time to take some profits.
Covanta Holding Corp. (NYSE:CVA)
12/31/17 Price: $16.90. Annual Dividend: $1.00(5.9%). Expected 2018 dividend: $1.00 (5.9%). Low Target: $15. High Target: $25.
6/30/18 Price: $16.50 YTD dividend: $0.50 (2.96%) YTD Total Return: -10.3%

The stock of US leader in the construction and operation of waste-to-energy plants Covanta rose in both May and June, most likely in reaction to the encouraging first quarter earnings report released on April 26th and which I covered at the start of May.
Disclosure: Long PEGI, NYLD/A, CVA, AY, SSW, SSW-PRG, TERP, BEP, EVA, HIFR, GPP.
Disclaimer: Past performance is not a guarantee or a reliable indicator of future ...
more