Ten Clean Energy Stocks For 2017: Fall Forward
Yieldco Buyouts
A Canadian Yieldco Invasion sent clean energy stocks running up in October and November. My Ten Clean Energy Stocks model portfolio benefited from the purchase of 25% of Yieldco Atlantica Yield (ABY) by Canadian utility and renewable power generation conglomerate Algonquin Power and Utilities (TSX: AQN or OTC AQUNF), which was one of my Ten Clean Energy Stocks for 2009.
Rumors had circulated that the Atlantica stake would be purchased by Brookfield (NYSE: BAM) and its Yieldco Brookfield Renewable (NYSE: BEP). If there were discussions, Brookfield must have decided that it had enough on its plate with the recently consummated purchase of Terraform Power (NASD: TERP) and the soon to be completed purchase of its sister Yieldco (and Clean Energy Stock for 2016) Terraform Global (NASD: GLBL). The Canadian buying spree continued with Yieldco Innergex (TSX: INE and OTC: INGXF) buying Clean Energy Stock for 2012, 2013, and 2014 Alterra Power at a substantial premium.
Performance
The two months were again good for clean energy stocks, with my growth benchmark PBW up 14.7% although my income benchmark YLCO fell 1.5%. My 8 income stocks did better (up 3.4%) while my two growth stocks lost some of their lead with a gain of only 7.7%. My managed income portfolio, the Green Global Equity Income Portfolio (GGEIP) rose 2.0%. The 10 stock model portfolio was up 4.3% compared to its blended benchmark, which was up 1.8%. For the year to the end of October, my two growth picks are up 37.5%, compared to their benchmark PBW which is up 34.7%. My 8 income picks are up 28.8%, GGEIP is up 23.7%, and their benchmark is up 17.0%. The 10 stock model portfolio is up 30.6% with its benchmark up only 20.6%.
The strength looks likely to continue with a number of companies reporting strong earnings in early November.
See the chart below for individual stock performance.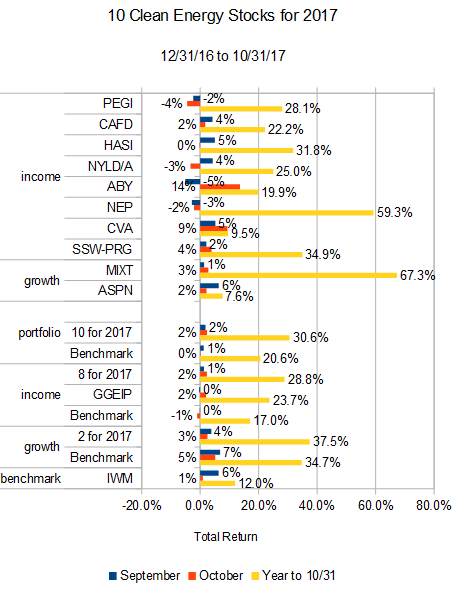 Stock discussion
Income Stocks
Pattern Energy Group (NASD: PEGI)
12/31/16 Price: $18.99. Annual Dividend: $1.63 (8.6%). Expected 2017 dividend: $1.64 to $1.67. Low Target: $18. High Target: $30.
10/31/17 Price: $23.02. YTD Dividend: $1.252 (6.6%). Annualized Dividend: $1.68. YTD Total Return: 28.1%

Wind-focused Yieldco Pattern Energy Group will report third-quarter results on November 9th. The stock has been trading lower since an October offering of common stock at $23.40. It is typical for Yieldcos to trade down in the weeks after a secondary offering, but as long as the Yeildco can invest the proceeds to increase cash flow per share (and Pattern can), these offerings support growth of the dividend and boost the stock's medium and longer-term prospects. As such, buying after a secondary offering (even with the uncertainty of an upcoming earnings announcement) is often a good strategy.
Although I have a large position already, I took the opportunity to sell cash covered $22.50 puts on October 25th, effectively increasing my exposure to the stock.
8point3 Energy Partners (NASD: CAFD)
12/31/16 Price: $12.98. Annual Dividend: $1.00 (7.7%). Expected 2017 dividend: $1.00 to $1.05. Low Target: $10. High Target: $20.
10/31/17 Price: $15.02. YTD Dividend: $0.7931 (4.0%) Annualized Dividend: $1.088. YTD Total Return: 22.2%

Yieldco 8point3 Energy Partners continues to be the wallflower at the high school dance. Its sponsors First Solar (FSLR) and Sunpower (SPWR) continue to look for a buyer for their stakes. Rumors of possible partners have surfaced, and Sparkspread reported that "final bids" in the strategic review were due on October 16th. No offers have been made public, and the silence around the process makes it increasingly likely that the sponsors were not happy with any of the offers they received.
The stock peaked after optimistic earnings call on October 4th at $15.73, but started to trend down as the lack of public bids slowly deflated the market. Earnings were good, with cash flow coming in ahead of expectations (including mine), but the worrying problem of lack of future growth and approaching debt refinancing in 2020 remain.

Hannon Armstrong Sustainable Infrastructure (NYSE: HASI ).
Disclosure: Long HASI, MIXT, PEGI, NYLD/A, CVA, ABY, NEP, SSW-PRG, GLBL, TERP, BEP. TSX:AXY, INE, AQN. Long puts on SSW (an effective short position held as a hedge for SSW-PRG. ...
more