T2108 Update – Volatility Stirs From Its Stupor
(T2108 measures the percentage of stocks trading above their respective 40-day moving averages [DMAs]. It helps to identify extremes in market sentiment that are likely to reverse. To learn more about it, see my T2108 Resource Page. You can follow real-time T2108 commentary on twitter using the #T2108 hashtag. T2108-related trades and other trades are occasionally posted on twitter using the #120trade hashtag. T2107 measures the percentage of stocks trading above their respective 200DMAs)
T2108 Status: 57.0%
T2107 Status: 52.8%
VIX Status: 13.9
General (Short-term) Trading Call: Neutral. Market still seems stuck in a chopfest. T2107 is still showing the potential for an important breakout.
Active T2108 periods: Day #120 over 20%, Day #79 above 30%, Day #23 above 40%, Day #7 over 50% (overperiod), Day #1 under 60% (underperiod), Day #189 under 70%
Reference Charts (click for view of last 6 months from Stockcharts.com):
S&P 500 or SPY
SDS (ProShares UltraShort S&P500)
U.S. Dollar Index (volatility index)
EEM (iShares MSCI Emerging Markets)
VIX (volatility index)
VXX (iPath S&P 500 VIX Short-Term Futures ETN)
EWG (iShares MSCI Germany Index Fund)
CAT (Caterpillar).
Commentary
I tweeted my comments on volatility (through StockTwits) soon after the market open. I was looking at ProShares Ultra VIX Short-Term Futures (UVXY). UVXY was stretching below its lower-Bollinger Band (BB), but I did not know that the volatility index would gap up before declining toward Friday's low. My data source (FreeStockCharts.com) has a 20-minute delay on the VIX. So, I just assumed the VIX was getting just as over-stretched as UVXY. This was a VERY interesting case of a divergence that quickly corrected.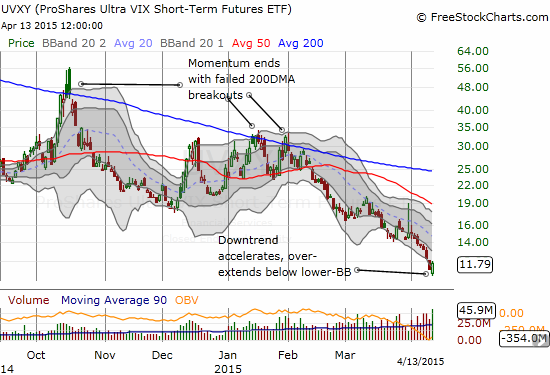 ProShares Ultra VIX Short-Term Futures (UVXY) was trading well below its lower-BB as the current downtrend accelerated – the bounceback was sharp
Full disclosure: net long the U.S. dollar, long put options on EEM and BIDU.