T2108 Update – Still Waiting For Volatility's Moment
(T2108 measures the percentage of stocks trading above their respective 40-day moving averages [DMAs]. It helps to identify extremes in market sentiment that are likely to reverse. To learn more about it, see my T2108 Resource Page. You can follow real-time T2108 commentary on twitter using the #T2108 hashtag. T2108-related trades and other trades are occasionally posted on twitter using the #120trade hashtag. T2107 measures the percentage of stocks trading above their respective 200DMAs)
T2108 Status: 57.9%
T2107 Status: 74.2%
VIX Status: 12.0 (fell 11.1%)
General (Short-term) Trading Call: cautiously bearish
Active T2108 periods: Day #139 over 20%, Day #45 over 30%, Day #44 over 40%, Day #43 over 50% (overperiod), Day #6 under 60% (underperiod), Day #21 under 70%
Commentary
After my last T2108 Update, I eagerly awaited a long overdue eruption of volatility. I am still waiting. After Friday's jobs report missed "expectations," volatility took a dive off the deep end and left intact the ceiling at the critical 15.35 pivot.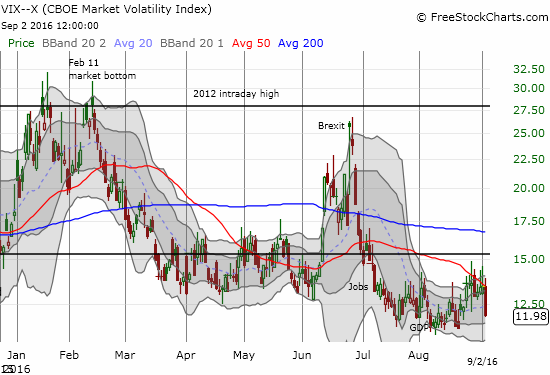 Back to the drawing board for the volatility index, the VIX.
Along with the plunge in volatility, the S&P 500 (SPY) gapped back into the middle of the current trading range. The move left behind two straight days where sellers seemed to be ready to break the index down only to stumble and fall as buyers rallied the index off its lows for the day.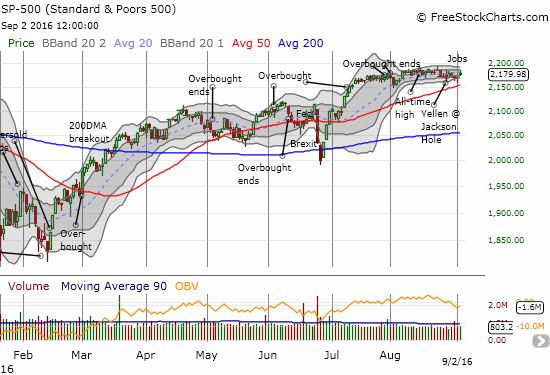 The S&P 500 continues to float along in an ever-extending trading range.
During that time, T2108, the percentage of stocks trading above their respective 40-day moving averages (DMAs), took some serious technical hits. T2108 traded as low as 48.3% on Thursday, September 1, and closed that day at 52.3%. The bearish divergence widened ever further. T2108 closed the week at 57.9%. The good news for bulls and buyers is that, T2107, the percentage of stocks trading above their respective 200DMAs, has remained remarkably calm throughout all this churn. T2107 has drifted within a tight two percentage point range since it recovered from early August's brief tumble. My short-term trading bias is still cautiously bearish given the earlier described divergence and the tendency for September to deliver the biggest drawdowns of the year.
Full disclosure: long SDS, long UVXY shares, long MYL puts, long IBB puts, long HAIN puts, short TWTR puts, long SLV, long ZSL puts