T2108 Update – Finally A Convergence Of (Tentative) Warning Signs
T2108 Status: 64.9%
T2107 Status: 52.9%
VIX Status: 13.8
General (Short-term) Trading Call: Mildly bearish – STILL waiting to see what happens when/if T2108 becomes overbought. Solidly bearish on a S&P 500 close below 2085.
Active T2108 periods: Day #88 over 20%, Day #47 above 30%, Day #27 over 40%, Day #16 over 60% (overperiod), Day #158 under 70%
Reference Charts (click for view of last 6 months from Stockcharts.com):
S&P 500 or SPY
SDS (ProShares UltraShort S&P500)
U.S. Dollar Index (volatility index)
EEM (iShares MSCI Emerging Markets)
VIX (volatility index)
VXX (iPath S&P 500 VIX Short-Term Futures ETN)
EWG (iShares MSCI Germany Index Fund)
CAT (Caterpillar).
Commentary
T2108 nudged up a fraction to close at 64.9%. It is playing the same ol' coy role relative to overbought status looming directly overhead. The S&P 500 barely budged with essentially a flat close. The index remains comfortably placed within an uptrend channel.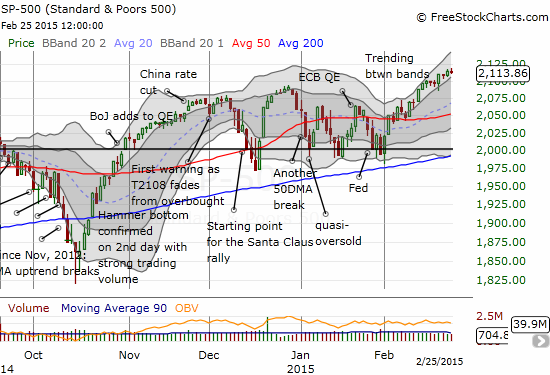 The S&P 500 remains perched within an uptrend channel defined by the two Bollinger Bands (BB)
The source of my change in the trading call to "mildly bearish" comes from the volatility index and Apple (AAPL).
The volatility index, the VIX, made a strong move upward from its low of the day. The candlestick looks like a hammer bottom in the making.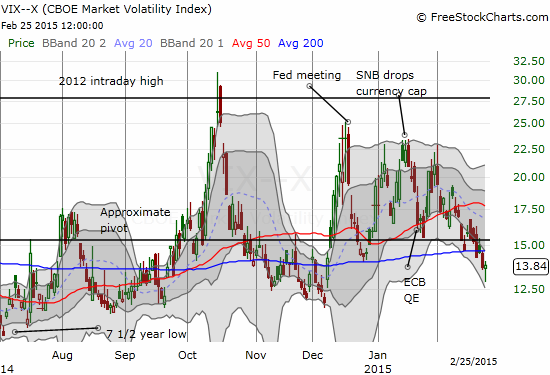 The volatility index, the VIX, looks ready to flip over its pivot again
I did not understand why volatility was able to make such a strong comeback given the relatively placid trading on the S&P 500. And then I saw what Apple (AAPL) did.
$AAPL's 2-day decline likely ending nice streak for the NASDAQ. I next expect %stocks>40DMA to tumble finally as leaders stumble. $QQQ

— Dr. Duru (@DrDuru) February 25, 2015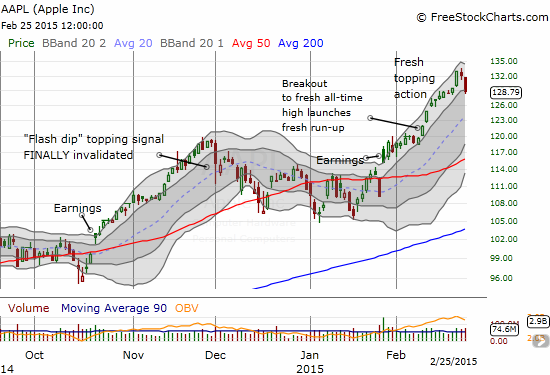 Apple (AAPL) experiences its first 2-day decline since mid-January. It has marginally broken its primary uptrend defined by the two Bollinger Bands (BB)
Technically, this drop in Apple appears at first blush relatively benign given the uptrend and its ability to invalidate the last topping signal. However, a closer look shows two days straight of high-volume selling – rarely a benign sign coming off all-time highs (or 52-week highs for that matter). With a market cap twice that of the next largest stock, Apple's run-up since January earnings feels nearly epic. It seems to make sense to watch Apple for market signals. The market is now guilty until proven innocent, like a fresh all-time high from Apple and/or a continuation of the S&P 500's run-up.
Full disclosure: long UVXY call options, long AXP call options, long MCD call options and shares, long Z put options and call options