T2108 Update – Bullish Momentum Continues With A Wary Eye On Volatility
The S&P 500 (SPY) is doing its part by registering new all-time highs. Per plan, I used every little dip last week to load up on call options on ProShares Ultra S&P500 (SSO). It was a risky move to target a Friday expiration. However, I assumed that if the S&P 500 could not maintain momentum into the end of this week, the index would likely drop into a larger pullback. I did not buy any SSO shares as originally planned.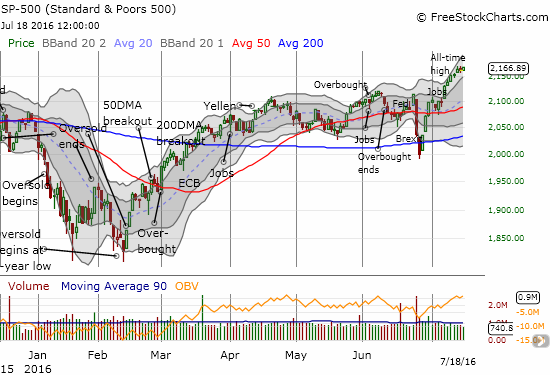 The S&P 500 closed at another (marginal) all-time high.
I noted in the last T2108 Update how the high beta stocks in the S&P 500 carried the entire load on that major breakout day. The divergence between the PowerShares S&P 500 Low Volatility ETF (SPLV) and the PowerShares S&P 500 High Beta ETF (SPHB) continues by the slightest of margins. I am looking for the divergence to widen and get more dramatic before warning that further momentum has become overly unbalanced.
Also in the last T2108 Update, I introduced the notion of GRAVITY: Gold-ra-VIx-Treasuries (or TLT)-Yen. GRAVITY consists of components that conventionally are supposed to weigh on the market. Ever since the big breakout day, GRAVITY has largely cooperated and lightened up. The SPDR Gold Trust (GLD) has been the most resilient by managing to stay mainly flat the last three days. On Thursday July 14, I sold the last of my put options on the CurrencyShares Japanese Yen ETF (FXY). FXY gapped down again and was "close enough" to retesting 50DMA support. It closed marginally below this critical support line. The volatility index, the VIX, is of greatest interest. Its cooperation with market bullishness has now pushed it to levels last seen right before the August, 2015 flash crash. I remain on my toes given the VIX typically does not stay at such low levels for long…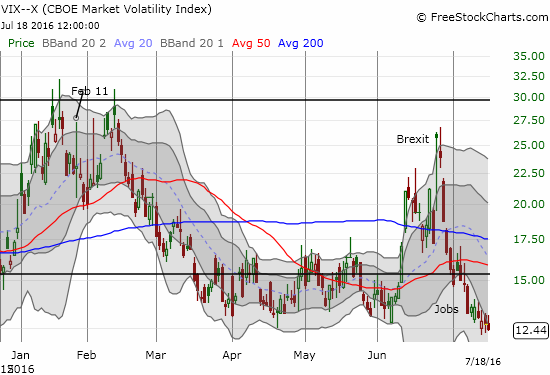 The volatility index, the VIX, drops to a near 11-month low.
Here is a quick update on trades/charts I mentioned in the last T2108 Update:
Full disclosure: long SSO call options, long JOY call options, long WYNN call options, long calls and puts on FCX, long UVXY shares