T2108 Update – Bullish Momentum Continues With A Wary Eye On Volatility
(T2108 measures the percentage of stocks trading above their respective 40-day moving averages [DMAs]. It helps to identify extremes in market sentiment that are likely to reverse. To learn more about it, see my T2108 Resource Page. You can follow real-time T2108 commentary on twitter using the #T2108 hashtag. T2108-related trades and other trades are occasionally posted on twitter using the #120trade hashtag. T2107 measures the percentage of stocks trading above their respective 200DMAs)
T2108 Status: 79.7% (5th day of overbought conditions)
T2107 Status: 71.4%
VIX Status: 12.4 (11-month closing low)
General (Short-term) Trading Call: bullish
Active T2108 periods: Day #108 over 20%, Day #14 over 30%, Day #13 over 40%, Day #12 over 50%, Day #7 over 60%, Day #5 over 70% (overbought)
Commentary
The stock market is on Day #5 of overbought conditions as the bullish momentum continues ever so slightly. T2108, the percentage of stocks trading above their respective 40-day moving averages (DMAs), has yet to crack 80%, but it does not need to do so to maintain bullish momentum in the market. I have noted in previous posts on overbought conditions that T2108's level matters little at and above 80%. There is simply very little extra room for stocks to move at this point. T2108 is more important as a signal for the end of bullish conditions which occurs when T2108 falls OUT of overbought conditions. The DURATION of the overbought period is also more important than the level of T2108 at this point. Once the duration goes past 20 days, the market actually gets MORE bullish; the chart below shows how the S&P 500's performance in the overbought period increases with overbought duration.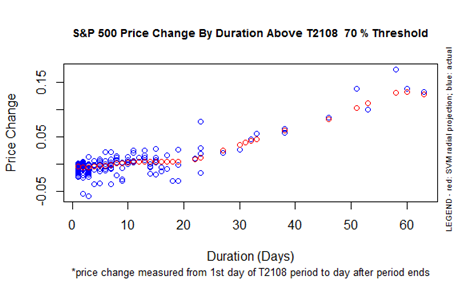 S&P 500 Performance By T2108 Duration Above the 70% Threshold
T2107, the percentage of stocks trading above their respective 200DMAs, also becomes more important at this juncture. At 71.4%, T2107 is inching along just like T2108. And like T2108, it is running out of room to move higher. At some point soon, it will be more important for it to remain aloft than for it to keep gaining.
Full disclosure: long SSO call options, long JOY call options, long WYNN call options, long calls and puts on FCX, long UVXY shares