T2108 Update – Almost Overbought AGAIN: The NASDAQ All-Time Closing High Edition
(T2108 measures the percentage of stocks trading above their respective 40-day moving averages [DMAs]. It helps to identify extremes in market sentiment that are likely to reverse. To learn more about it, see my T2108 Resource Page. You can follow real-time T2108 commentary on twitter using the #T2108 hashtag. T2108-related trades and other trades are occasionally posted on twitter using the #120trade hashtag. T2107 measures the percentage of stocks trading above their respective 200DMAs)
T2108 Status: 63.6%
T2107 Status: 56.8%
VIX Status: 12.5
General (Short-term) Trading Call: Neutral. Despite NASDAQ (QQQ) all-time high, assuming market remains in a chopfest until the S&P 500 (SPY) hits a fresh all-time high.
Active T2108 periods: Day #128 over 20%, Day #87 above 30%, Day #31 above 40%, Day #15 over 50%, Day #2 over 60% (overperiod), Day #197 under 70%
Reference Charts (click for view of last 6 months from Stockcharts.com):
S&P 500 or SPY
SDS (ProShares UltraShort S&P500)
U.S. Dollar Index (volatility index)
EEM (iShares MSCI Emerging Markets)
VIX (volatility index)
VXX (iPath S&P 500 VIX Short-Term Futures ETN)
EWG (iShares MSCI Germany Index Fund)
CAT (Caterpillar).
Commentary
You would think with the NASDAQ (QQQ) hitting a new all-time high, T2108 would FINALLY trip overbought status. Instead, it closed at 63.6% which is still below last week's high from U.S. tax day. On the other hand, T2107, the percentage of stocks trading above their respective 200DMAs, is back in breakout mode. My second favorite indicator closed at a fresh (albeit marginal) seventh-month high.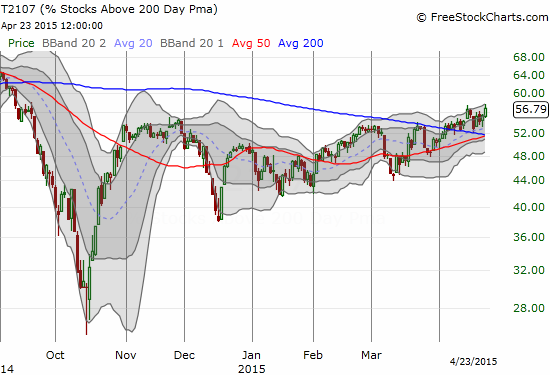 While T2108 chops around with the S&P 500 (SPY), T2107 iq quietly marching forward into a major breakout
This breakout is important because it may form the basis of a bullish call if/when T2108 finally turns overbought and the S&P 500 hits a fresh all-time high. Stay tuned.
Full disclosure: Long USO put options, net long the U.S. dollar, long RUSS, long Z shares and puts, long RUSS, long CAT put spread