T2108 Update – A Toppy Feeling In The Market Even As Individual Stocks Shine
(T2108 measures the percentage of stocks trading above their respective 40-day moving averages [DMAs]. It helps to identify extremes in market sentiment that are likely to reverse. To learn more about it, see my T2108 Resource Page. You can follow real-time T2108 commentary on twitter using the #T2108 hashtag. T2108-related trades and other trades are occasionally posted on twitter using the #120trade hashtag. T2107 measures the percentage of stocks trading above their respective 200DMAs)
T2108 Status: 61.7%
T2107 Status: 34.6%
VIX Status: 14.3
General (Short-term) Trading Call: slightly bearish
Active T2108 periods: Day #26 over 20%, Day #25 over 30%, Day #25 over 40%, Day #23 over 50%, Day #8 over 60% (overperiod), Day #340 under 70% (underperiod)
Reference Charts (click for view of last 6 months from Stockcharts.com):
S&P 500 or SPY
SDS (ProShares UltraShort S&P500)
U.S. Dollar Index (volatility index)
EEM (iShares MSCI Emerging Markets)
VIX (volatility index)
VXX (iPath S&P 500 VIX Short-Term Futures ETN)
EWG (iShares MSCI Germany Index Fund)
CAT (Caterpillar).
IBB (iShares Nasdaq Biotechnology).
Commentary
T2108's struggle to advance continues. On Friday, November 6, my favorite technical indicator extended its latest pullback from the overbought threshold.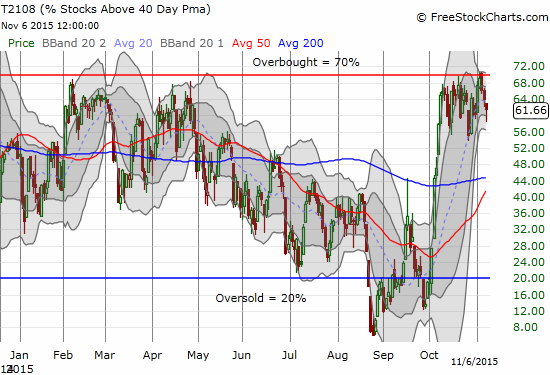 How much longer can T2108 continue to churn just under overbought levels?
I am now ready to conclude that T2108 will NOT broach overbought levels anytime soon. The churn for the past month means that despite the impressive advance of the S&P 500 (SPY), buyers are having trouble pushing additional stocks over the hump. The advancing tide has failed to lift more boats for at least a month.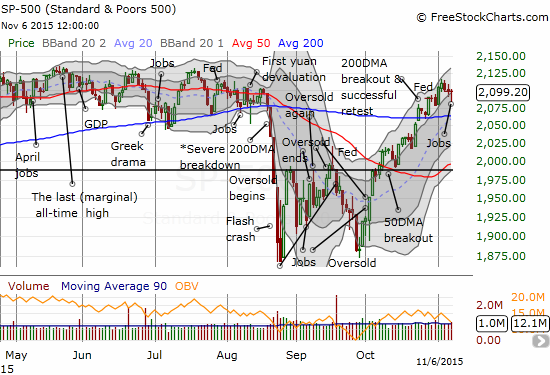 The S&P 500 has marched nearly straight up for a month in stairstep fashion. Even the current mild pullback is well within the uptrending channel defined by the upper Bollinger Bands.
Disclosure: Net long the U.S. dollar.