Sweden Ends Its Experiment With Negative Interest Rates. Should Gold Be Worried?
In December, the Sveriges Riksbank, the world's oldest central bank, has raised the main interest rate from -0.25 percent back to zero, ending its experiment with the negative interest rate policy, as the chart below shows.
Chart 1: Riksbank's repo rate from January 2010 to January 2020.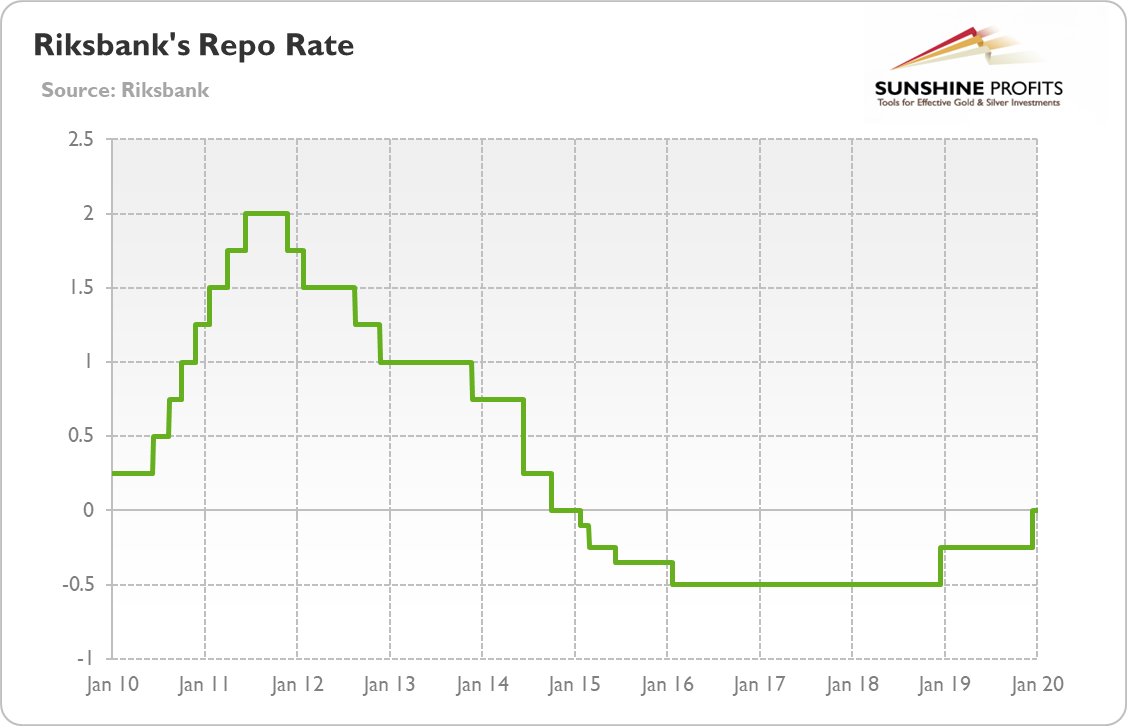 This is a huge change. As a reminder, Riksbank was a pioneer of negative interest rates. As early as in 2009, it moved the overnight deposit rate below zero. Then, in 2015, the Swedish central bank cut its main interest rate, the repo rate, to -0.10, worried about the repercussions of the sovereign debt crisis in the euro zone. In 2016, Riksbank was forced to go further, setting the interest rates as low as -0.50 percent, to prevent a Japanese-style deflationary spiral in Sweden.
And now, after all these years, Riksbank abandons the negative interest rates, again being in the avant-garde of central banking, as policy interest rates are still negative in the euro zone, Japan, Denmark, Switzerland and Hungary.
Why Riksbank has ended the NIRP? One explanation is that Sweden's inflation rate is close to the target, so the monetary tightening was necessary. In other words, the NIRP did its job and was not needed any longer. As we read in the Riksbank's press release,
Inflation has been close to the Riksbank's target of 2 per cent since the start of 2017, and the Riksbank assesses that conditions are good for inflation to remain close to the target going forward.
It sounds plausible, but the truth is that inflation has been hovering around the target for a few last years, as the chart below shows. So why did the Riksbank decide to hike interest rates only now - and in face of weaker economic activity?
Chart 2: Sweden's annual CPI rate from January 2015 to December 2019.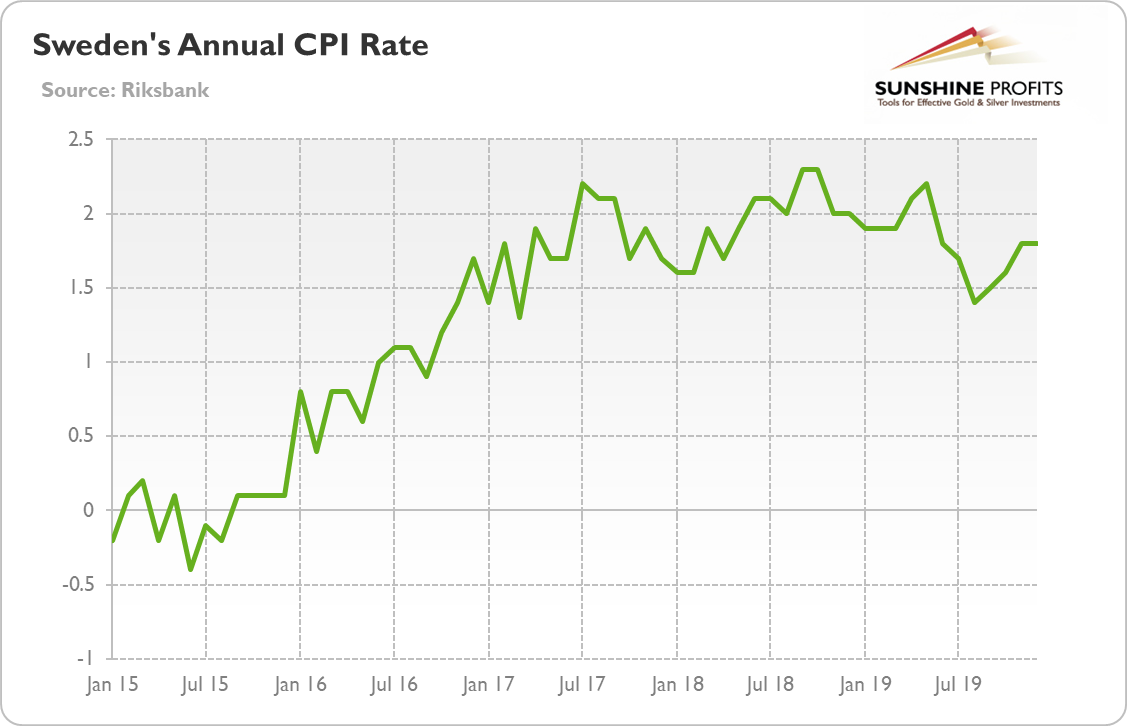 The answer is that that Sweden's central bank has finally acknowledged what we were writing from the very beginning of the NIRP, i.e., that the costs of this policy outweigh the benefits, euphemistically speaking. Indeed, Riksbank admitted itself that concerns about the side-effects of the negative interest rates on the economy contributed to its decision. As we read in the minutes from the December meeting,
If you enjoyed the above analysis and would you like to know more about the most important macroeconomic factors influencing the U.S. dollar value and the price of gold, we invite you to read the ...
more