Stumbling To Scarcity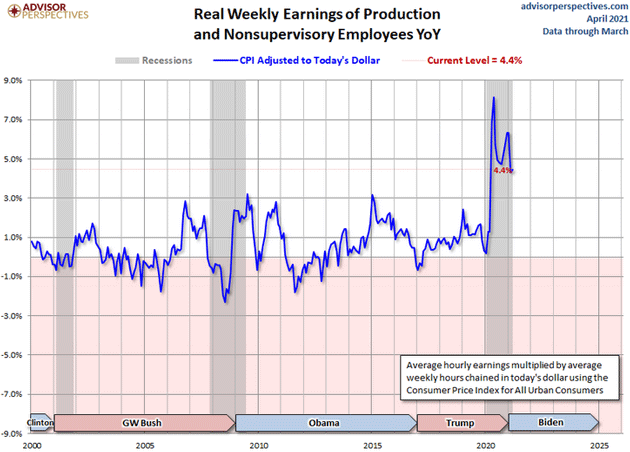 Source: Advisor Perspectives
Keep in mind, CPI doesn't necessarily reflect real-world living costs. As I've discussed, it underweighs housing, for instance. This "real" wage growth wasn't as real as it appears for many workers. Wages were stagnant for many, perhaps most, blue-collar workers -- for the better part of 20 years.
By the way, that wage spike you see in 2020–2021 is largely a "compositional" effect showing the disproportionate 2021 job losses for low-wage workers. If you lay off millions of restaurant workers while keeping all the software engineers, average wages will rise even if nobody gets a raise.
But at a more basic level, this shouldn't be surprising. Globalization increased the labor supply. Other things being equal, that should push wages lower, or at least keep them from rising, which is exactly what happened. Louis Gave points out that all this is now reversing.
The COVID-19 crisis showed producers that highly optimized global supply chains, built on lower-wage overseas labor, are inherently fragile. Manufacturers are looking more at their total cost of production versus just labor costs. A recent survey showed that 71% of those operating in China don't plan to move jobs back to the US, which suggests 29% are at least thinking about it. That's huge in real terms.
Meanwhile, policy changes are also raising the cost of labor: rising minimum wages in many countries, higher unemployment benefits, and so on. National security concerns are making governments hesitant about imports as well.
All that points to less abundant labor, which should raise wages. But how much is not yet clear. Also, some kinds of labor will be in higher supply than others.
How all this will shake out is unclear. If, going forward, we see even 2% real annual wage growth for middle-class workers, it will be a big turnaround from the last two decades. It would certainly mean some inflationary pressure, but I don't think it would be Weimar Germany kind of inflation.
Some of today's inflation hawks have short memories. Not so long ago, 3% annual CPI inflation was normal and expected. We had higher interest rates, yes. But that meant you could get a decent return on fixed income investments, and real GDP growth was often much better than we've seen lately. It wasn't ideal, but it wasn't hellish, either. We got by.
Inflation may become a challenge ahead, and sometimes a big one, but we will stumble through. And the kind of technology breakthroughs I expect may well create enough new abundance to offset it after the initial transitory uptick.
Disclaimer:The Mauldin Economics website, Yield Shark, Thoughts from the Frontline, Patrick Cox's Tech Digest, Outside the Box, Over My Shoulder, World Money Analyst, Street Freak, Just One ...
more