Strategy Session - How This Bear Market Fits In With Markets Of The Past
Question: Plunger you keep insisting that we are in a bear market. Really? The averages have done nothing but go straight up since December 24th. At this rate we will be at new highs within a month. I thought prices go down in a bear market! That's not happening.
Answer: The most reliable method of forecasting the eventual outcome of the market over the past 118 years has been Dow's Theory. It has withstood the test of time. It is not a short term predictor, instead it has been likened to a weather barometer. An instrument that forecasts changes in business conditions and market cycles. It is not useful in predicting short term fluctuations just like a weather barometer shouldn't be used to forecast the amount of rain or snow to fall in an upcoming storm.
It is my contention that if one gets the big cycles right he has enabled the basic setup for success in the market. If you don't understand the cycle and position yourself wrong in it, good luck trying to make money. So we stick to Dow Theory, it has proven to work in the past under all market conditions. What it says now is a bear market was triggered on December 14th 2019 which began on October 3rd 2019. The present 8 week rally is a secondary reaction which remains uncorrected. All rallies are corrected. We must be patient and observe the price action of the upcoming correction. In order to reverse the downward primary trend, the Dow and Transports must complete a downside correction of the existing rally then rally back above today's present reaction high.
That's the bottom line, The bear market began on October 3rd, the initial decline was 19% and now that move is being corrected in a V-shaped secondary reaction. It is generally not advised to try to trade against the primary trend, although nimble traders may attempt it. Obviously the present 8 week rally could be considered as one of those occasions.
I would like to review the four major bear markets over the past 50 years and use them to guide us in developing a strategy going forward. The conclusions offer us insight in developing our present strategy going forward.
DL Global– All the world's stock markets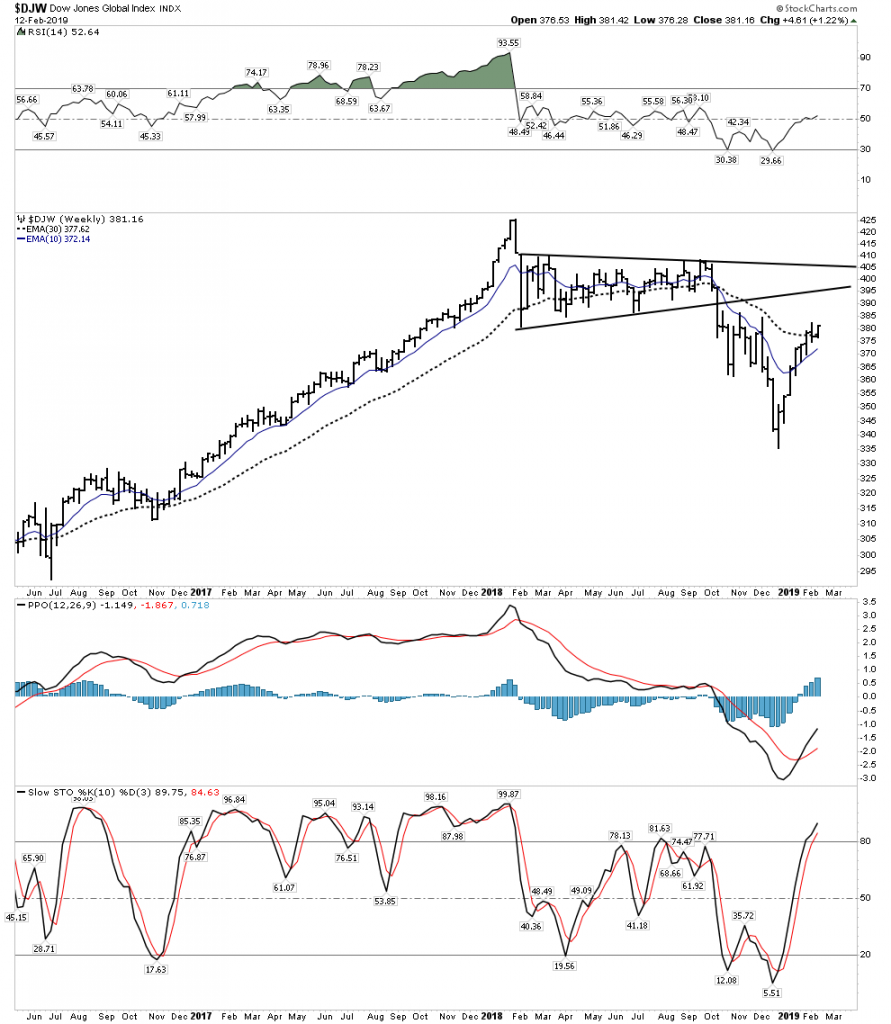 The above chart shows us how all of the world's markets are locked in a downtrend. Despite the rip roaring rally of the past 2 months it looks like the top is in.
MS World- All markets minus the USA.
These two broad based indexes should bring one back to reality. It's not likely the USA will go it alone if the rest of the world is in a down trend.