Stocks Trying To Break Higher Again, Will They?
The U.S. stock market indexes lost between 0.6% and 0.9% on Wednesday, retracing some of their recent advance, as investors reacted to new trade tariffs announcement. The S&P 500 index has bounced off the resistance level of around 2,800. It currently trades 3.4% below the January's 26th record high of 2,872.87. The Dow Jones Industrial Average lost 0.9% and the technology Nasdaq Composite lost 0.6% on Wednesday.
The nearest important level of support of the S&P 500 index is at around 2,765-2,770, marked by yesterday's local low and Monday's daily gap up of 2,764.41-2,768.51. On the other hand, the resistance level is now at around 2,785, marked by yesterday's daily gap down of 2,785.91-2,786.24. The resistance level is also at 2,795-2,800, marked by the previous local highs from February, March and June. The level of resistance is also at 2,840, marked by January the 30th daily gap down.
The broad stock market broke above its recent trading range on Friday. Is this a new uptrend or just more medium-term fluctuations following January-February sell-off? If the S&P 500 index breaks above 2,800 mark, we could see more buying pressure. Perhaps we could see a move to new record high. However, there are still two possible medium-term scenarios - bearish that will lead us below the February low following trend line breakdown, and the bullish one in a form of medium-term double top pattern or a breakout towards 3,000 mark. There is also a chance that the market will just go sideways for some time, and that would be positive for bulls in the long run (some kind of an extended flat correction). The S&P 500 index broke below its two-month-long upward trend line recently, but it continued to trade above the level of 2,700: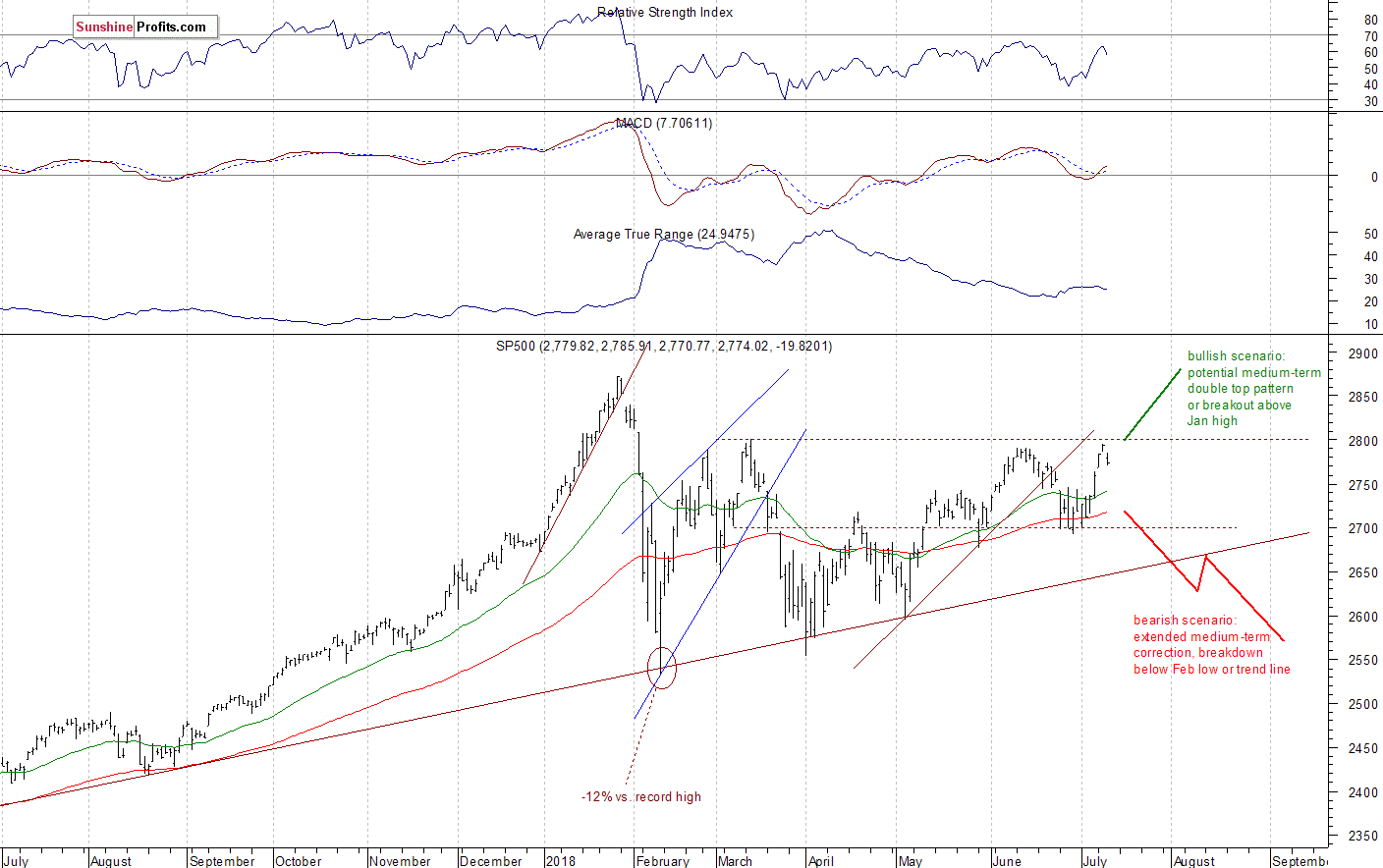 Short-term Fluctuations, Just Correction Before Another Leg Up?
The index futures contracts trade 0.5-0.7% higher vs. their yesterday's closing prices. So expectations before the opening of today's trading session are quite positive. The main European stock market indexes have gained 0.6-0.8% so far. Investors will wait for the economic data announcements today: Consumer Price Index, Initial Claims at 8:30 a.m. The broad stock market will probably retrace some of its yesterday's decline today. For now, it looks like a short-term consolidation following the recent rally.