Stocks Breaking Higher, New Uptrend Or Still Just Consolidation?
The U.S. stock market indexes gained 0.8%% on Friday, as investors' sentiment remained bullish following the recent advance. The S&P 500 index broke above the level of 2,750, and it currently trades 6.1% below September the 21st record high of 2,940.91. Both the Dow Jones Industrial Average lost and the Nasdaq Composite gained 0.8% on Friday.
The nearest important level of resistance of the S&P 500 index is now at 2,800-2,815, marked by the early November local highs. The next resistance level is at 2,860-2,900, marked by some previous fluctuations. On the other hand, the support level is at 2,750, marked by the previous level of resistance. The support level is also at 2,700-2,720.
The broad stock market got closer to its late October low a week ago. The S&P 500 index traded more than 10% below the record high. But it was a bottoming pattern before an upward reversal. The market is at the long-term upward trend line again and it may get back above 2,800 mark. So will the uptrend continue? For now, it still looks like a two-month-long consolidation following the October rout:
(Click on image to enlarge)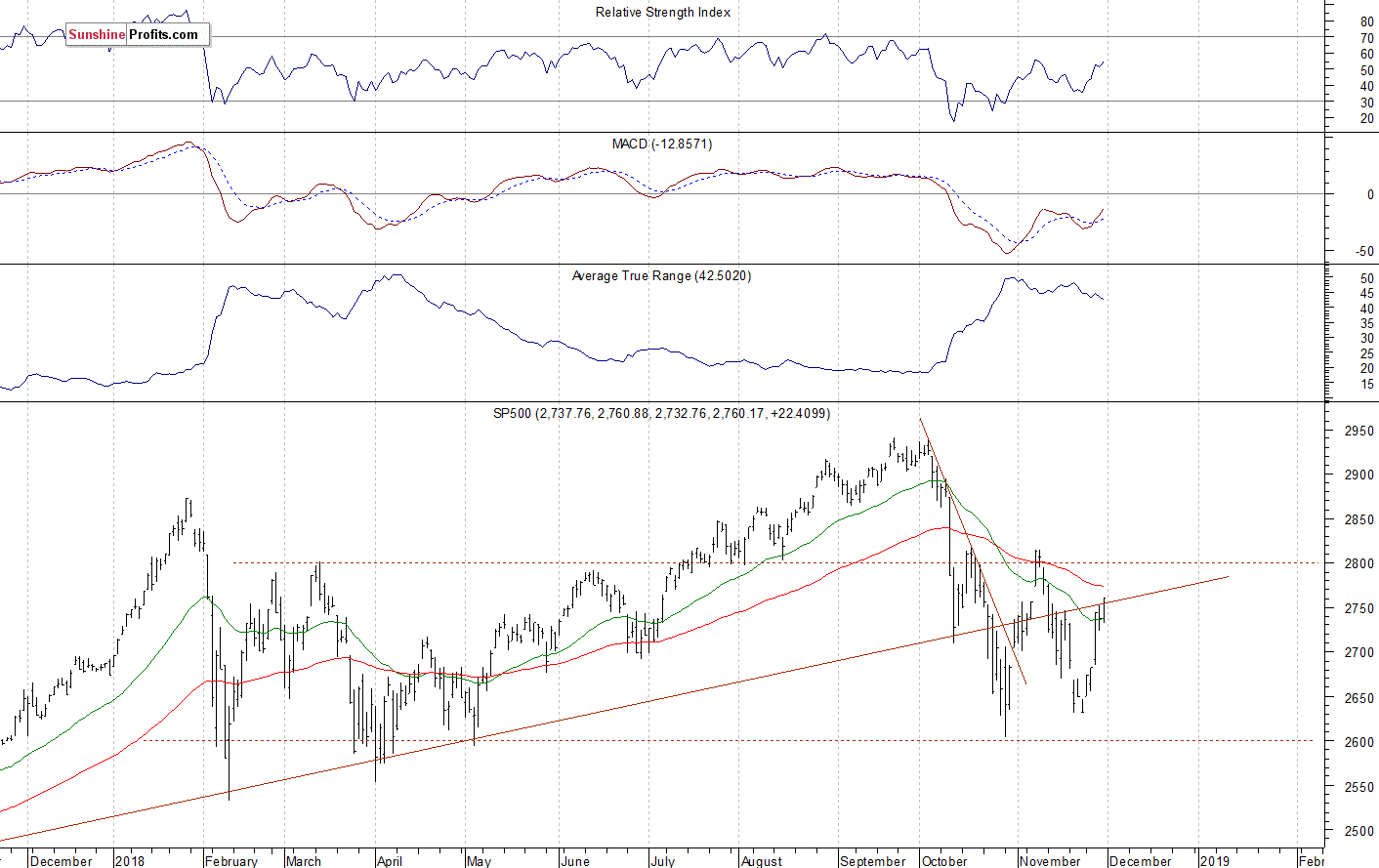 Very Positive Expectations
Expectations before the opening of today's trading session are positive, because the index futures contracts trade 1.3-2.1% above their Friday's closing prices. The European stock market indexes have gained 1.0-2.3% so far. Investors will wait for some economic data announcements today: ISM Manufacturing PMI, Construction Spending. There will also be some speeches from the FOMC Members. The broad stock market will likely accelerate its uptrend today. We may see an attempt at breaking above 2,800 mark following an overnight U.S. - China trade tariffs talks. There have been no confirmed negative signals so far. However, we will likely see some short-term overbought conditions.
The S&P 500 futures contract trades within an intraday consolidation following an overnight rally. The market trades along the level of 2,800. The nearest important level of resistance is at around 2,810-2,815. On the other hand, the support level is at 2,790-2,795, marked by the local low. The support level is also at 2,760. The futures contract remains within a relatively narrow intraday trading range so far: