Stock Records Were Made To Be Broken
So is the downturn overblown and already finished?
Time will tell. I think that we could still see some volatile movements and consolidation to close the week out. That's just what happens with surges and swings like this. While I maintain that I do not foresee a crash like what we saw last March and feel that the wheels remain in motion for an excellent 2021, Mr. Market still has to figure itself out.
A broad-based correction of some sort is still very possible. I mean, the Nasdaq's already hit correction territory twice in the last week. Corrections are healthy and normal market behavior. Only twice in the previous 38 years have we had years WITHOUT a correction (1995 and 2017).
Most importantly, a correction right now would be an excellent buying opportunity. Once again- look at the Nasdaq since March 8.
It can be a very tricky time for investors right now. But never, ever, trade with emotion. There could be some more short-term pain, yes. But if you sat out last March when others bought, you are probably very disappointed in yourself.
You can never time the market.
My goal for these updates is to educate you, give you ideas, and help you manage money like I did when I was pressing the buy and sell buttons for $600+ million in assets. I left that career to pursue one to help people who needed help instead of the ultra-high net worth.
With that said, to sum it up:
There is optimism but signs of concern. The market has to figure itself out. A further downturn is possible, but I don't think that a decline above ~20%, leading to a bear market, will happen any time soon.
Hopefully, you find my insights enlightening. I welcome your thoughts and questions and wish you the best of luck.
Nasdaq- That's Why I Called BUY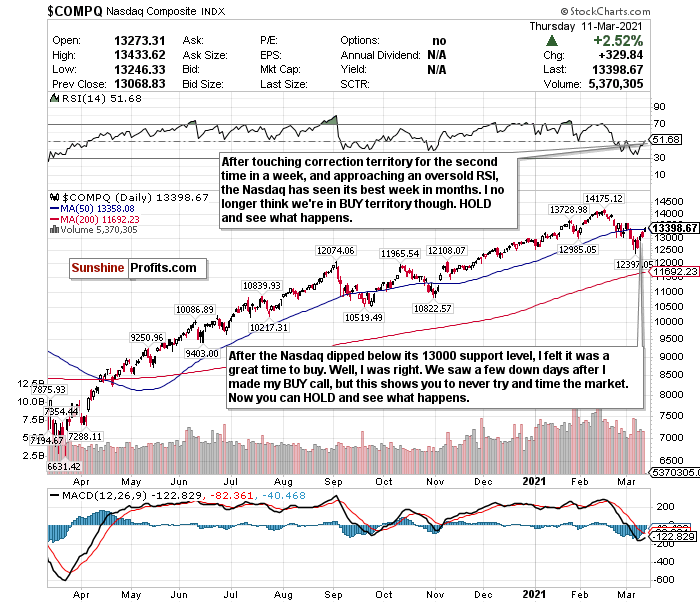 Figure 1- Nasdaq Composite Index $COMP
Can I flex again, please?
Flexing.
The Nasdaq's performance this week is why I called BUY despite hitting two corrections in the last week. On Tuesday (Mar. 9), the Nasdaq saw its best day since November. The index's gains continued after that and is now sitting pretty up over 6.3% for the week.
Disclaimer: All essays, research, and information found above represent analyses and opinions of Matthew Levy, CFA and Sunshine Profits' associates only. As such, it may prove wrong and be ...
more