Stock Markets Anticipate Biden's Arrival At The White House With Increases
European stock markets have seen moderate increases since early in the morning while all eyes are on Washington DC, where, in a few hours, Joe Biden will be sworn in as President of the United States. Markets are eagerly awaiting Biden's arrival at the White House, so that he can kick off the $1.9 trillion economic stimulus plan announced last week.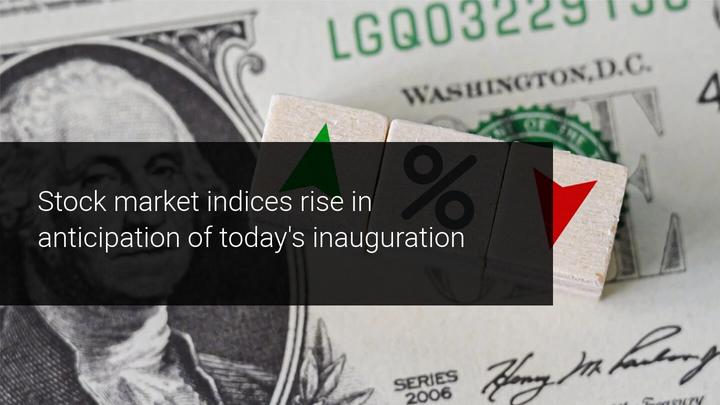 Yesterday, Treasury Secretary candidate Janet Yellen stressed the need to put these measures in place in order to avoid a prolonged recession, urging lawmakers to do their best to reduce the impact of the Covid-19 pandemic. In the economy.
Wall Street futures are also moving higher. On the Nasdaq, the rise could be more pronounced at the opening thanks to Netflix, which climbs more than 13% in the pre-opening of the market after having announced that in 2020 it gained 48% more subscribers than in 2019, and revenue has exceeded 200 million euros.
Historically, Wall Street indices have risen during the election period of the US up to the day of the oath of office, as MarketWatch highlights with FactSet data. So far, the steepest rises have occurred with the election of Republican Herbert Hoover, with the S&P 500 rebounding more than 13% from the election to his inauguration. Biden is currently placed in second place, since from November 3 to yesterday, the S&P 500 rose 12.76%.
(Click on image to enlarge)
Source: Admiral Markets MetaTrader 5. SP500 daily chart. Data range: from September 20, 2016 to January 20, 2021. Prepared on January 20, 2021 at 12 noon CET. Keep in mind that past returns do not guarantee future returns.
On the S&P 500 chart, we can clearly see the rise in the index since the date of the US elections (blue line) and the day of the oath, a period marked with an orange rectangle.
Disclaimer: The given data provides additional information regarding all analysis, estimates, prognosis, forecasts or other similar assessments or information (hereinafter "Analysis") ...
more