Stock Market Thoughts: As Good As It Gets?
Early each morning, I scan and synthesize market-moving news. I look at macro themes, currency moves and global economic indicators that support or challenge my thinking on the Big Picture and help me take the mood of the market.
"What makes it so hard is not that you had it bad, but that you're that pissed that so many others had it good." Melvin Udall in As Good As It Gets movie
Correct me if I'm wrong, but many traders are in a state of angst. Despite all-time-highs, they missed the rally off the December lows after missing the Oct correction. Now that the Fed is intonating a cut and markets keep marching higher, the predominant theme seems to be not that we traders have had it so bad but that we're pissed the market has had it so good.
Maybe the better attitude would be to "be bullish, but with every trade expect to be wrong". That's been my thinking since about $2700 honestly. Now that we are approaching SPX $3050 – price target to top of the trend-line from January 2018 – I can't help but view much of the Goldilocks data and wonder, is it time? Is market sentiment and structure diverging, but the market doesn't know it yet?
I mean, at some point the markets rising on the diminishing returns of rate cuts, potential trade deals, and deficit-burdening infrastructure bills will have me yelling, "We're there. This is as good as it gets!" Alas, I'm not there yet, but it feels closer.
For China…
China's economy slowed to the weakest pace since quarterly data began in 1992, rising 6.2% in the second quarter from a year earlier. And yet…There was better data beyond the headline number, with factory output and retail sales growth beating estimates for June.
For US stock market…
S&P 500 earnings estimates for 2020 have remained lofty even as current-year estimates have fallen hard. The street was looking for 6-8% growth seven months ago.
One quarter does not a trend make, but worth watching! Share repurchases by companies recently contracted for the first time in seven quarters.
Morgan Stanley expects a large GDP growth deceleration in 2019: From 3.0% to 2.0%. see below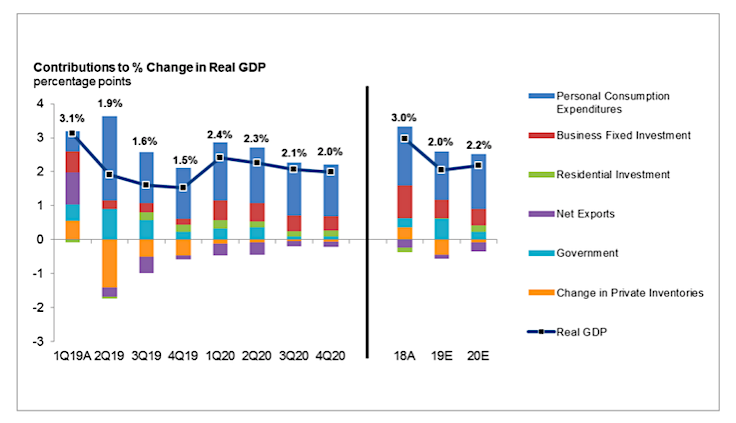 For Global Trade…
Granted, the EPS bar to beat is on the floor so much easier to step over, BUT the bar is low for good reason.
Macro Matters
The riskiest of junk bonds are seeing some selling pressure. Their spread over Treasuries is widening much faster than safer bonds that are rated higher.
While surveying the market landscape, I am also actively looking for new momentum and value trades for my Live Trading ...
more