Stock Market Party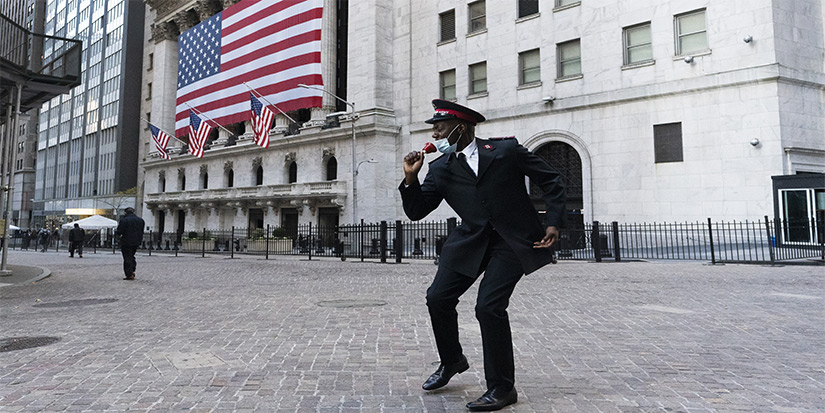 "History repeats itself, that's one of the things that's wrong with history."
—Clarence Darrow (1857-1938), American lawyer
The end of 2020 has me looking back. I started writing the letters that later became Thoughts from the Frontline back in the late 1990s. Similar to COVID-19 today, we had a giant macro issue then, too: Y2K. It's hard to believe now how frightened some people were. But as I expected, the big day came and the world didn't end.
Another similarity is the stock market was rising like a rocket. This newfangled "Internet" thing had people super-excited, and rightly so. It was a world-changing paradigm shift. Unfortunately, some of the stocks born in that incredible boom weren't world-changing paradigms at all. The market party ended, just as this one will, but went on far longer than almost anyone (including me) expected.
Had you bought the Nasdaq at the March 2000 peak, and held on, you would have got back to breakeven about 15 years later. And now, 20+ years later, your annualized return for those two decades would be around 4%. That's not terrible. You beat CPI inflation by a couple of points. But people back then expected far more—15% annualized returns were thought to be easy.
The moral of the story is simple: Starting valuation matters. In the example above, waiting a couple of years to start lower would have drastically changed the outcome. But again, almost no one thought that at the time.
Fundamental Madness
We last dove into the equity pool back in July in Valuation Inflation. Rereading that letter, I could easily say it all again and just update the numbers. All the valuation metrics I described look even more overvalued now.
That makes sense when you consider the prime factor—central bank liquidity—hasn't changed. The Fed has continued pumping so asset prices have kept rising. It's not just stocks, either. Their bubble is just more obvious because they change hands more often than houses and land do.
Here are Federal Reserve assets, via the FRED database: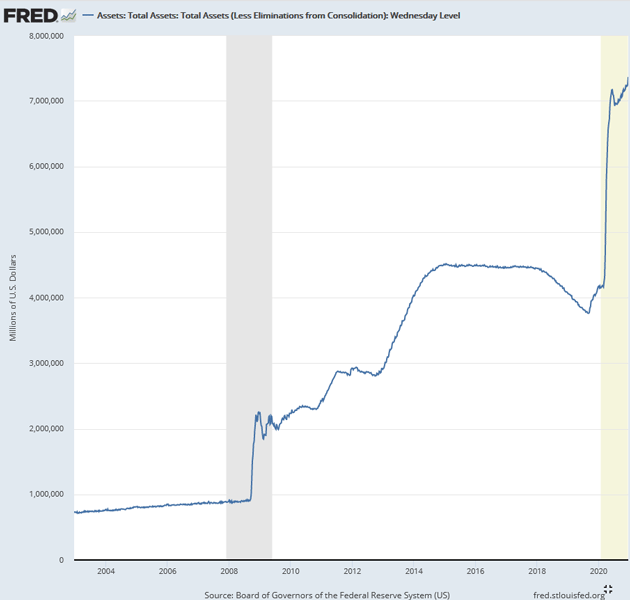 Source: St. Louis Fed
It's not just the US Federal Reserve. The world's other central banks are all doing the same thing.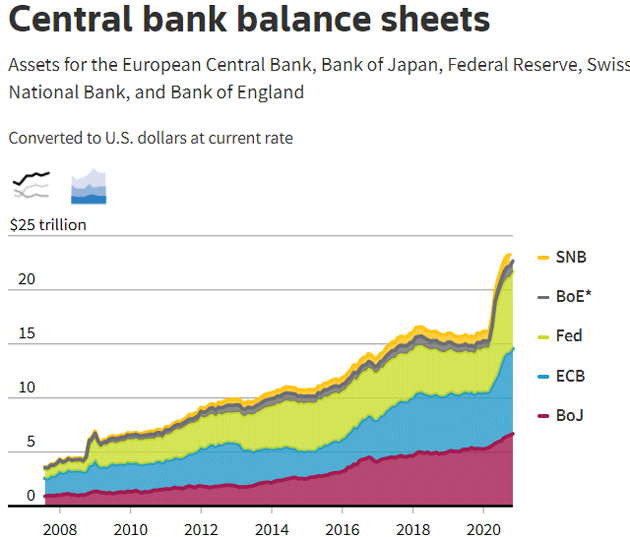 Source: Thomson Reuters
The passage of time also indicates monetary stimulus may be more important to markets than fiscal aid. The stimulus checks, extra unemployment benefits, and PPP loans mostly ended over the summer and fall, but stocks kept climbing. This suggests that government spending, while it was a lot, had a smaller impact on the stock market.
But regardless of the cause, this market is certainly at the upper end of fair value, if not overvalued, no matter what fundamental or historical comparison you want to make. It's clear in this Doug Kass table I showed you last week.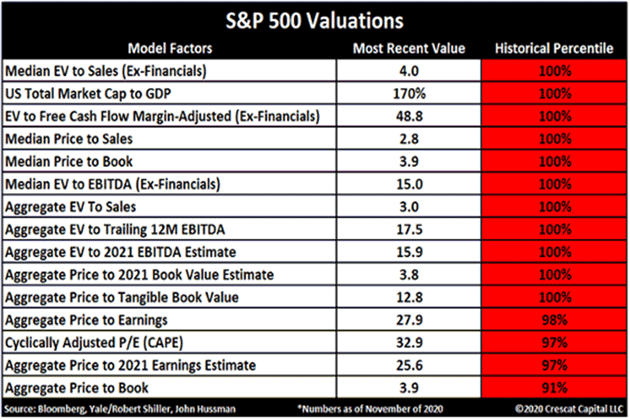 Source: Doug Kass
To buy now, you must either convince yourself this is wrong, or find some reason to argue "it's different this time." That is rarely the case. To see why, we are going to look at some of the above data in detail, starting with some charts from Dave Rosenberg's magnificent monthly chartbook.
The S&P 500 price-to-operating earnings ratio is back where it was in the early 2000s bull market and well above its peak in the financial crisis.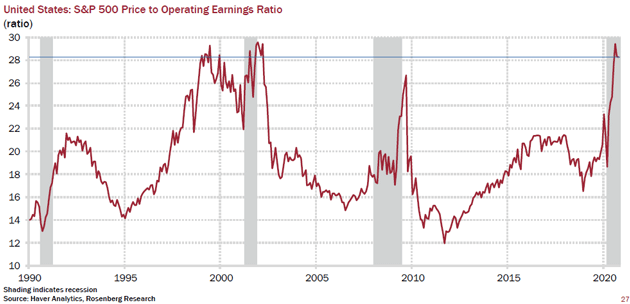 Source: Rosenberg Research
Worse, notice how fast it climbed. That's not normal. Nothing fundamentally changed enough to make US public company earnings 50% more valuable than they were in March. What changed was the cost of debt capital, and it changed for purely artificial reasons. That means the valuation is now artificial, too.
Looking at it in dollar terms, we see S&P 500 operating earnings per share are now back where they were in 2018–2019, when the market was much lower. There is a whole lot of optimism going on (channeling my inner Jerry Lee Lewis).
Disclaimer: The Mauldin Economics website, Yield Shark, Thoughts from the Frontline, Patrick Cox's Tech Digest, Outside the Box, Over My Shoulder, World Money Analyst, Street Freak, Just One ...
more