SPDR S&P 500 Hit By Coronavirus Resurgence: Keep Calm And Buy The Dip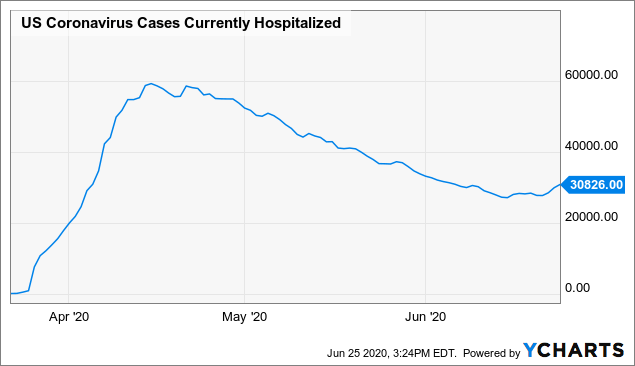 Data by YCharts
Coronavirus deaths can be a lagging indicator, and the data is obviously volatile. However, it is reasonable to say that the trend has remained quite favorable so far.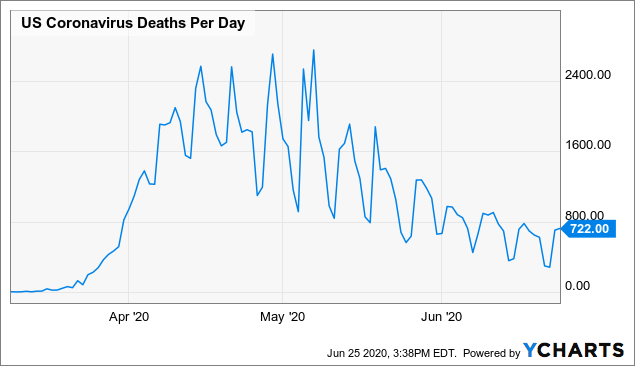 Data by YCharts
Don't get me wrong, increasing contagions in some big regions are an important factor to watch, and we can't afford the luxury of being too complacent about this. But the whole COVID-19 risk is very different now in comparison to March.
When the pandemic exploded, there were many unknowns about what the coronavirus really is, how it is transmitted, the mortality risk, and the overall measures required to control it. Now citizens are much better prepared, and perhaps both hospitalizations and deaths are evolving better than contagions because the most vulnerable groups are being particularly more careful.
Testing, the use of masks, and treatments have significantly improved, and people now have much better information to deal with this problem. Massive amounts of money and human talent are being invested in treatments and vaccines for COVID-19, and it doesn't sound like a smart play to bet against all this money and brainpower.
The probabilities are that the sanitary crisis will get much better over the next 6 to 12 months. In the meantime, it could get worse before it gets better, but if you know how to manage your risk exposure and your time horizon then some market volatility should be no reason to panic.
The Fundamental Backdrop
The economic impact from the pandemic is hard to assess, and it is far from over at this stage. However, the magnitude and speed of the economic policy response have been unprecedented too. This is why we often hear about people who are in a better financial situation due to stimulus programs during the pandemic than before the crisis struck.
The chart from BlackRock shows the estimated economic impact of the pandemic in orange and the economic stimulus from both central banks and fiscal measures in yellow. In the U.S. the policy response has been even larger than the impact of the crisis, so it's no wonder why the markets have performed much better than expected by most analysts.
Disclosure: I/we have no positions in any stocks mentioned, and no plans to initiate any positions within the next 72 hours.
Disclaimer: I wrote this article myself, and it expresses my ...
more