S&P Futures Hit All Time High To Start The New Quarter
Now that the quarter-end rebalance malarkey is behind us, it's full steam ahead into the new quarter and S&P futures hit a new all-time high overnight rising as high as 3,984 before stabilizing up 0.3%, breaching Wednesday's best levels as signs of faster job creation in the US fueled optimism about the global recovery (although all that will change tomorrow if the NFP whisper of 1.8MM jobs is remotely accurate). Oil climbed above $60 per barrel before a meeting of OPEC+ on extending production cuts.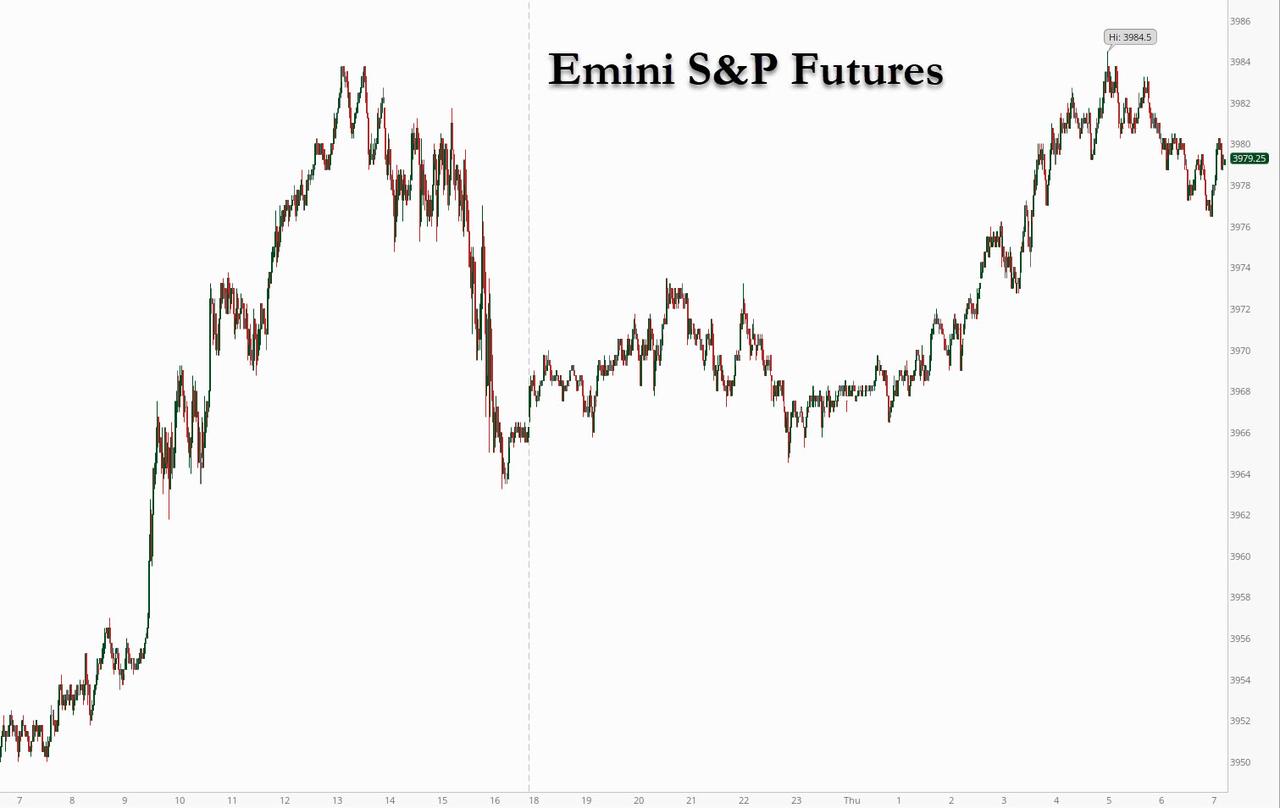 At 7:30 a.m. ET, Dow E-minis were up 12 points, or 0.04%, S&P 500 E-minis were up 12 points, or 0.30%. Nasdaq futures rose as much as 1.1%, as "high flying" FAAMG stocks added between 0.6% and 1.1% after underperforming last month on concerns over elevated valuations. Some notable premarket movers:
Micron rose 4.3% after the chipmaker forecast fiscal third-quarter revenue above Wall Street estimates due to higher demand for memory chips, thanks to 5G smartphones and artificial intelligence software.
Western Digital Corp. gained 1.1% after a report it and Micron were exploring a potential deal for Japan's Kioxia Holdings Corp.
US-listed shares of rival Taiwan Semiconductor also added 2.3% on its plan to invest $100 billion over the next three years to meet the rising chip demand.
Uber Technologies Inc rose nearly 2% after Jefferies began coverage on the ride-hailing company's shares with "buy" and said the company could be profitable soon.
Johnson & Johnson slipped 1.1% premarket after the drugmaker said it had found a problem with a batch of the drug substance for its COVID-19 vaccine being produced by Emergent Biosolutions.
Microsoft Corp. climbed 1.2% in premarket as the company's multibillion-dollar deal to build customized versions of its HoloLens goggles for the U.S. Army moved forward.
On Wednesday, the S&P 500 hit a new intraday high but stopped just shy of touching 4,000 points for the first time after President Joe Biden's unveiled a $2.25 trillion plan to rebuild the world's largest economy. Biden's "American Jobs Plan" would put corporate America on the hook for the tab as the government creates millions of jobs building infrastructure, such as roads, tackles climate change, and boosts human services like care for the elderly.
"There is still some room for recovery in stocks that will benefit from the economic recovery and the reopening trade," Ania Aldrich, investment principal at Cambiar Investors LLC, said on Bloomberg TV. "There's still a lot of growth that has to come and that's not necessarily reflected in earnings yet."
With the Archegos fiasco behind us, investors remain focused on inflation risk as central banks reassert their commitment to low-interest rates. Traders, for now, are looking past worsening virus trends, such as lockdowns in France and Canada's Ontario province.
European equities also traded near session highs, with the Euro Stoxx 600 rising 0.4%, and although it traded higher earlier in the session, it was headed for the longest streak of weekly gains this year; the FTSE outperformed at the margin. Real estate, tech, and retailers lead gains; autos are the sole sector in the red. European airline stocks rose (IAG +4.3%, TUI +3.5%, Ryanair +2.6%, Lufthansa +2.5%), lifting the Stoxx 600 travel and leisure subgroup higher, amid positive newsflow around prospects for a travel recovery this year. Goodbody analysts note an interview with Ryanair CEO Michael O'Leary on Good Morning Britain on Wednesday, with O'Leary predicting restrictions being removed on flights to Spain, Portugal, and Greece this year given the rising vaccination rates. Countries such as Malta, Turkey, and Thailand are keen to welcome British tourists, analysts including Mark Simpson write in a note Thursday.
On the Stoxx 600, 447 members were up, 103 down and 50 unchanged. Here are some of the biggest European movers today:
Prosus shares jump as much as 5.8% after Tencent closed higher. Additionally, the Stoxx Europe 600 Technology Index gains as much as 1.7% after chip stocks rallied, boosted by Micron's bullish forecast and by TSMC's spending plans.
Quilter shares rise as much as 4.4% after the U.K. wealth manager sold its international unit to Utmost for GBP483m. RBC said the deal price is "fair," yet also at a discount to the rest of the group.
Delivery Hero shares advance as much as 4.9% as stocks that benefited from the pandemic rose, with makers of home- office equipment, food-delivery firms, and e-commerce stocks gaining as France and Italy prepare to extend curbs to contain the virus.
Vinci shares jump as much as 3.2% after signing an agreement to buy ACS's energy business for about EU4.9 billion in cash, according to a statement. The acquisition will be financed through Vinci's available cash and credit lines.
Atos shares plunge as much as 22%, the biggest one-day drop since Oct. 2018, after the IT services firm said
Earlier in the session, an index of Asia-Pacific shares rose for the first time in three days, with Hong Kong leading gains after data signaled a pick-up in regional manufacturing. The emerging-market equity benchmark rebounded from Wednesday's losses. Asian stocks climbed after Joe Biden announced a $2.25 trillion infrastructure plan and amid several big news items in the semiconductor industry. Tech stocks were the biggest boost to the MSCI Asia Pacific Index as chip giant TSMC announced plans to spend $100 billion over the next three years to expand capacity. Another lift came from a Dow Jones report that Micron and Western Digital are each exploring potential deals for Kioxia that could value the Japanese memory maker at around $30 billion. Japanese shares gained after the Tankan survey showed the nation's large manufacturers have turned optimistic for the first time since the fall of 2019. South Korean stocks climbed following a report that the nation's exports rose the most in more than two years on strong global demand. Hong Kong stocks advanced even as trading in more than 50 companies was halted as a number of firms failed to report earnings in time. Vietnam's benchmark notched the region's biggest advance Thursday, hitting a record high. The Philippine market was closed for a holiday, and a number of markets will be shut on Friday
The closely watching Chinese market - where fears of policy tightening has kept a lid on stock gains - advanced on Thursday, starting the month in the green after posting the first quarterly slump in a year. The CSI 300 Index closed 1.2% higher, the most this week, with consumer discretionary and health care firms leading gains. The gauge's 10-day historical volatility fell to the lowest in six weeks, which coincides with the starting point for the recent selloff. Various benchmarks on the mainland also advanced, though moves remained largely range-bound. Turnover in Shanghai and Shenzhen dropped to nearly 628 billion yuan, the lowest in five months. Meanwhile, trading in more than 50 Hong Kong-listed companies was suspended after a number of firms failed to report earnings ahead of the March 31 deadline. The Hang Seng Index was up 1.5% as of 3:09 p.m. local time. The Shanghai Composite advanced 0.7% while the tech-heavy ChiNext rose 2.1%
Back in the US and its holiday-shortened week, Bloomberg notes that traders were jockeying for position before the Easter weekend - US stock markets are closed on Good Friday - after ADP's March data showed U.S. private employers hired the most workers in six months, leaving a risk that tomorrow's NFP print will be a blowout number that could spike reflation fears again. Biden's ambitious plan to rebuild U.S. infrastructure has added to the growth outlook, even though Republican opposition to the plan raises questions about how much can actually be delivered.
Disclaimer: Copyright ©2009-2021 ZeroHedge.com/ABC Media, LTD; All Rights Reserved. Zero Hedge is intended for Mature Audiences. Familiarize yourself with our legal and use policies every time ...
more