S&P 500 Reached 2,600, Downward Correction Ahead?
The U.S. stock market indexes gained 0.4-0.9% on Wednesday, extending their short-term uptrend again, as investors' sentiment remained bullish following last week's better-than-expected monthly jobs data release. The S&P 500 index continued its recent rebound off the December the 26th medium-term low of 2,346.58. It traded 20.2% below September the 21st record high of 2,940.91 on that day. Then the market rallied and retraced some of the downtrend. It got back above 2,500 mark on Friday and then it got very close to 2,600. The Dow Jones Industrial Average gained 0.4% and the Nasdaq Composite gained 0.9% yesterday.
The nearest important level of resistance of the S&P 500 index is now at 2,600, marked by the previous local lows. The resistance level is also at 2,635-2,640, marked by December the 14th daily gap down of 2,635.07-2,637.27. On the other hand, the level of support is at 2,550-2,570, and the next support level remains at 2,500, marked by some recent local highs.
The broad stock market broke below its two-month-long trading range in the mid-December, as the S&P 500 index fell below the level of 2,600. Then the market accelerated lower and it broke below the level of 2,400. The downward correction reached 20.2% from the September all-time high, surpassing January-February correction of around 12%. Is this a long-term bear market? It still looks like a medium-term downward correction, but the index remains slightly below the October-December consolidation, as we can see on the daily chart: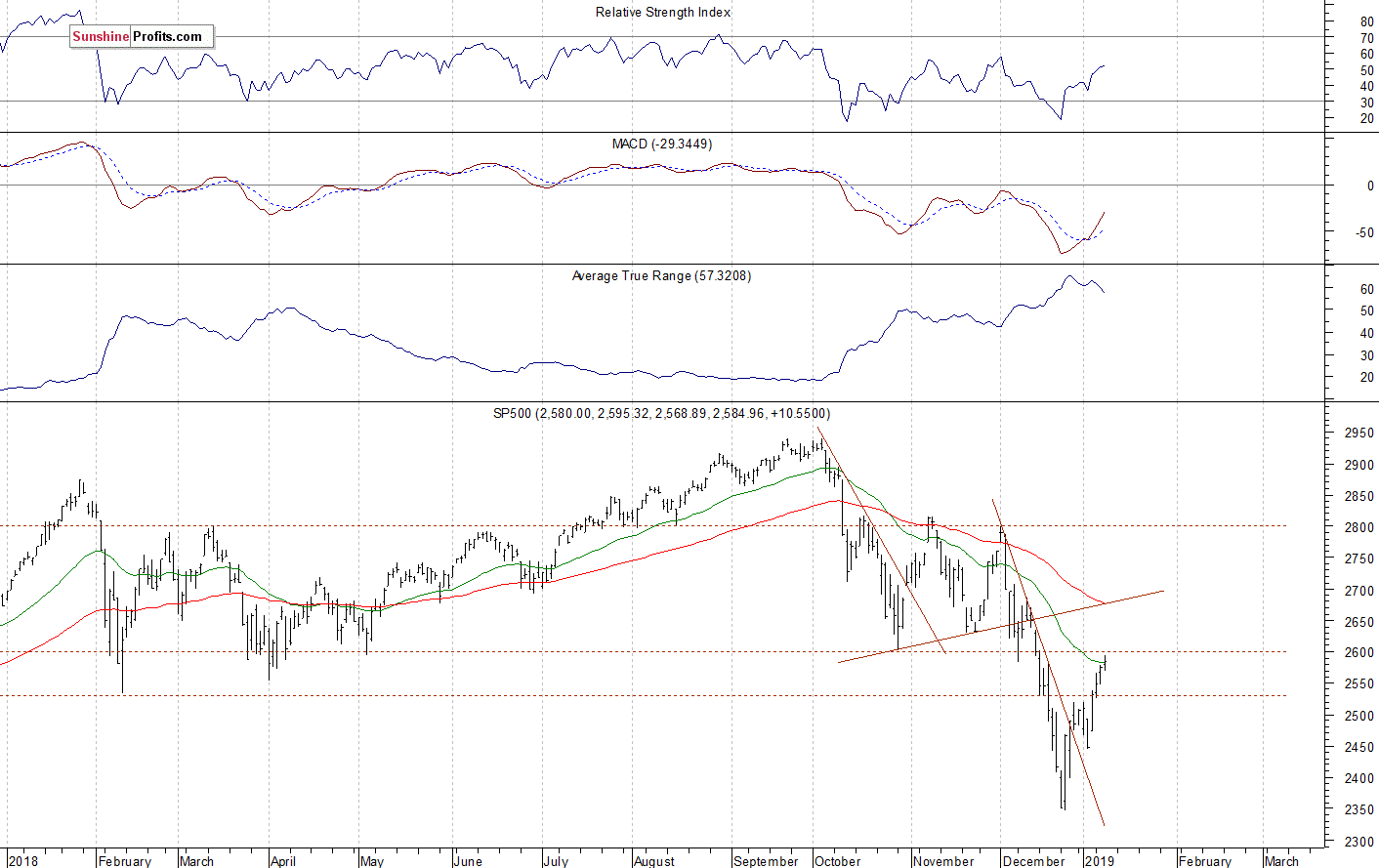 Short-Term Downward Correction?
Expectations before the opening of today's trading session are negative, because the index futures contracts trade 0.4-0.6% below their Wednesday's closing prices. The European stock market indexes have lost 0.2-0.8% so far. Investors will wait for the Initial Claims number release at 8:30 a.m. There will also be a speech from the Fed Chair Powell at 12:45 a.m. The broad stock market may retrace some of its recent rally. The index got closer to the resistance level of 2,600 and we may see some profit-taking action.