S&P 500 Price Prediction: Will Inflation Or Jobs Be The Mover?
Non-Farm Payroll Report gave S&P500 Price A Considerable Boost
COVID19 fears still affecting the markets
Will high inflation be a worry in the weeks and months ahead?
The S&P500 price started off the week at a slight decline of around 8 points or a 0.14% drop. The index ended the week on a high as expected after the highly positive Non-Farm Payroll report which saw much more jobs added than had been forecast. This is a clear sign that the economy is re-opening at a furious pace notwithstanding the COVID19 fears still prevalent in the US.
Another issue that should be affecting the long-term forecasts for the S&P500 price is the high inflation. In its Thursday 5 August decision, the Bank of England upped its inflation forecasts for the end of the year. The situation is not dissimilar in the US with the FED continually warning on high inflation figures. At present, investors seem to have largely shrugged off these concerns.
Short Term Prediction For S&P500 Price: Still Appears Bullish Despite Coronavirus Concerns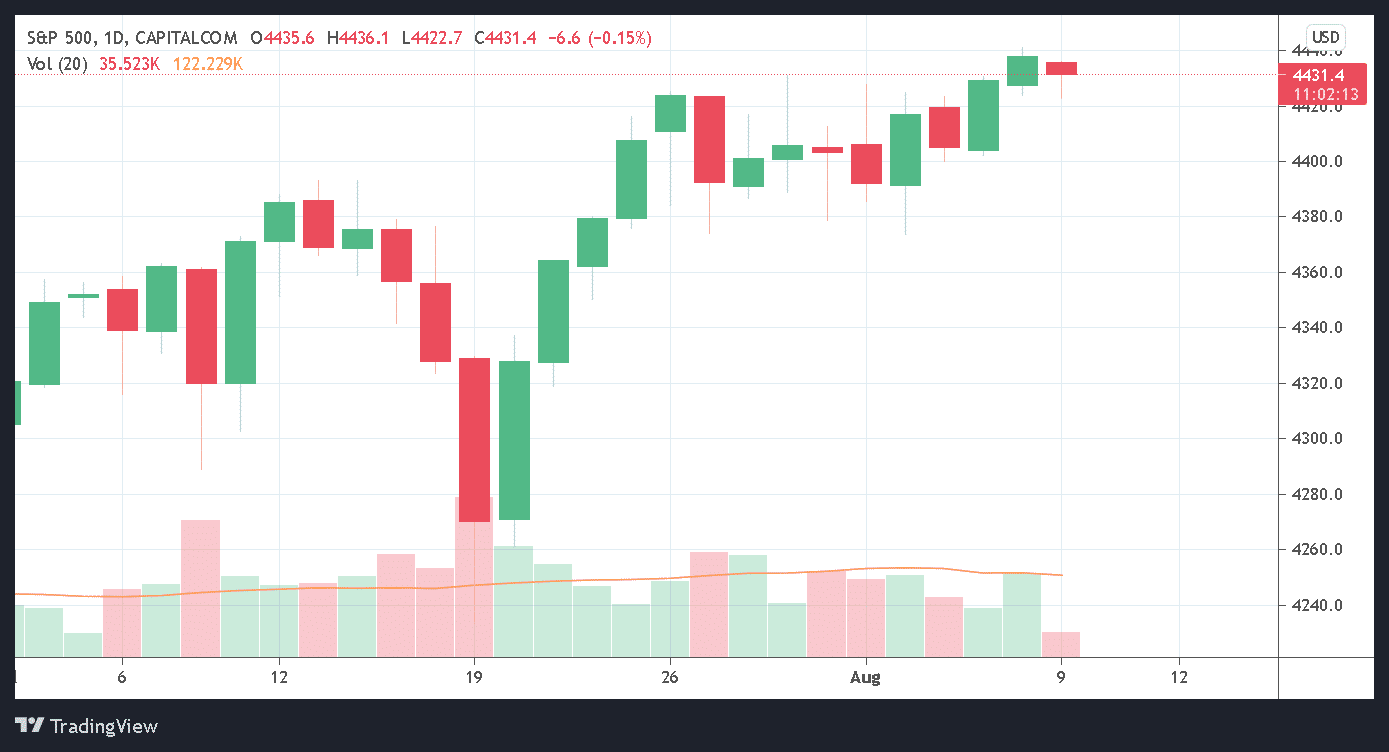 The S&P500 price closed off the week at a fresh record high of 4439 which represents a gain of over 1% over the week. The bullish close was no doubt fueled by the Non-Farm Payroll results which exceeded expectations by a considerable margin.
This week seems to be relatively quiet as far as announcements go so there shouldn't be much short-term movement in the S&P500 price. Perhaps another push for the 4500 mark may be made although the uncertain Coronavirus situation seems to continue weighing in on investor confidence.
A relatively quiet week ahead is expected for the S&P500 price with today's movement in slightly negative territory which could be an indicator of what is expected. The 4500 mark should still be achievable by end of August though.
Long-Term Prediction For SPX500: Still Very Bullish But COVID And High Inflation Remain On The Table
Although there have been positive indicators in the recent opening up of the US economy, there are still concerns regarding the COVID19 situation and persistently high inflation. The Fed has also indicated that it will soon begin to taper off economic stimulus related to the pandemic but no clear timeline has been set.
Disclaimer: Foreign exchange (Forex) trading carries a high level of risk and may not be suitable for all investors. The risk grows as the leverage is higher. Investment objectives, risk ...
more