S&P 500: Negative Expectations Again
The U.S. stock market indexes gained 0.1-0.4% on Friday, after bouncing off their new lows as investors' sentiment improved despite an ongoing trade war. The S&P 500 index retraced the whole of its April's advance. It currently trades 2.4% below its May the 1st record high of 2,954.13. The Dow Jones Industrial Average gained 0.4% and the Nasdaq Composite gained 0.1% on Friday.
The nearest important resistance level of the S&P 500 index is at 2,890-2,900, marked by the previous support level. The resistance level is also at 2,920. On the other hand, the support level is at 2,860-2,865. The support level is also at around 2,835-2,850, marked by April the 1st daily gap up of 2,836.03-2,848.63.
The broad stock market retraced all of its December sell-off and it broke above the last year's high recently. But then the index broke below the short-term consolidation and it retraced all of the April's advance. The market also broke below its two-month-long upward trend line, as we can see on the daily chart: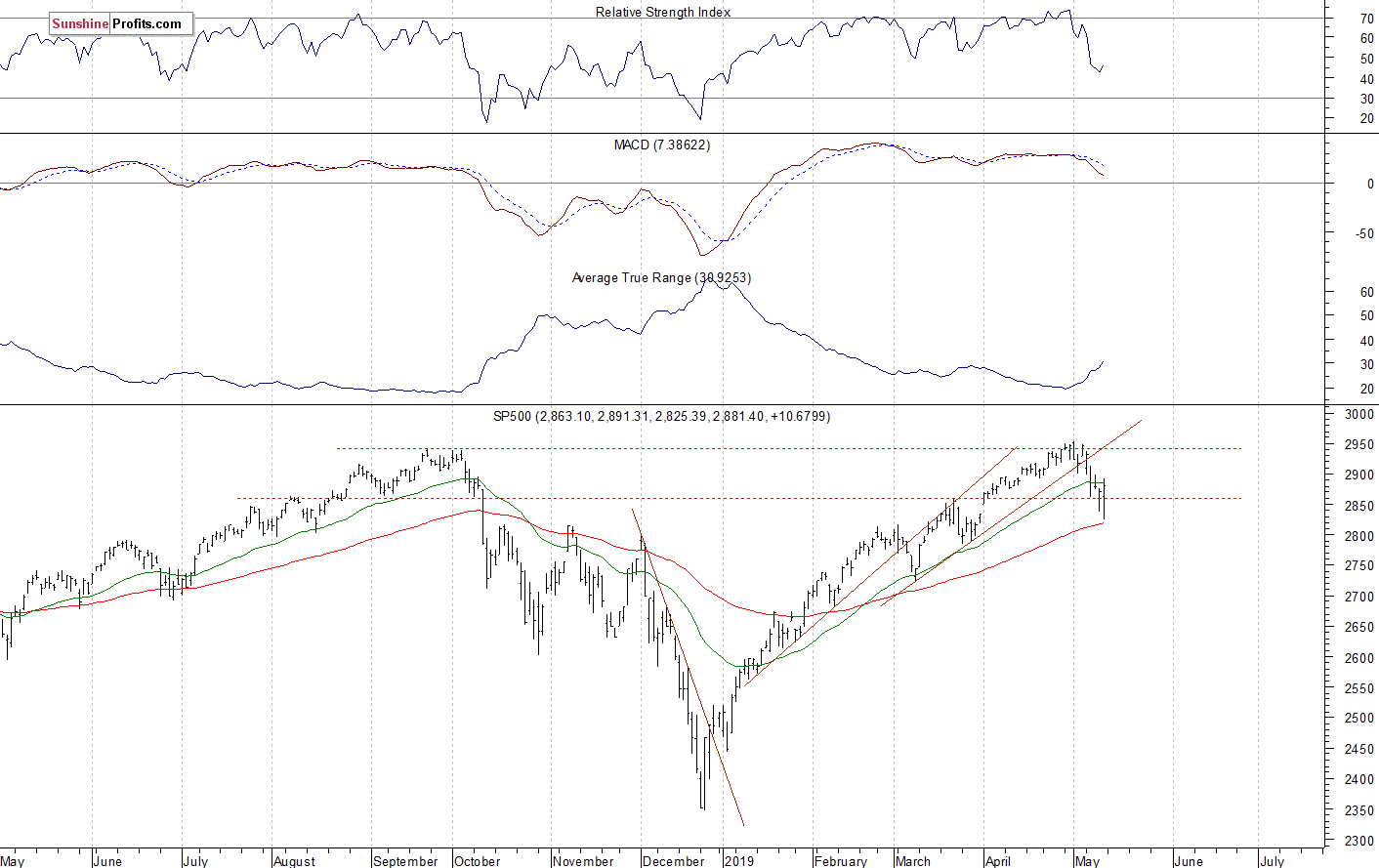 Negative Expectations Again
Expectations before the opening of today's trading session are negative because the index futures contracts trade 1.2-1.7% below their Friday's closing prices. The European stock market indexes have lost 0.1-0.6% so far. There will be no new important economic data releases today.
The broad stock market will likely come back to its short-term lows following Friday's intraday bounce. The index broke below the support level of around 2,890-2,900 recently, and then we saw more selling pressure. The market was below the relatively important support level of 2,850 on Friday, but then it came back higher again. However, there have been no confirmed positive signals so far.
The S&P 500 futures contract trades within an intraday consolidation following an overnight sell-off. The nearest important level of resistance is at around 2,860-2,865. On the other hand, the support level is at 2,825-2,830. The futures contract remains within a short-term consolidation, as the 15-minute chart shows: