Six Flags: Why I Love This 6.6%-Yielding 'F' Rated Stock
Since the 2017 statement of cash flow included that $37 million, free cash flow was higher than it would have been otherwise. Therefore, free cash flow was lower in 2018.
The decline in cash flow really doesn't have anything to do with selling customers entrance fees for its amusement parks, spending on food, keeping costs in check or managing any other day-to-day business operations.
Going forward, cash flow is expected to grow again.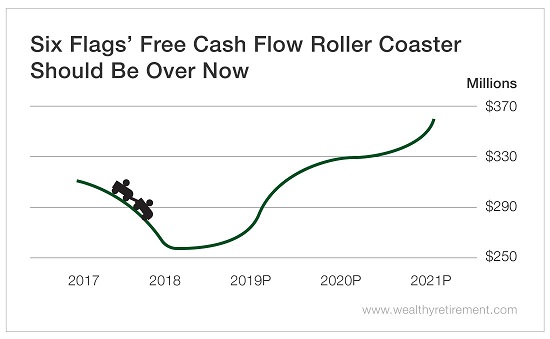 Keep in mind, those higher cash flow estimates are by analysts who are not especially bullish. Six out of 13 Wall Street analysts who cover the stock rate it a "Hold." So even though the analysts are lukewarm on the stock, they expect cash flow to rise. Should they get more positive on the stock, it's likely because the company's operating performance is even better than predicted.
Because free cash flow slid in 2018, SafetyNet Pro punished the stock. Additionally, the lower free cash flow pushed its payout ratio above 100%, another hit on its rating. This year, the payout ratio is forecast to be just under 100%, which hurts the rating once again.
That being said, Six Flags has raised its dividend nine years in a row. If the company does so again in 2020, it will receive an upgrade. It will also receive an upgrade if cash flow grows in 2019 and if the expected payout ratio falls below 75% in 2020.
Free cash flow fell in 2018 and needs to get back to a higher level. But with record sales, parks opening in China and other parts of the world in the next few years, and what looks like an aberration in free cash flow, I'm confident in Six Flags' ability to continue to pay its current 6.6% dividend yield.
Dividend Safety Rating: F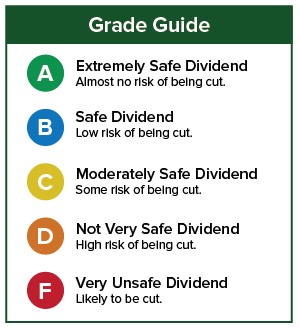 Disclaimer: Nothing published by Wealthy Retirement should be considered personalized investment advice. Although our employees may answer your general customer service questions, they are not ...
more