Should Weak November Payrolls Please Gold Bulls?
155,000. The November job gains disappointed. But the unemployment rate remained at 3.7 percent. What does it all mean for the gold market?
Job Creation Disappoints, but Unemployment Rate Is Still Low
U.S. nonfarm payrolls slowed down in November. The economy added just 155,000 jobs last month, following a rise of 227,000 in October (after a downward revision). Moreover, the weak headline number was accompanied by significant negative revisions in October and September. With those, employment gains in these two months combined were 12,000 lower than previously reported. In consequence, after revisions, job gains have averaged 170,000 per month over the last three months, or 209,000 over the prior 12 months.
The headline number was significantly below the expectations, as economists polled by MarketWatch had forecast a 190,000 gain in nonfarm jobs. However, the gains were still great. Actually, November was the 97th consecutive month of job creation, the longest streak on record in the U.S. economy.
The gains were widespread, but the most impressive expansion occurred in education and health services (+34,000), professional and business services (+32,000), and in manufacturing (+27,000). On the contrary, information (-8,000), government (-6,000) and mining (-3,000) cut jobs in November.
On an annual basis, the annual pace of job creations decreased slightly last month, as one can see in the chart below. However, it was sufficient to kept the unemployment rate unchanged at 3.7 percent, the lowest level since 1969, for the third month in a row.
Chart 1: U.S. unemployment rate (red line, left axis, U-3, in %) and total nonfarm payrolls percent change from a year ago (green line, right axis, % change from year ago) from November 2013 to November 2018.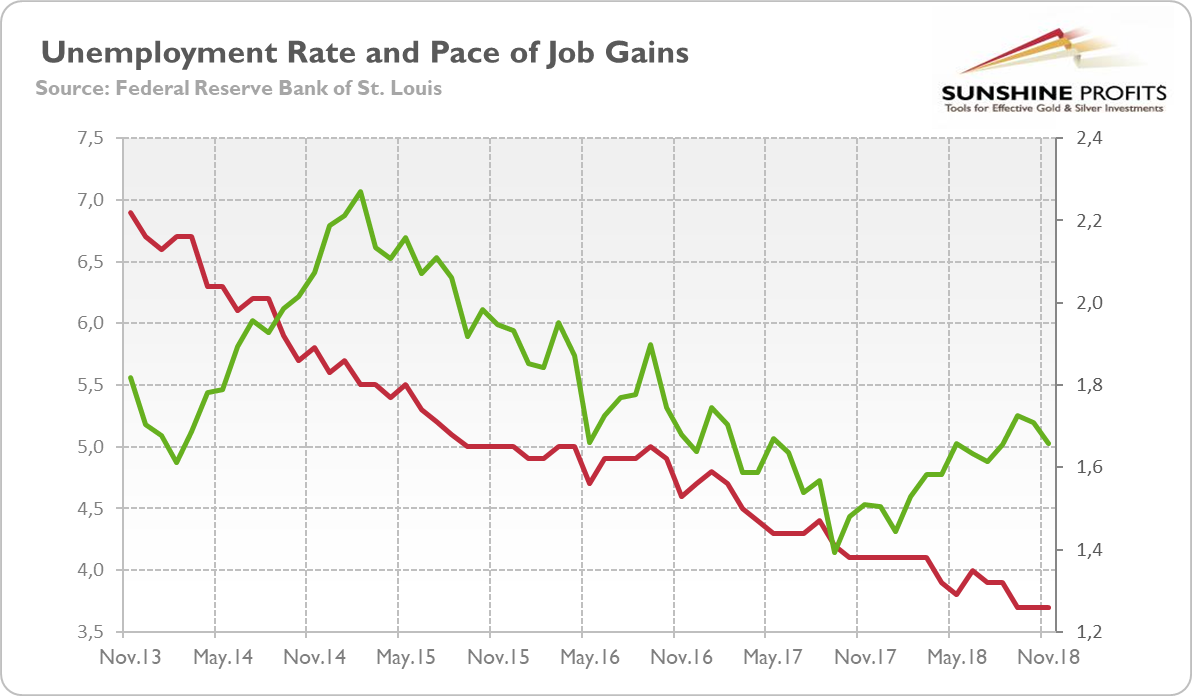 Moreover, the average hourly earnings for all employees on private nonfarm payrolls rose by 6 cents to $27.35. It implies that they increased 3.1 percent over the prior twelve months, slightly slower than last month. However, as the next chart shows, the pace of wage inflation remained very close to the fastest pay gains since 2009. Rising wages should be welcome by the hawks among the Federal Reserve.
If you enjoyed the above analysis and would you like to know more about the most important macroeconomic factors influencing the U.S. dollar value and the price of gold, we invite you to read the ...
more