Short-Term Uncertainty - Just Flat Correction Before Another Leg Up?
The U.S. stock market indexes gained 0.1-0.7% on Wednesday, as they fluctuated following Tuesday's decline. The S&P 500 index continued its rebound off the December the 26th medium-term low of 2,346.58 recently. The index traded 20.2% below September the 21st record high of 2,940.91 on that day. Then the market rallied and retraced more than 50% of the downtrend (at 2,643.74). It broke slightly above 2,600 mark last week and it got closer to 2,700 on Friday. The Dow Jones Industrial Average gained 0.7% and the Nasdaq Composite gained 0.1% yesterday.
The nearest important level of resistance of the S&P 500 index remains at 2,675-2,685, marked by the early December local highs. The resistance level is also at 2,700-2,710. On the other hand, the support level is at around 2,600-2,610. The support level is also at 2,570-2,585, marked by some recent local lows.
The broad stock market broke below its two-month-long trading range in the mid-December, as the S&P 500 index fell below the level of 2,600. Then the market accelerated lower and it broke below 2,400 mark. The downward correction reached 20.2% from the September all-time high, surpassing January-February correction of around 12%. Since then, the market retraced more than 50% of the whole decline off the September high. The index trades close to a possible resistance level of its previously broken upward trend line, as we can see on the daily chart: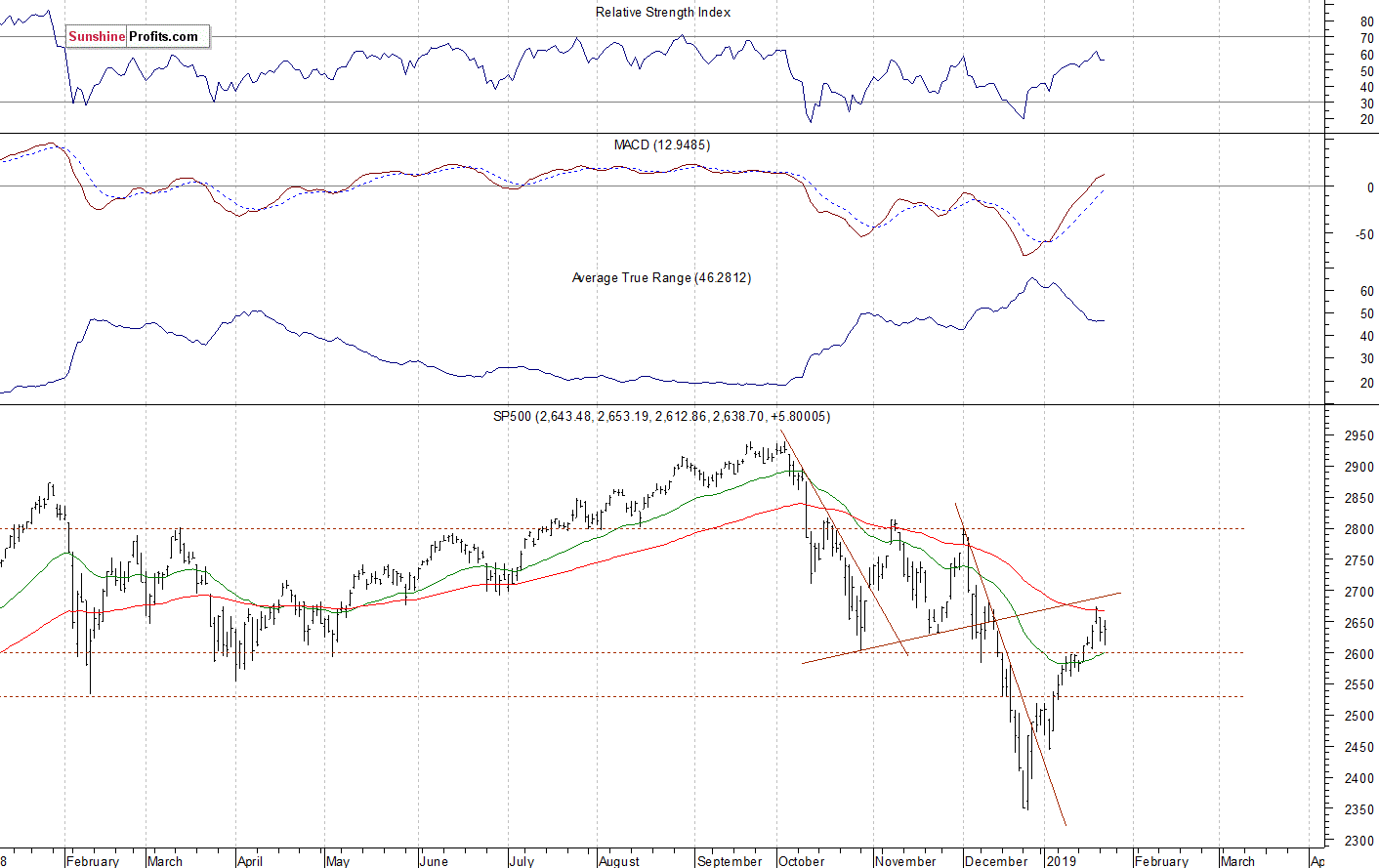 Short-Term Consolidation
The index futures contracts trade 0.1-0.5% above their Wednesday's closing prices. So expectations before the opening of today's trading session are slightly positive. The European stock market indexes have been mixed so far. Investors will wait for series of economic data announcements today: Initial Claims at 8:30 a.m., Flash Manufacturing PMI, Flash Services PMI at 9:45 a.m., Leading Indicators at 10:00 a.m., Crude Oil Inventories at 10:30 a.m. They will also wait for more quarterly corporate earnings releases. The broad stock market will likely fluctuate following the recent advance and its Tuesday's downward correction. There have been no confirmed negative signals so far. But we saw some clear short-term technical overbought conditions recently.