Shades Of 2000 And 2008
The Crypto-Stock Connection
If crypto does collapse, what happens to stocks? In a post earlier this year (How The Next Crash Happens), we speculated that if there were widespread adoption of bitcoin on the balance sheets of companies before a bitcoin crash, that crash could spread to equities. Since then, though, prominent companies with bitcoin on their balance sheets, Tesla and Square (SQ), have already tumbled, as have crypto-related names such as Riot Blockchain (RIOT), Silvergate Capital (SI), and Microstrategy (MSTR).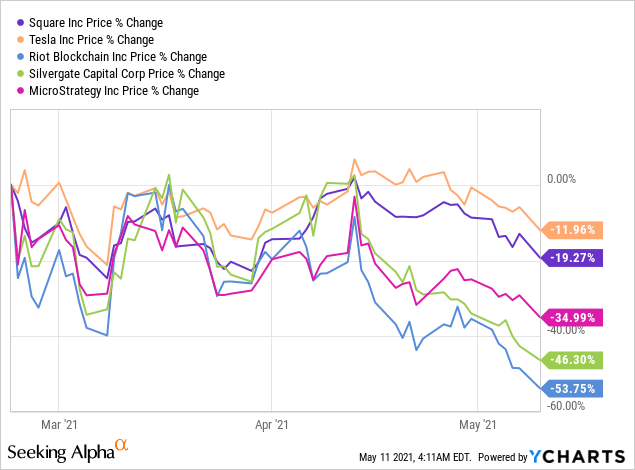 For that matter, so have green energy growth stocks such as Plug Power (PLUG) and FuelCell Energy (FCEL).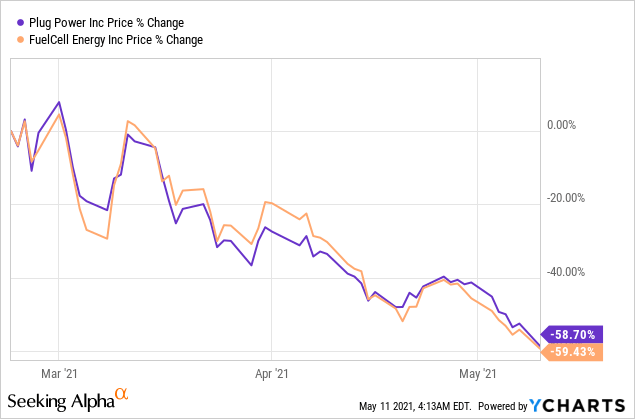 Our friends at Squeeze Metrics agreed with our speculation that crypto has siphoned off some of the speculative fervor that had previously fueled those stocks.
Doesn't seem implausible that $DOGE and other crypto siphoned some enthusiasm from cult stocks.

— Portfolio Armor (@PortfolioArmor) May 10, 2021
If that's the case, it may moderate the impact of a crypto bust on stocks. The prudent course of action, though, would be to assume the worst and act to avoid it.
Avoiding Calamity
We like to think of things "from the viewpoint of calamity," to re-borrow the expression Benjamin Graham borrowed from the rationalist philosopher Baruch Spinoza. In the event we are heading toward a bust along the lines of 2000 or 2008, investors ought to consider hedging against market risk here. We laid out a simple approach in a post earlier this year (Shields Up). It's a bit more expensive to hedge market risk using SPY now, but you ought to consider doing so nonetheless.
Disclaimer: The Portfolio Armor system is a potentially useful tool but like all tools, it is not designed to replace the services of a licensed financial advisor or your own independent ...
more