Sensitivity At Market Highs: Weekly Nifty 9
Research Report Excerpt #7
The course over the last 13 months has been upward sloping, with the S&P 500 growing over 85% from the March 2020 lows. Good, bad… what does the data suggest?
The 85% runs higher after prior bear markets (declines of at least -20%) don't generally favor the bulls. Looking at some of the dates noted, however, none register the breadth readings we've outlined in this week's or past Research Reports.
Research Report Excerpt #8
The initial market reaction was to sell equities given that the proposal was to raise capital gains taxes. This was your opportunity as an investor, as detailed in Finom group's latest State of the Market video.
The below chart from BMO Investment Strategy Group shows the performance of the S&P 500 Index during periods taxes were either raised or lowered since 1945. In the years of tax increases, the S&P 500 Index generated better returns versus years in which tax cuts were instituted. Additionally, GDP growth was stronger in the years where tax hikes were instituted as well.
Research Report Excerpt #9
Something I remind myself of often is that my mistakes or misgivings as a strategist, investor, and analyst are no greater than anybody elses mistakes. As we often look to breadth to validate price action, an example of this sentiment I offer takes us back to April 2020.
"Sharp declines in market breadth in the past have often signaled large market drawdowns,"Goldman Sach's David Kostin wrote. "Narrow breadth can last for extended periods, but past episodes have signaled below-average market returns and eventual momentum reversals."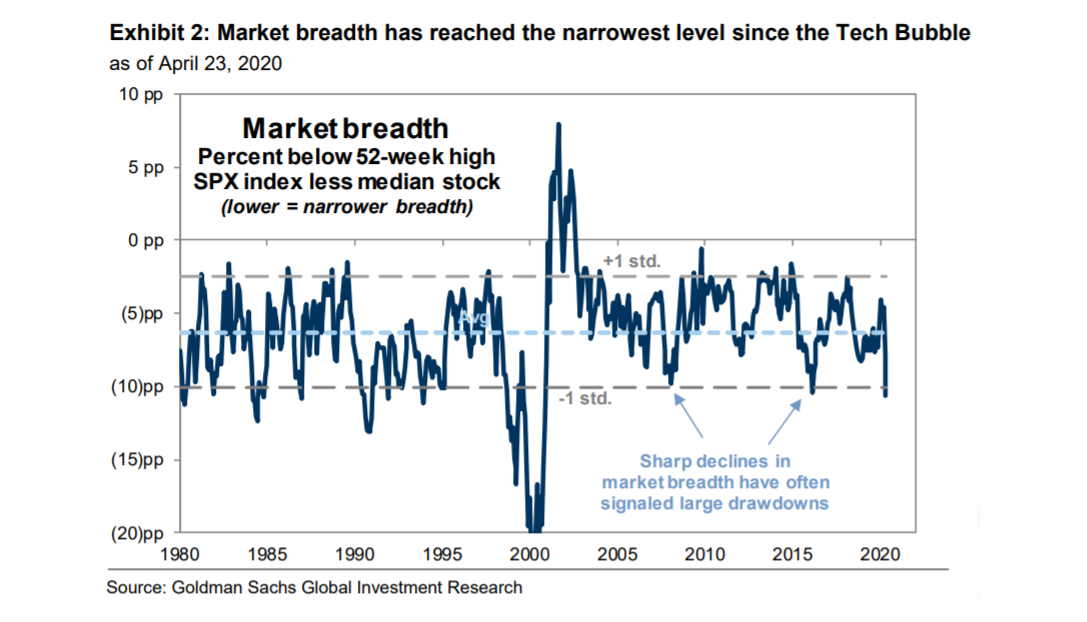 An example of history not repeating, maybe? An analyst not recognizing that major market troughs demand leadership before investors become more confident and breadth broadens? Whatever the case may be, imperfect markets and becoming prisoner of any singular moment is a natural occurrence, even for seasoned pros.
Disclaimer: The risk of loss in stock, stock/options, futures, futures/options, and forex trading is substantial, and site visitors and subscribers should consider whether trading these markets ...
more