Sensitivity At Market Highs: Weekly Nifty 9
In the coming week, investors will once again obtain the latest Fed rate announcement and do battle with the post-announcement/statement press conference. Economists are likely to focus their questions toward the Fed Chairman, concerning inflation and the Fed's dual mandate, which includes price stability/inflation. Keep in mind, the Fed is attuned to and expects these higher readings noted above and with respect to inflation. Furthermore, their preferred inflation measure, PCE due out this coming week, is not nearly as distorted by base effects. Both the Fed and markets should "see-through" this likely apparent increase in inflation. Investors, therefore, should be aware of these potentially artificially high readings near term, and not be unduly influenced by them if the market has an adverse reaction to them. On the flip side, however, because they are so expected, a persistent increase in inflation may actually potentially be misdiagnosed as transitory, leading to an eventual tightening of monetary policy sooner-than-expected. The actual path for inflation will therefore be an active and important debate for the coming years.
Research Report Excerpt #5
The blended earnings growth rate for the first quarter is 33.8% today, compared to an earnings growth rate of 30.3% last week and an earnings growth rate of 23.8% at the end of the first quarter (March 31).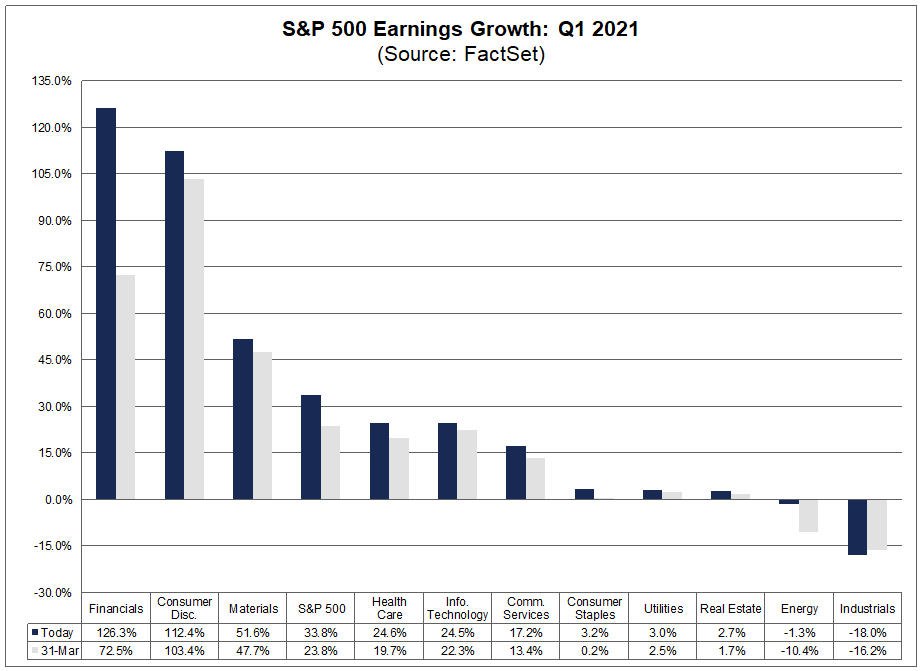 If 33.8% is the actual growth rate for the quarter, it will mark the highest year-over-year earnings growth reported by the index since Q3 2010 (34.0%), according to FactSet data. Looking at future quarters, analysts project double-digit earnings growth for the remaining three quarters of 2021, with earnings growth expected to peak in Q2 2021 at 55.4 percent.
During the upcoming week, 181 S&P 500 companies (including 10 Dow 30 components) are scheduled to report results for the first quarter.
Research Report Excerpt #6
"Quiet periods are the perfect time to strengthen your mental game. A lot of investing is about controlling your emotions and biases, believe it or not. And let's face it: Hubris seems to be at an all-time high these days, along with prices in most markets.

This week, we'll look at the Dunning-Kruger Effect and how an imbalance of competency to confidence could sabotage your investing success."
The Dunning-Kruger Effect is a cognitive bias in which people overestimate their competency and underestimate other catalysts, such as luck, for an outcome.
There's a relationship between competency and confidence, too. A little knowledge can lead to a lot of confidence until you realize how much you don't know about a certain subject.
Disclaimer: The risk of loss in stock, stock/options, futures, futures/options, and forex trading is substantial, and site visitors and subscribers should consider whether trading these markets ...
more