Sell These High-Yield REITs Now
The finance REITs that generate income through leveraged bets on the rate differences between short and long term rates are starting to look more and more troubled. These companies need both the longer-term yields on agency mortgage backed securities – MBS – and short term interest rates to stay stable. Any rise in rates on either end of the yield curve will cause the leverage equation to fail and result in net income and dividend reductions, falling bond and share prices, or a combination of both. While investors get attracted to the double digit yields of these mortgage REITs, cycles in interest rates cause them to hit a serious down cycle every few years. For example, starting in late 2012 through summer 2013, mortgage rates started to rise and the major mortgage REITs experienced 40% share price declines.
Over the past couple of weeks, the mortgage REITs started to declare their fourth quarter dividend rates. While most are paying the same rate as for the third quarter, several dividend cuts point to troubles for the entire sector. Here are the dividend cuts I have seen to date:
Invesco Mortgage Capital Inc (NYSE:IVR) declared a $0.45 dividend, a 10% reduction from the $0.50 paid for the previous five quarters. The IVR share price is down over 6% since a late October peak.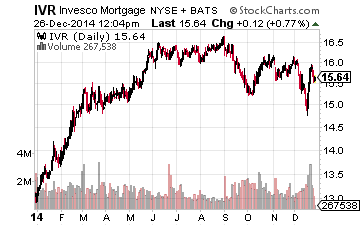 Javelin Mortgage Investment Corp (NYSE:JMI) cut its dividend by 20% to $0.12 per month from $0.15.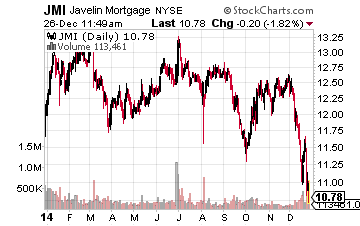 The $0.15 monthly rate had been paid since October 2013, when dividend was last cut from $0.23 per month. JMI share holders have seen a 40% share price decline since January 2014.
ARMOUR Residential REIT, Inc. (NYSE:ARR) also reduced its monthly dividend by 20%, to $0.04 from the nickel that had been paid for the last 14 months. ARR investors have seen a 25% share price drop since summer.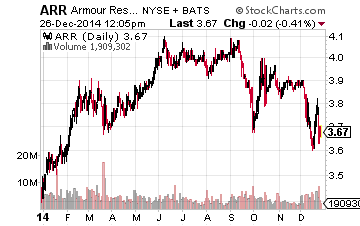 View these dividend cuts as early indicators of what other mortgage REITs will do as we move into 2015. All of this type of REIT use similar investment strategies and all are hostages to interest rate moves and the yield curve. This time around it is a flattening of the curve between 2 and 10 year rates that will squeeze net interest profit margins. The fact that the popular mortgage REITs like Annaly Capital Management, Inc. (NYSE:NLY), American Capital Agency Corp. (Nasdaq:AGNC), and Two Harbors Investment Corp (NYSE:TWO) maintained their dividend rates for another quarter gives investors in these REITs some more time to get out and save their capital. The actual earnings reports that will be released in February could look ugly.
Disclosure: I currently do not have positions in the stocks discussed here.
I've just released the latest update to my new more