Sell These 2 Overvalued Stocks
Back when Americans had few choices of televised content, CBS held a good chunk of the monopoly on American eyeballs. But, in the on-demand viewing environment of today, companies such as Netflix (NASDAQ: NFLX) are outpacing the traditional market leaders in content. In the fall, an important season for television, CBS stands to make its relative lack of competitiveness more palpable to investors because of its lack of content and inability to maintain advertisers, who are the main revenue source for the company.
I agree with UBS: CBS investors should sell now – or at least before December when the results of the fall programming are clearer. But, a better idea is to short the stock via options. Here's my recommended play:
Buy 1 Sept $60 call
Sell 1 Sept $57.50 call
Buy 2 Sept $47.50 put
GN gives us a price target of around $30, we stand to gain $3,500 with the above options strategy, a strategy that is opened at a net credit of $15. We get the net credit from the first two legs of the strategy, as they comprise a credit spread. The credit spread finances the bought puts, with about $15 left over to pocket.
The cool thing about this type of strategy is that we still profit if we are wrong. In fact, this strategy has so much to offer that it should be illegal. Other benefits of this strategy are:
Capture maximum downside.
Theta hedged (i.e., are not hurt by options time decay)
Long vega (i.e., an increase in volatility will add to the profitability)
Cognizant Technology Solutions Corp (NASDAQ: CTSH)
Here, GN is $31.27. The stock, however, currently trades at $57.76. This gives a potential upside of 87% on a short position.
Again, we see the EBITDA/EV ratio agreeing with GN: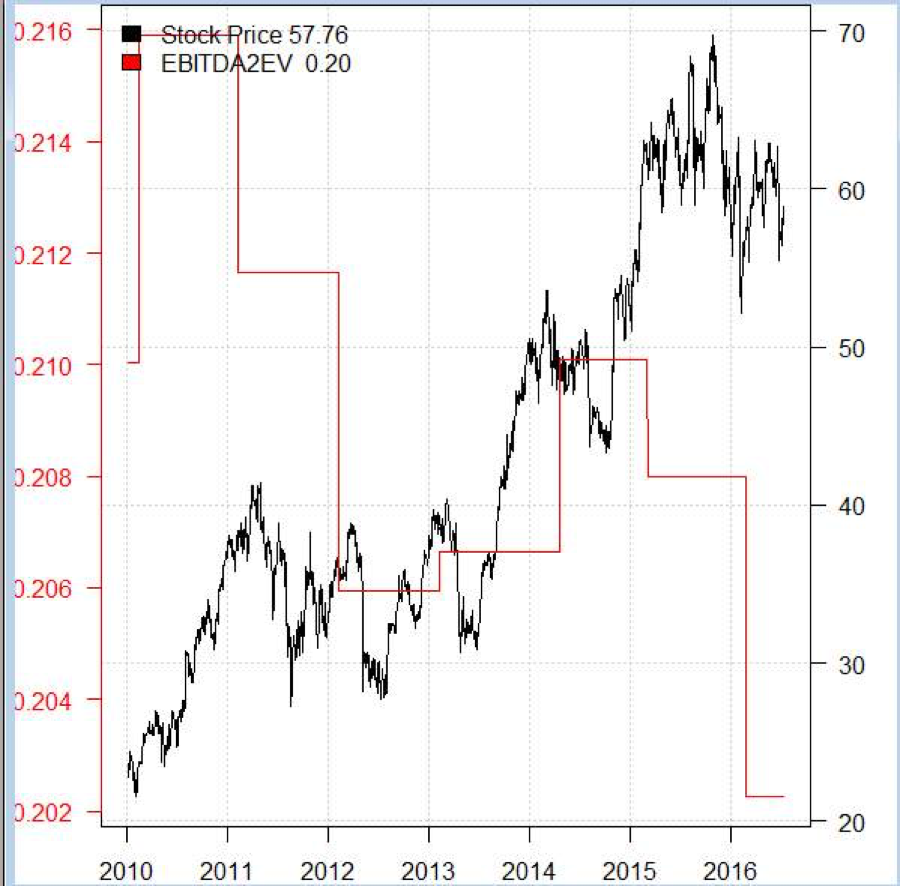 The stock has not yet fallen despite the ratio historically predicting stock price movement. This gives us a good entry point for a short position. But still, we might want to wait until the company releases its earnings report in early August (the company usually beats on earnings, though this might be changing soon).
Nevertheless, the importance of the short position should be placed on the long-term timeframe of the position. In the long run, prices are falling and will continue to fall in the IT consulting and outsourcing industry – CTSH's industry. Competition has become fierce here and is pricing out CTSH.
CTSH is a market leader but still affected by the recent developments in the industry. The company has justifiably been downgraded by many analysts and earnings estimates have dropped. We are likely looking at a turning point for the company, and a long-term short position could pay off to the tune of 100% ROI.