Sectors Impacted Most By Wage Growth

Source: Merrill Lynch
As you can see from the chart on the right, most people planned to use the extra money from the tax cut to save or pay down their debt. The consumer isn't leveraged this cycle like they were in the last cycle even with the record student and credit card debt. This helped them further avoid leverage.
Who Wage Growth Hurts
Wage inflation hurts businesses' margins as wages are a major cost. The chart on the left shows the sectors in the S&P 500 that are the most labor intensive.

Source: Merrill Lynch
Consumer discretionary firms employ 4.1 people per million dollars in sales. That means their costs increase the most because of wage growth. (Keep in mind wage growth also increases sales.) The chart on the right shows consumer discretionary gross margins are at a record high. Wage growth could end that uptrend.
Efficiency Growth
The chart above on the right shows S&P 500 gross margins are very high. The chart below explains why.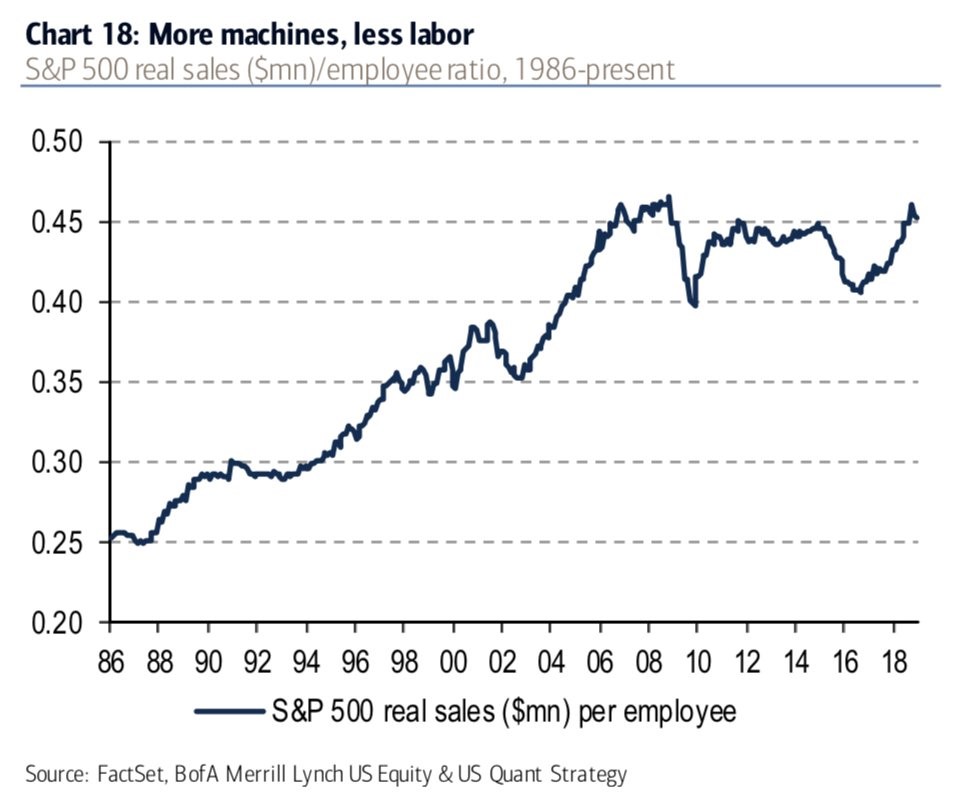 Source: Merrill Lynch
Real sales in relation to employees has grown in the past few decades. It has risen in the past few years to near a record high. The AI revolution should accelerate this improvement, increasing gross margins further.
Conclusion
The best case scenario is for workers to continue to get educated, whether through traditional institutions such as universities or through experience and vocationally depending on career choice and for businesses to continue to invest in technologies that increase the amount of sales (productivity) they can generate from each employee. It doesn't have to be businesses versus the worker. Both can prosper. As we've seen late in this business cycle, there is currently high real wage growth and high margins. This could change in the short run, but in the long run everyone can do well. Technology lowers inflation, which helps real wage growth and standard of living.
Disclaimer: Please familiarize yourself with our full disclaimer here.