REIT ETF Routed With Biggest Outflow In History
Last week, with a delay of about two years, mall and shopping center stocks and REITs finally tumbled, led by Tanger Factory Outlet Centers, as Scotiabank warned about surging mall occupancy risks, while the 10-year Treasury yield reached its highest level since the March Fed meeting, an ominous development for most REITs.
In justifying its opinion, Scotiabank calculated that the potential impact of bankruptcies to malls (SKT, MAC, SPG, TCO) was at least double that of shopping centers (REG, WRI, KIM, FRT, BRX) due to apparel exposure; meanwhile Tanger crashed to a nine-year low as the stock screened as having the greatest level of exposure to tenants with a bankruptcy risk in malls.
As a reminder, shorting malls via CMBX has long been dubbed the "next big short", one which even Goldman recommended to clients while providing the handy cheat sheet which CMBX has the most sensitivity to what part of the commercial real estate sector.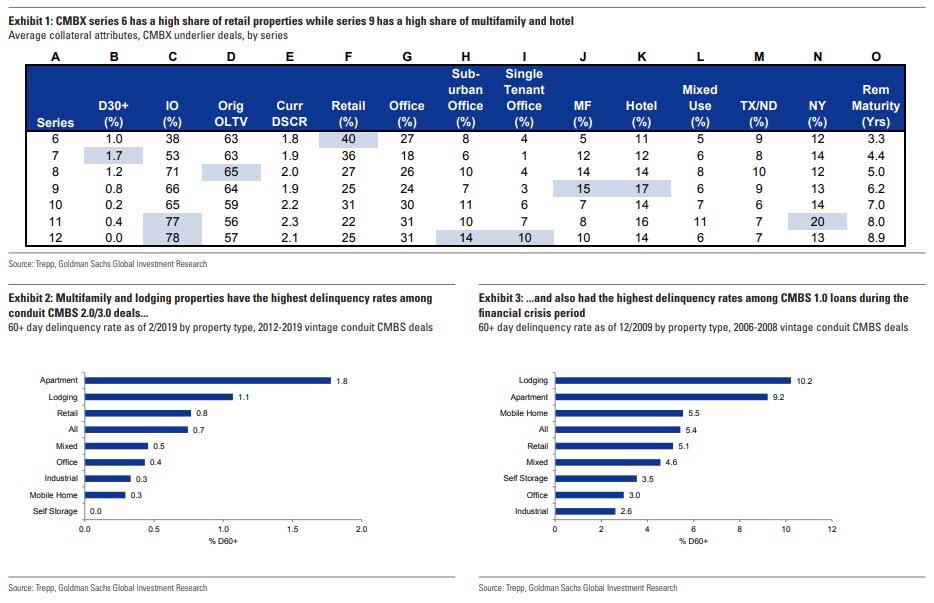 And while investors have long been shorting the melting ice cube that is malls, via CMBX, that changed last week when REITs finally got routed: "About 60% of the ~40 retailer bankruptcies since 2017 were apparel-focused; only 4 of the total bankruptcies were listed as top REIT tenants, so we caution that our analysis may under-represent true bankruptcy risk," Scotiabank analyst Nicholas Yulico wrote.
Then this week, the rout finally spilled over to REIT ETFs, and in the first three days of the week, more than $475 million in funds was pulled from the $2.4 billion SPDR Dow Jones REIT ETF, or RWR, reducing the fund's assets by about 15% according to Bloomberg. The bulk of outflows took place on Monday, when the fund lost $403 million, the most since 2004, in what appeared to be a delayed response to last week's REIT collapse.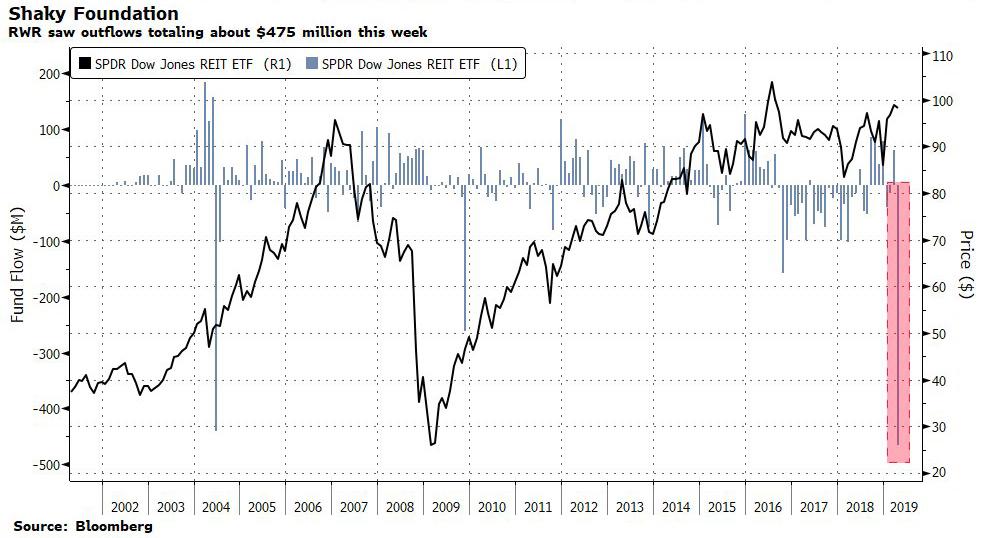 And while the general aversion to REITs took place in response to a (delayed) realization that creeping mall defaults will sooner or later catch up with the equity tranche, another reason cited for the plunge has been the creeping push higher in interest rates, although considering the sharp rate drop in recent days, the REIT plunge was driven not by interest rate fears but by idiosyncratic factors such as mounting delinquencies and defaults.