Regulation Will Evict This Firm's Micro-Bubble Expectations
Given the spike in disregard for fundamental risk exemplified by the GameStop (GME) frenzy, we continue our micro-bubble winners and losers theme to help investors assess fundamental risks. This week's winner/loser pair is Hyatt Hotels (H) $74/share) as a Long Idea and Airbnb, Inc. (ABNB) $195/share as the Danger Zone pick.
New Micro-Bubble Loser: Airbnb (ABNB) vs. New Micro-Bubble Winner: Hyatt Hotels (H)
We originally featured Airbnb in November 2020 prior to its IPO and updated our report with pricing information here and here. Given ABNB's GME-like rise to ~$195/share, the stock is clearly in a micro-bubble. In contrast, Hyatt Hotels remains a best-in-class hotel operator with expectations for future growth in cash flows that pale in comparison to Airbnb. We originally made Hyatt a Long Idea in May 2020 and reiterated it in January 2021.
Mounting Regulatory Challenges Could Crush Revenue & Inventory
As more cities and states impose stricter regulations on Airbnb hosts, Airbnb could lose inventory and see slower, if not declining, revenue growth. For instance in 2018, New York state effectively banned Airbnb from New York City, the firm's largest market. With the swipe of a pen, 51% of listings and two-thirds of revenue for the New York city area were estimated to come from illegal listings during 2014-2017.
NYC's new regulations expose hosts to fines up to $2,500 per day and Airbnb up to $7,500 per illegal listing. For hosts, these fines could tally upwards of $1.1 million a month in NYC alone if they occur as often as similar safety code violations on businesses and rentals not covered by NYC's short-term rental bans. These fines could deter hosts and significantly reduce listings available in NYC. Boston and L.A. have instituted similar regulations that result in daily fines on both hosts and Airbnb for illegal listings.
Cash Burner vs. Cash Earner
We prefer firms that consistently generate cash over firms that burn cash. Airbnb burned $721 million in FCF in 2019 and the firm's trailing-twelve-month FCF sits at -$711 million. In contrast, Hyatt has generated $3.3 billion (47% of market cap) in cumulative free cash flow over the past five years, per Figure 1.
Figure 1: Airbnb vs. Hyatt: Five-Year Cumulative Free Cash Flow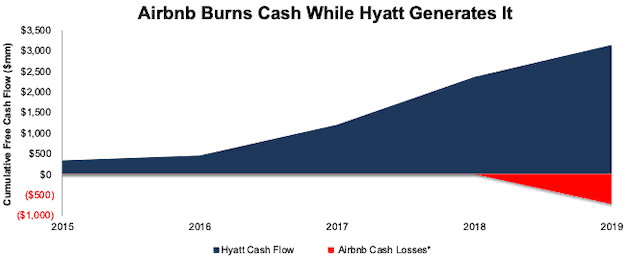 Disclosure: David Trainer, Kyle Guske II, and Matt Shuler receive no compensation to write about any specific stock, style, or theme.