Refineries – Why I'm Not Ready To Buy
The big news out this last week was that Philadelphia Energy Solutions (PES) will permanently shut its South Philadelphia refinery in the next month.
Whether "permanent" means permanent, well, we'll see. But at the very least, the refinery isn't coming back any time soon.
I've been watching the refiners closely for the last couple of months. The stocks have been miserable performers–and that has actually piqued my interest.
The South Philadelphia refinery is a good-sized one at 335,000 barrels of oil per day (bopd)–making it one of the larger ones in the country.
Consider that East Coast (Padd II) refining capacity is about 1,200,000 bopd.
The question is – does this new shortage of gasoline increase prices enough to increase crack spreads and make refiners a buy?
I would love to believe that. Like I said, they have been kicked in the teeth. They can have big moves up when circumstances are right.
Consider how poorly they've performed since the peak in the summer of 2018: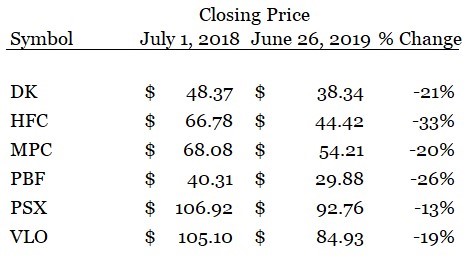 If this group could turn around, the upside could be material. I'd love to time that turn.
The problem is–I'm not seeing it yet.
The entire refining complex got a nice kick on Tuesday from the Philadelphia news. Kudos if you were able to catch that.
Some will benefit more than others. PBF Energy (PBF-NYSE) has 34% of their capacity on the northern East Coast, so I would see them as a beneficiary.
But taking a step back, I just don't see the refiners outperforming until the Market is confident oil product demand is back on track, and that means a jumpstart to the global economy.
Second, we are just not short of refining capacity.
While the loss of East Coast barrels will hurt, there is enough product capacity out there and so they will be made up with imports from the Gulf Coast or overseas.
Crack spreads have been weak for most of the year. While they briefly recovered here in Q2 19, they are back down to 5-year lows.
Disclaimer: Under no circumstances should any material in this site be construed as an ...
more